"Except for the colour, the two outfits are different," says Haris Shakeel who showcased at the Pantene HUM Bridal Couture Week.
The 18th Pantene HUM Bridal Couture Week (BCW) that took place in Lahore last weekend marked the return of multi-designer shows in Pakistan. There were designer lineups, a host of celebrity showstoppers and even some song and dance numbers thrown in for entertainment.
And amidst it all came a cry of plagiarism by popular design house Farah Talib Aziz (FTA).
The designer has accused another member of the fraternity Haris Shakeel of copying her design and showcasing it as part of his 'Ghazal' collection. FTA's design was modeled by actress Ayeza Khan and posted on their Instagram page in December 2019.
Haris Shakeel, who is also based in Karachi, is a mid-range designer who showed his collection last weekend.
The dress in question, a purple peshwas mixed in with dashes of shocking pink and turquoise, was truly one of the best from Shakeel's collection that night.
The collection itself was well-appreciated and one wondered if Shakeel could actually be emerging as a promising designer. Thus far, the brand has been well-known in Karachi but purely from a commercial point of view. Shakeel's shop on Karachi's Tariq Road is a popular one — could it actually be on its way to getting recognised for its design prowess rather than just being a business savvy store for wedding-wear?
It would be a pity if it was indeed copied from FTA.
"Our work gets copied a lot but usually I opt not to make a fuss because popular designers often get plagiarized by smaller brands. It may agitate us but we usually just take the higher road and turn the other way," says Maliha Aziz, Farah Talib Aziz's daughter and brand manager. "However, Haris Shakeel has copied us far too many times. He may have placed this particular design on the catwalk now but pictures of it have been on his social media for some time, replicated from us," she alleges.
"A client of ours had ordered the original from us and just a week before her mehndi she came to us crying. She said it had been her dream to wear FTA on her mehndi and now everyone would think she was wearing Haris Shakeel instead. I ended up making an entirely new outfit for her within days."
But that wasn't the first time something like this happened.
"Another time, a girl called us and asked us to make an outfit urgently. She was very upset and even though it was an extremely complicated design, I agreed. We made the outfit very quickly for her. A few days later, I saw it being advertised on Haris Shakeel's page. It was a complicated design so he probably couldn't make it on his own so he just decided to sell our original, pretending that it was his own."
Maliha claims people have told her that Haris Shakeel has FTA's outfits in his store, with their tags on them, and shows them to clients, offering to replicate them as is. "It's possible that he just buys them online."
The alleged copy on the BCW catwalk turned out to be the last straw for team FTA.
Another designer comes forward
Another designer, Zaheer Abbas, has similar grievances against Shakeel. "He's actually quite shameless, openly offering to copy different designers' clothes. Clients of mine have told me several times how they have found copies of my work hanging at Shakeel's store," he said.
"He's never hesitated telling people that it's a Zaheer Abbas copy in order to encourage them to place orders," alleges Abbas. "I have known about this for some time now but my work often gets copied in markets like Tariq Road and Ghausia Market in Karachi and I considered Shakeel's to fall in the same category of stores."
"Now, however, I can no longer look the other way. He has stepped on to the runway and is pushing himself forward as a designer. He has to start taking more responsibility."
'Outfits are different'
But Shakeel doesn't believe it is plagiarism.
"Except for the colour, the two outfits are different," he says of the FTA design; their design has an embroidered border while he has worked with blockprints, he argues. "Their shirt's hem has three borders and mine has just one. The lehnga and the dupatta for both outfits are different. Even the silhouettes are not the same. The FTA design is an angarkha with a collar. Mine is a straighter shirt."
He adds, "Why would I copy someone and then place it on the catwalk? The FTA brand can't really talk about plagiarism. They constantly copy Bunto Kazmi, Faiza Samee and Dr Haroon and sell the designs as their own."
But the question here is not whether FTA has ever copied another designer, it's whether the design showcased by Haris Shakeel at BCW was a copy. But with both brands sticking to their guns, it becomes a he-said-she-said matter.
Is there a legal recourse?
Why can't FTA take a legal route if they feel they have been wronged?
"There is no point. We would go through the entire process but it would not stop a plagiarist like him," says Maliha. "Even internationally, six minor changes in details can negate complaints of plagiarism. So, even if a flower's shape is slightly changed, our argument would not have legal standing. It would, nevertheless, still be a copy."
Could the fashion councils — there are two of them in Pakistan's fashion industry — help out? Maliha doubts it. "I think the fashion councils simply look out for the concerns of designers within their own councils. I was once part of the Fashion Pakistan Council but I don't think that I am now. I can't be sure. But regardless, I don't think they can help."
The question of plagiarism, then, boils down to a social media controversy where each designer gives their point of view.
The designers have now resorted to calling each other out on social media with both Farah Talib Aziz and Maliha commenting about it.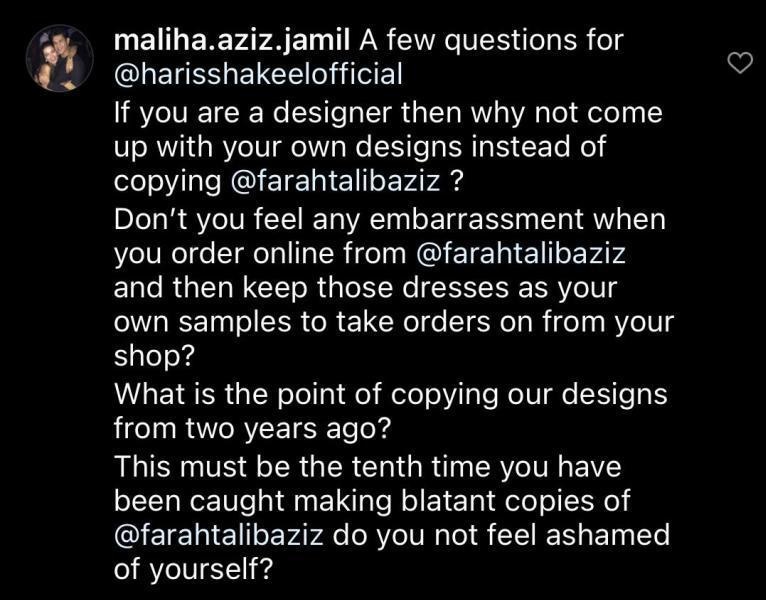 Since there is no legal recourse, it is bound to get relegated to gossip before fading from memory.