"Are you making people insecure, Ahsan?" I ask the actor and as expected, he breaks into laughter. Anyone who knows Ahsan Khan knows that that he laughs often, peppers his conversations with anecdotes and is generally a great person to hang out with. He's also an actor who has proven his mettle time and again with a series of diverse roles and is a consummate professional, constantly on a roll. In a year where work slowed down for many actors due to the coronavirus, Khan has been flitting through multiple projects and frequently topping the TV rating charts.
It has been a treat watching him in 7th Sky Entertainment's current hit Qayamat where the affable Khan transforms completely into the deeply misogynistic, volatile Rashid. He swaggers into rooms, makes vicious declarations and ends conversations with his face contorted into a belligerent 'O'. Reviewers have been raving about his performance and ratings are sky-high.
In contrast, Khan is a garrulous host on his talk show for Express Entertainment, Time Out with Ahsan Khan, where he quips and plays a series of games with celebrity guests. The show is an hour long, features a star-studded guest list and is topping the viewership charts.
A wealth of high-profile projects are currently airing on TV — the coronavirus may have put a halt to live events and film releases but it simultaneously zeroed in the focus on TV — and to make a breakthrough in these competitive, choppy waters with not one, but two projects is quite an achievement. Therefore I question Khan about making his peers insecure.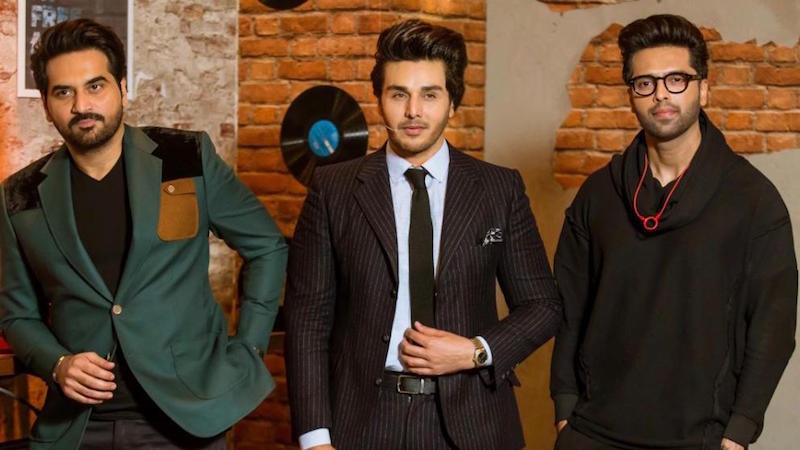 "I do occasionally receive sarcastic comments," he says. "People will ask me why I am doing everything: hosting, acting and singing a song in the Kashmir Beats show. It's uncalled for because if I am exploring different genres, it's because I enjoy doing so. I am fortunate that my recent experiments have been received well by the audience."
But when asked if he expected Time Out... to receive the level of attention it has, he says you never know what to expect. "Sometimes, you may work very hard on something and it doesn't do well. My last talk show was with Bol TV and even that was very popular. It had celebrities but the focus was more on heart-to-heart discussions," he explained.
"Time Out… has a very different format with games and informal conversations. I make an effort to break the ice with the initial chit-chat because I want my guests to feel like they are talking to a friend, someone easygoing. There's absolutely no ego at play."
No drama here
Having visited the Time Out.. set and sitting behind the scenes while the show was getting recorded, I was surprised to see that Khan didn't ask for retakes or cuts and just keep talking easily.
"I love talking to people and honestly, when the camera starts rolling, it triggers something in me and I can just keep going," he explains. "I don't even follow a script — it all just comes naturally."
This came into play during the first episode of the show with Humayun Saeed and Fahad Mustafa. It seemed to many that there was some sort of friction between Khan and the two actors but this wasn't the case.
"Some people did give me this feedback and it really surprised me," he says. I watched the episode again and realised that while Humayun, Fahad and I were just bantering easily, the general audience may have thought there were underlying meanings to the teasing, he adds. "We were just three actors who have known each for a very long time making sarcastic jokes and having a really good time."
On the flip side, it made him very happy. "With just a few initial episodes on air, the show was being discussed already."
On rivalry with Yasir Hussain
Khan also recently hosted actor Yasir Hussain, which came as a surprise considering that some time ago they were upset with each other based on a joke Hussain had made related to Udaari. But when asked whether the two had resolved their issues, Khan says there were never any issues to begin with.
"He had made a joke which was offensive but it hadn't been his intention to do so. It was just about a cause that is close to my heart and is also, I think, close to his heart. All that is in the past, though."
I have a lot of faith in the Qayamat team
Moving on to Qayamat, Khan says he had high expectations from the show. "I have a lot of faith in the team that I am working with. Ali Faizan is a great director and I had only just worked with him in my last drama Bandhay Ek Dor Say," he explains.
"7th Sky Entertainment's Abdullah Qureshi and Asad Qureshi are also established producers with great vision. I really appreciated that neither the director nor the producers stopped me when I started experimenting with Rashid's character."
How has he experimented with Rashid? Wasn't the character just as villainous in the original script?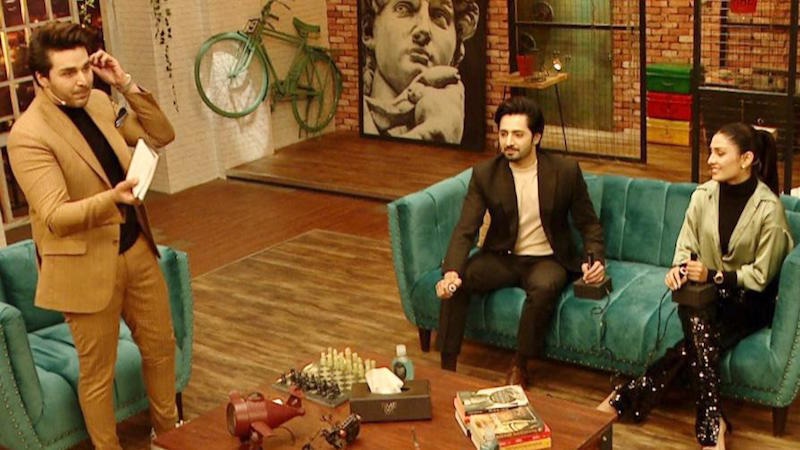 "He was evil, yes, but he could have faded away as just another chauvinistic villain. I wanted to add certain idiosyncrasies to him. I had done the same even when I was working in Udaari to make my character stand out," says Khan.
In Rashid's case, he developed his body language. "The way he twists his neck and hands, keeps his mouth open after talking and lifts his shalwar in a certain way. There were times when he was even slightly funny but luckily for me, my director and producers never stopped me and in fact, were very encouraging."
Post Udaari, this may have been the most popular character Khan has played. But he hasn't been irritated by the flippant characters offered to him following a story as hard hitting as Udaari.
"Udaari excited me as an actor but it was also an emotionally exhausting character to play. There have been roles since then that have intrigued me. In Alif, I really concentrated on the way I acted and my look; the colour of my beard and moustache and the bags under my eyes," the actor says.
In my last drama, Bandhe Ek Dour Se I played a young, naive boy and a certain thought process was required to bring him to life, he says. "I am not that young anymore and I worked on building Omer, my character, in a certain way. He often spoke quickly the way young boys do and made certain gestures and eye movements. Even in the most simple roles, it's important to be convincing."
What's next?
He also has a movie lined up for release, whenever cinemas open up once the coronavirus is quelled. What's Chakkar, produced by Nida Yasir and directed by Yasir Nawaz, like?
It's a new genre for Pakistani cinema; a fast-paced suspense movie and I am excited for its release, whenever it happens, reveals Khan. It was a great experience working with Nida and Yasir, he says, adding that they don't waste a minute on set and it's commendable that they have chosen to experiment, stepping out of their comfort zones into a completely different way of storytelling.
It's been a very successful year for Khan and the ratings are a testament to this. When asked whether his peers had been supportive, Khan said some of them had been. "Qayamat's producers Abdullah Kadwani and Asad Qureshi called me after watching the drama's first cut. They loved my performance and the way it added essence to the story. Humayun Saeed and Samina Humayun Saeed also called to tell me that they were enjoying the drama," he says.
I think that we need to support each other more in the industry, he explains. "The audience's viewership matters the most but when you get support from your peers — just a few words of encouragement — it really bolsters you and goes a long way."