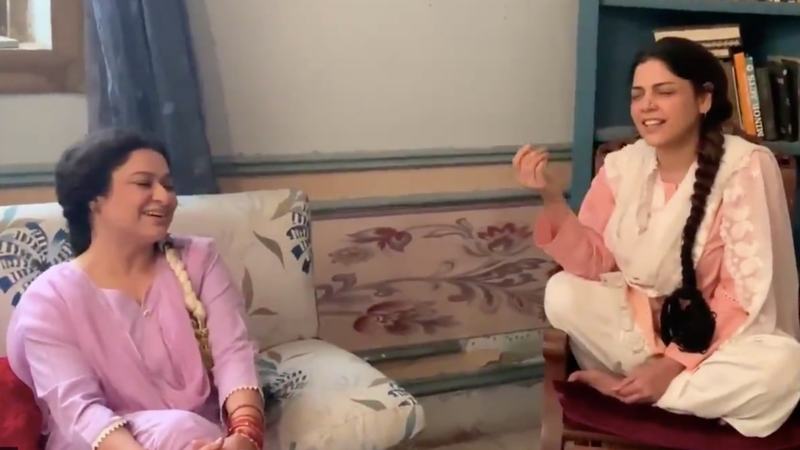 Working alongside veteran names such as Nauman Ejaz and Sania Saeed as well as rising stars like Iqra Aziz and Faryal Mehmood, Hadiqa Kiani is all set to make her acting debut with upcoming serial Raqeeb Se — a passion project to indulge her artistic expression.
Judging by the updates on social media, it seems like the Hona Tha Pyaar singer is enjoying every bit of the venture.
Recently, she took to social media to post a behind-the-scenes video from the set, where she can be seen enjoying a duet with none other than Sania Saeed.
"While on set for Raqeeb Se, the legendary Sania Saeed and I had an impromptu singing session," Hadiqa posted excitedly.
"Such a genuine and beautiful soul, it has truly been an honour filming with her and the whole team these past few months," she added, all praise for the team making her debut experience so wonderful.
Previously, Hadiqa had spoken about the friendship flourishing between the duo, even when the cameras weren't rolling.
"There was a great amount of chemistry. When we were on the sets chatting about our lives, experiences, whatever we go through, it was just so bonded and well-knitted. Like a different world. I would always tell them all, it's a different world that I never thought I would be this comfortable in."
The OST of Raqeeb Se was composed by Hadiqa herself, written by her mother Khawar Kiani and produced by Ustad Baqir Abbas.
The play has been written by Bee Gul, directed by Kashif Nisan, and is a Momina Duraid production for HUM TV. No release date has been announced yet.
Email