Cover stories, wrapping up the year, tend to be predictable, sweeping through the many highlights that made waves, the achievements and the groundbreaking events.
Usually, I go through the archives of the stories written over the course of the year, or spend a quiet half an hour thinking back to the most memorable moments experienced. Never has it been more difficult to write a year-ender than in 2020.
At the risk of sounding repetitive, here's a quick run-through of the facts that we are all very well aware of but which need to be placed here just in case, several decades later, this article gets Googled and the reader is not quite acquainted with the cataclysmic events that we have had to endure over the past many months.
So, 2020 was the year when the world was hit by a lethal pandemic. Death tolls rose and economies crumbled and people, all over the globe, withdrew into their homes. With an unseen fatal virus at large, life as we knew it came to a halt: there were no cinemas, concerts, festivals, fashion weeks or grandiose awards ceremonies. For a while there, there weren't even any trips to the mall or dinner on the weekend at a restaurant.
Then again, a year-ender simply rehashing all that went wrong this year would be a depressing story — and a boring one. We've read about it so many times already, written about it, scrutinised it through scores of WhatsApp messages and dissected it with the aid of over-excited garrulous TV talk show hosts. With 2020 finally crawling towards its end and the hope that a heroic vaccine will swoop in and make the next year a much better one, it would be far more interesting to sign off the year on an optimistic note.
And, believe it or not, once you sift past the terror, the tragic loss of loved ones, the budgetary cuts, the endless struggle to remain emotionally strong with death looming right over your head, the hypochondriac urge to constantly get yourself tested for the coronavirus, the cancellation of travel plans, weddings, birthday parties and Eid dinners, the mind-numbing effort to operate through online conferences and the pressure to make constructive use of all the free time and not being able to do so — am I being repetitive? — there were actually quite a few silver linings hidden within the apocalyptic, lumbering clouds shrouding 2020.
With 2020 finally crawling towards its end and the hope that a heroic Covid-19 vaccine will swoop in and make the next year a much better one, Icon takes a look back at the rays of light in a dismal year
Here are a few …
The awards that did happen
You may not remember it, but in the carefree few weeks preceding the reign of the coronavirus pandemic, the Hum Style Awards unknowingly became the only major event in entertainment to take place this year. It had been a starry ceremony with the stage lit up with three-dimensional effects and plenty of heavy duty celebrity attendance.
Actors Urwa Hocane and Farhan Saeed — who were still a couple at the time, how life changes — had danced as had Ahsan Khan and Sara Loren. Singer Abrar-ul-Haq had been the star of the ceremony, singing his biggest bhangrra hits with dancers twirling behind him. I remember photographers particularly getting excited when Sajal Aly and Ahad Raza Mir, who were engaged at the time and got married some time later, walked in.
There was the usual anticipation regarding who would be winning and there were no masks or sanitisers in sight. In retrospect, it almost seems like a fairytale.
Virtual Wings
Soon enough, live events in enclosed halls containing hundreds of people became out of question and spirits slumped to the point that, for a while there, all one could do was flop on to the couch and watch copious amounts of TV. But as it became starkly clear that the coronavirus wasn't going anywhere, events began to surface virtually.
Internationally, the Emmys took place online and digital catwalks were laid out in the fashion capitals of Milan, London, Paris and New York. Locally, we had two virtual fashion weeks, the Hum Social Media Awards and, wrapping up the year, the annual Lux Style Awards will also be a recorded event, streamed out on YouTube.
Ramazan game shows, hitherto relying heavily on entertainment generated by live audiences taking part in mango-eating contests for the sake of a free motorbike or an Umrah ticket, operated through celebrity guests and audiences reaching out to them via phone or the internet. Online quiz shows made an appearance, particularly one hosted by actor Fawad Khan and the hilarious Kasoti Online helmed by Ahmed Ali Butt.
Not every virtual event worked out well — some were disastrous or worse, downright boring — but even while droning on, they provided a sliver of hope. There were times when it seemed that the world was spiraling towards the end and, in those moments, a whiff of glamour, fashion and celebrity hinted that, one day, life would return to normal.
Also, the fact that it was all online meant that once you began to yawn, you could simply leave the event midway or watch it all on fast forward. So much better than rubbing your eyes and sitting through a ceremony that prolonged well beyond midnight.
We went Insta-live!
Everyone, from your major celebrity to fashion model to your neighborhood aunty who wants to tell the world how to make the perfect gol gappay, went live on Instagram. Long evenings spent isolated at home with nothing to do (except worry about the virus) meant that there were times when a large online audience would be tuned into Instagram and could select from a varied range of Insta-live shows: concerts, cooking shows, quizzes and many, many talks.
There were Insta-live sessions where celebrities would get bored in the late hours of the night and come online and simply talk with fans. There were 'live shows' where one famous person would invite another famous person to have a conversation. Sometimes, there would be interesting, insightful talks highlighting issues such as the dreary storylines that plague TV dramas. More often than not, the sessions wouldn't be well planned and people would run short of topics to talk about. Luckily for them, they could always fall back on discussing the pitfalls of the coronavirus pandemic.
There were also plenty of talks on nepotism, following the shocking suicide of Bollywood actor Sushant Singh Rajput. Industry power players, sitting online after dinner-time, sought to discuss whether nepotism existed in Pakistani entertainment and did this again and again, going round and round in circles, becoming repetitive. Once the topic ran out of steam, they resumed talking about Covid-19.
Insta-live sessions also led to plenty of controversy; for instance, actor Naumaan Ijaz guffawing while calling his peers non-actors. Singer Ali Sethi came up with the great idea of connecting online with artist friends in India to talk music and occasionally break out into a few collaborative raags. It was refreshing but short-lived, with the Indian government forbidding any creative collaborations with the Pakistani enemy, even if it were through individual Instagram accounts. The coronavirus pandemic will eventually go away but Indo-Pak politics never will, it seems.
Fashion, rebooted
It took a virus to finally put a halt to the endless deluge of fashion shows and even Pakistani fashion's staunchest supporters secretly heaved sighs of relief. There had been nothing particularly fashionable about the overdoses of bling, tulle, mishmashes of colour and never-ending trailing shararas that had lately become fixtures on the catwalk.
There had been nothing exciting about attending one fashion week and merely a few weeks later, attending another and not being able to distinguish between them because the designs all looked the same. There had been nothing exclusive about an event thronged by leering oglers and basically anyone who could get their hands on the easily available entry passes.
Lately, there had even been some small children spotted in the front-row. Add in a jumping castle and a burger stand and you could just have had a regular carnival.
Jokes aside, like all businesses, the business of fashion suffered because of the coronavirus pandemic. The fashion industry thrives on selling luxury products to a niche market and designers grappled with nose-diving profits as parties and weddings got scaled down or cancelled altogether. A gharara costing a few millions could hardly be in demand at a time when all one wanted was a comfortable pair of pyjamas. Some ateliers quietly shut down, resolving to reopen in better times.
But once the initial few months of corona-induced terror had subsided, fashion went through a much-needed, long overdue reboot. Small-scale, socially distanced gatherings started taking place and designers devised artistic shoots in order to entice their slowly reviving market. Online retail started operating more efficiently, realising that customers still wanted to shop, albeit from within their homes rather than by physically walking into a store.
Slowly, solo shows with limited audiences began to emerge. Elan set a precedent with a small soiree at their store in Karachi, followed by Hussain Rehar, whose bridal show took place in the afternoon, in an open-air courtyard within a private residence in Lahore. Huma Adnan's show in the early evening was by the sea, at Karachi's age-old picturesque Beach Luxury Hotel and Fahad Hussayn laid out a magic bazaar, open to a very small audience, at a heritage site in Lahore. The Lahore-based Kuki Concepts also opted to fly solo.
Early evening shows with a single thematic collection in the limelight, organised purely to generate business, open only to a select guest list, sans the riffraff — ideally, fashion shows were always supposed to be like this. The question is, once the coronavirus pandemic finally gets quelled, will the fashion circuit resume its long-winded, mundane showcases, going on till the late hours of the night?
Fashion weeks, after all, can be very lucrative, with sponsors and hefty participation fees propelling them on. Will we resume those late night, bleary-eyed sojourns sitting by the catwalk? Could fashion stay in its classier, rebooted state a bit longer?
Celebrity weddings that actually seemed real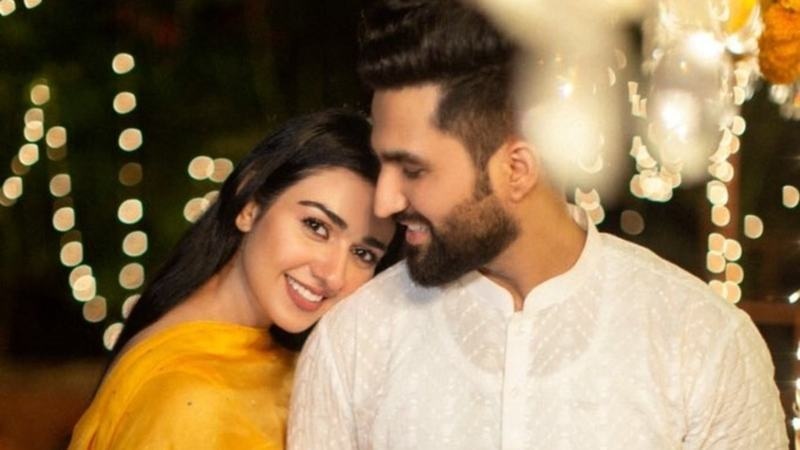 In pre-Covid-19 times, celebrity weddings had become veritable circus acts, with every event aired out for public viewership. From the 'qubool hai' to the family dances to the who's who that attended the valima, images and videos promptly floated out on social media, making you feel like you were actually there, rather than merely watching it on Instagram.
The names of the designers, event organisers and caterers would be mentioned frequently, implying that the celebrities had struck a business deal, getting freebies in return for promotion. It all seemed like a show rather than an actual wedding, surrounded by family and friends.
Considering how crowded events were restricted for most of the year, a surprisingly large number of high-profile weddings took place. Ahad Raza Mir and Sajal Aly tied the knot in a destination wedding in Abu Dhabi, attended only by close family and friends. Actress Sarah Khan and musician Falak Shabir got married and have been bludgeoning Instagram with lovelorn pictures and videos ever since.
Actors Daniyal Raheel and Faryal Mehmood got married as did Sana Javed and Umair Jaswal, finally making rumours of their relationship official with images from their nikaah ceremony. Actor Shahroz Sabzwari, who had gone on record denying his relationship with model Sadaf Kanwal, now confirmed the contrary by getting married to her.
Allegedly, actress Amna Ilyas has also gotten married to theatre director Dawar Mehmood but the announcement is yet to be made official. Veteran actors Manzar Sehbai and Samina Ahmed also got married and, ever since, the happy groom has been occasionally floating out lovestruck messages and pictures. Age ain't nothin' but a number, after all, especially when it comes to true love.
And while social media weddings may have their entertainment value, these relatively small-scale, intimate ceremonies were a lot classier and felt more real. A wedding should be a wedding, after all, and not a carefully contrived performance, programmed to look glamorous and simultaneously foster complexes in an audience, the majority of whom couldn't possibly afford such luxury. Maybe, some of these famous people even heaved sighs of relief that they could get by with socially distanced, intimate events and skip out on the ostentation.
On the downside, a lot of celebrity couples broke up: Asim Azhar and Hania Aamir, Mekaal Hassan and Rubya Chaudhry (though that happened much earlier but was made public recently) and, it is rumoured, Farhan Saeed and Urwa Hocane. Quarantining alone, at home, for months, with nothing to do can perhaps take a toll on a relationship.
Our Ertugrul Obsession
Right around the time the nation was stuck at home and living in mortal fear, PM Imran Khan ordained that a Turkish series called Dirilis: Ertugrul be dubbed in Urdu and aired on the state-owned channel, PTV. He recommended watching the show for moral and spiritual upliftment and, soon enough, Ertugrul fever hit Pakistan, full-throttle.
There were biryani houses that were rechristened to the names of the show's most popular characters, prime cattle being sold on Eid ul Azha were proudly named Ertugrul and barber shops in bazaars boasted images of the bearded lead actor in an effort to entice potential customers.
Pakistanis promptly followed the actors on social media and expressed their love for them. They also expressed their disappointment when the actors put up images that were in contrast to their holier than thou on-screen characters: with a pet dog, on the beach, spending time with friends of the opposite sex. The flipside to fame in Pakistan, of course, is the incessant social media trolling.
The Turkish cast of the show was naturally enthralled by the attention given to them for a show that had wrapped up in their country last year. The lead actress Esra Bilgic quickly signed deals with major brands: a high-street retailer, a mobile network, a cell-phone company and even a housing project which she, in her heavily accented Urdu, proclaimed to be her 'naya ghar' (new home). Other actors also cashed in on the popularity, modeling lawn and endorsing the earlier mentioned housing project.
The lead actor of the show, Engin Altan Duzyatan, remained elusive, not associating with any local brand until suddenly, he was seen making an out-of-the-blue trip to Lahore on the invitation of a private business. The media trailed after him for the duration of his short trip, filming him when he declared 'Lahore, Lahore Hai!' in a press conference, visited the historic Badshahi Mosque and mausoleum of Allama Iqbal and petting a chained lion, owned by his host!
A few days following Engin's trip, his host got arrested, evidently wanted by the police for fraud. Engin may have been a heroic 'ghazi' on TV but in real life, it seems he was no match, unfortunately, for some good ol' fashioned Pakistani wheeling dealing.
Musical Waves
In a year when they couldn't haul in profits with the aid of concerts, many mainstream musicians opted to get creative rather than mope about at home. This was a year when Atif Aslam recited the hypnotic Asma Ul Husna at a time when spirits were particularly low.
Asim Azhar was on a roll, releasing one single after the other. Velo Sound Station made its debut, introducing a techno-pop thumping new platform. And, better late than never, Coke Studio took off in the tail-end of the year, with a season that may be shorter but has a quintessential raw, organic feel to it. Working within a Covid-19-compliant format, the singers and musicians performed separately, their sounds merged together later into a single song. Rahat Fateh Ali Khan recited a heartrending dua, penned by Adnan Siddiqui.
Quite brilliant — and next year, once the vaccine has saved the world, the music can get even bigger, performed live at concerts.
The year we watched TV
With cinemas closed, the film industry has been struggling to survive, but on the other hand, TV and web-series flourished. Dirilis: Ertugrul, extending over hundreds of episodes, was a sensation and TV channels extended their primetime from a basic one hour slot to a three hour window that began at 7pm and ended at 10pm.
Netflix was watched avidly and the Indian OTT streaming service, Zee5, became an immediate success, featuring Indian content as well as original Pakistani series commissioned especially for the platform. Churails, the first Pakistani web-series to feature on Zee5, was a critical if controversial success.
Next came Mehreen Jabbar's Ek Jhooti Love Story, a lighthearted social commentary which had all the makings of a hit until the powers that thrive on Indo-Pak politics swooped in and made it illegal for Pakistani credit cards to pay for Zee5's services.
It's a pity, especially since Zee5 was introducing new genres of dramas to Pakistan. We do love to watch TV but we'd like to see a lot more than the usual saas-bahu domestic escapades that are predominantly shown on local channels.
At some point during the coronavirus' initial wave, actor Mahira Khan had pondered to me, "If a life-threatening virus can't make us kinder, what will?"
In a hopefully Covid-19-free 2021, will we be a kinder, more sympathetic lot? Since we have been (somewhat) highlighting 2020's silver linings and trying to be optimistic, let's hope so.
Email