Reserve baking butter-laden pastries such as puff and croissants for the winter as they are so much easier to handle.
I am a huge fan of autumnal spices such as nutmeg and cinnamon, particularly when they are paired with apples, and I am always looking for ways to incorporate them in my baked goods. I also especially love winter baking when the heat isn't a problem as it is in the summer months.
At home, I almost always reserve baking butter-laden pastries such as puff and croissants for the winter, as they are so much easier to handle. This recipe for apple turnovers combines spiced apples with buttery puff pastry for the ultimate tea-time indulgence.
If you have never made puff pastry before, it can look and sound rather daunting. The good news is, it isn't!
While it is a time-consuming process, you can use much of that time to get on with other things. You could, of course, use store-bought puff pastry for this recipe, but there is a huge sense of achievement in making your own, and the flavour is vastly superior to the ready-made version.
The reason puff pastry takes so long to make is because you must encase a slab of butter in the dough and shape and fold it over several times. This process is called 'lamination' and each fold is called a 'turn.' It ensures that you get lots of buttery layers when the pastries are baked. The dough must be refrigerated between each turn to let the gluten relax and so that the butter doesn't melt as you roll it out.
If you find the butter melting, you must refrigerate your dough and wait until it's cold enough to handle. I've used a sweet filling for this recipe, but you can do a savoury chicken or vegetable filling as well.
Apple turnovers combine spiced apples with buttery puff pastry for the ultimate tea-time indulgence
Apple turnovers
Puff Pastry
Ingredients
400g flour
185g water (chilled)
40g butter (cold)
8g salt
240g butter block (flattened into a square about ½ inch thick and kept chilled)
1 egg (for the egg wash)
Method
Put the salt and 90 percent of the water in the bowl of an electric mixer and mix well to combine. You can do this by hand with a whisk or spatula. Add the flour and the butter and attach a dough hook to the mixer and mix at medium speed until the dough becomes smooth and springs back when touched. If it looks a little dry, you can add the rest of the water to it. The mixing should take about five to six minutes. You can also do this by hand, it will take longer. Wrap the dough in plastic wrap in a square shape and chill for about 30 minutes.
Dust your work surface with flour and roll out the dough in a square slightly larger than the butter block. Place the butter in a diamond shape on the square and fold in the edges, sealing them tightly. Next, roll out the dough to approximately 20 inches by six inches, cover with plastic wrap and chill for one hour.
Once the dough is chilled; it may contract a little, so you may have to roll it out to its original size again. Next fold the dough in thirds, folding from the bottom into the middle and then from the top down. Seal the edges well by pressing a rolling pin on them. This is the first single turn. Roll again into the same size as before and chill for one hour.
Repeat this process so that you have done a total of two single turns and two double turns. Then roll to the size of an A4 sheet of paper. Wrap in plastic film and return to the fridge for one hour and then your puff pastry will be ready to use. At this point, you can also freeze your puff pastry to use at a later time.
Apple compote
Ingredients
20g sugar
20g butter
3 apples (medium sized)
Lemon juice of half a lemon
1 teaspoon cinnamon powder
½ teaspoon nutmeg powder
Method
Peel and core the apples and dice into small squares. In a stainless-steel saucepan, add the sugar and let it melt and cook until it becomes a light caramel colour. Add the rest of the ingredients and cook on low heat until the apples become soft and mushy. You can blend the compote to make it smooth or use it as it is. Reserve in a bowl and cool to room temperature or chill before using.
Assembling the Apple Turnovers
Roll out the puff pastry to ¼ inch thickness and use a six-inch fluted round cookie cutter to cut out several circles — you can reroll the trimmings but the result in the finished pastry won't be the same, so try to get as many circles as possible in the first go. Working with one circle at a time, roll it out slightly, then add a tablespoon of the apple filling and seal the edges with a bit of water.
You can use the tines of a fork to create a decorative pattern on the edge and the blunt side of a knife to create a pattern of the turnovers. Arrange all the turnovers diagonally on lightly floured baking trays and brush lightly with beaten egg — make sure the egg wash doesn't drip over the sides, otherwise the layers will get stuck and won't rise.
Chill for 10 minutes and then brush with egg wash once more. Bake in an oven pre-heated to 200 degrees C for 20 minutes (rotating the trays after 10 minutes) or until the puff pastry has risen beautifully and is a lovely golden brown. Cool for 15-20 minutes and serve warm.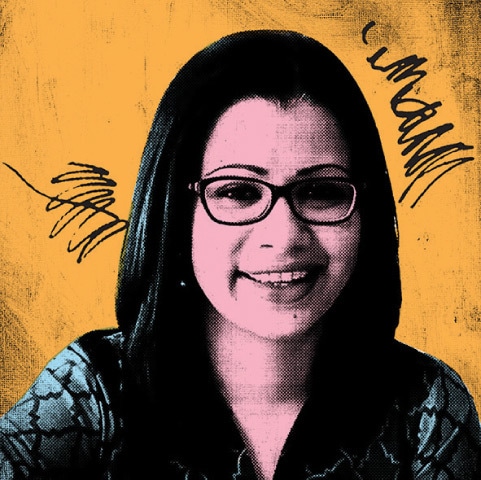 The writer is a professional chef and has a diploma in pastry from Le Cordon Bleu. She tweets @marylouandrew
Originally published in Dawn, EOS, November 29th, 2020