Racism and colourism is a global epidemic. Haider Ali's latest mural is proof.
A truck artist from Karachi, Ali has painted a portrait of George Floyd, a 46-year-old Black man who was murdered by police officers in Minneapolis, Minnesota, during an arrest for allegedly using a counterfeit bill. His death led to Black Lives Matter protests all around the globe.
The mural has been painted on one of the walls in Ali's home in memory of Floyd's untimely demise. Made in traditional Pakistani truck art style, it's accompanied by slogans: "Hum kaalay hain toh kia hua, dilwale hain (So what if we're dark-skinned? We've got big hearts)," and "Goron ki na kaalon ki, dunya dil walon ki (This world doesn't belong to white or black people, it belongs to the ones with heart)."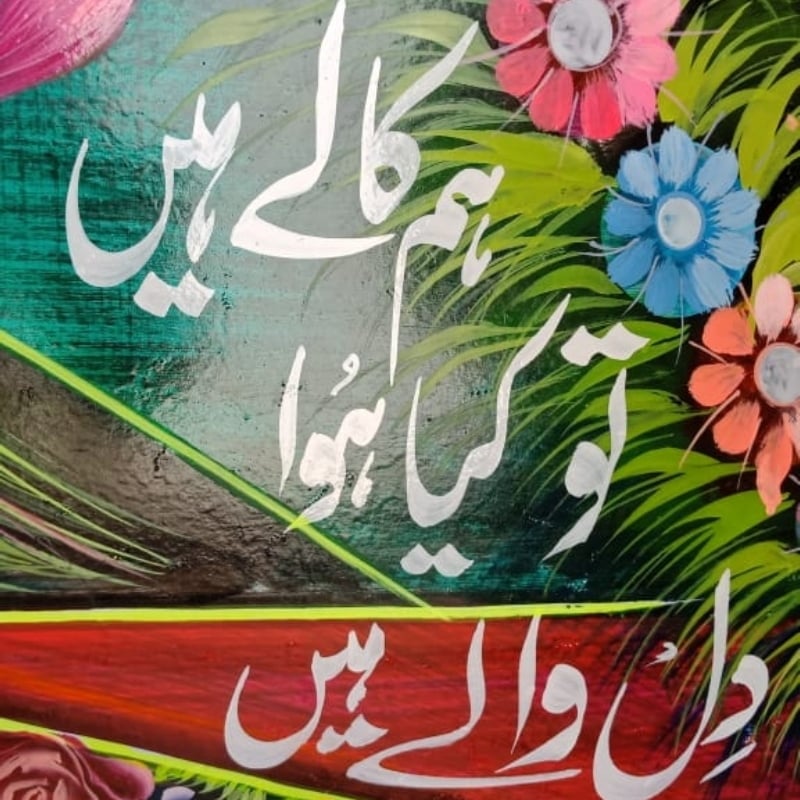 In an exclusive conversation with journalist Sana Fatima, Ali explained why the background for his creation was black.
"Black is an essential colour of the universe. It's due to the black colour of the sky that we are able to see the stars. Every artist in the world realises the importance and beauty of the black colour", explained the truck artist. "Allah Almighty has made every human equal. Islam too discourages all kinds of racism."
He added, "This act of barbarism makes me think of also the Muslims living in Indian Occupied Kashmir, Palestine, Myanmar and elsewhere, what they have to go through every day? They are subjected to injustice and cruelty on the basis of religious bias, tortured and killed. They are living their lives in fear every minute. I plead that the world must raise voice for them too."
---
Sana Fatima is a Pakistani broadcast Journalist, an aspiring future filmmaker, a traveller and a fitness enthusiast. Find her on Twitter: @SanaFatima_
Email