Chai, cricket, chaat, cake... it all goes together!
It's that time of year again; the PSL 2020 is here.
It's heartening to see us all come together — leaving behind differences of ethnicity, religion, race, creed and caste — and watch the wonderful game of cricket. I remember the PSL 2018 final at Karachi's National Stadium. I had especially flown in to see my favourite team, and to my utter delight it won that year. I am thrilled to see cricket return to the stadiums of Pakistan again. 
This game is best enjoyed with family and friends, so for the PSL opening ceremony and match, I decided to host a tea party. The theme of the party was 'Chai aur Cricket'. I put together the menu with great care, since a very important aspect of a tea party is the putting together of treats that complement each other.
My mother was an excellent cook and her tea trolleys were sublime. Keeping her advice in mind, I chose the following menu. I wanted the chai trolley to be wonderfully delicious, just like the upcoming month. Here's from my trolley to yours.
Enjoy PSL 2020 with these tea trolley delights
Classic Pound Cake
This is a classic pound cake recipe with only four ingredients, weighing a pound each, which is how the name originated.
Ingredients
2 cups salted butter, room temperature
2 cups granulated sugar
9 large eggs
31/4 cups all purpose flour
2 teaspoons level baking powder
Method
Preheat oven to 350°F. Coat a large bundt pan liberally with nonstick spray and set aside. In a cake mixing bowl, mix the butter and sugar together for two minutes until light and fluffy. Add the eggs, one at a time, mixing well until combined, scraping the sides as needed. Turn the mixer to low and add in the flour slowly until combined, again scraping the sides to ensure everything is combined evenly. Spread the batter into the prepared pan and bake for 70-80 minutes, or until an inserted knife comes out clean. If you notice it is browning too much on the top, cover with foil. Allow the cake to cool in the pan for about 20 minutes and then release onto a wire rack to cool completely.
Focaccia Bread
Ingredients for dough 
1 ½ cups flour
1 cup Greek yoghurt (home-made yoghurt made is a great substitute)
1 ½ teaspoon baking powder
Salt to taste
Method
Mix all four ingredients, kneading for six to eight minutes on oily surface, and form in to round disc with a rolling pin. For personal-sized focaccia bread or pizza, spread into two nine-inch discs, spread with toppings and bake in a pre-heated 450 degree oven for 10 to 12 minutes. For a large pizza or bread, spread into one large disc, pour toppings and bake at same temperature and length of time. This dough makes for exceptionally authentic pizza dough. Use as base for all your favourite pizza toppings, it is absolutely delicious. 
Garlic topping 
Chop fresh garlic, fry in olive oil, salt, add a hint of crushed red chillis, spread on bread, top with chopped cilantro and hint of cheese and bake. 
Sun dried tomatoes
Two pounds tomatoes, sliced, sprinkled with salt and placed evenly on a baking pan in a pre-heated oven at 300 degrees. Considered done when they are almost dry and appear dark red and leathery. Spread olive oil on bread, sprinkle sun-dried tomatoes lavishly with cheese and place in oven. Premade sun-dried tomatoes in olive oil and pesto in olive oil make for a great topping too. 
Get innovative with toppings, surely that's the fun part about making focaccia. Fresh out of the oven, this one is bound to become one of your household favourites.
Chana Chaat
Ingredients 
2 cups chanay, soak overnight in five cups of water and 1/3 teaspoon soda 
¼ to ½ cup gurr (jaggery), optional
½ to 1 teaspoon black salt
½ teaspoon cumin seeds, roasted and ground 
¼ to ½ cup tamarind chutney
2 potatoes, boiled and chopped in small squares, (boiled in water with yellow food colouring) 
2 to 3 tablespoons finely chopped onions
Method
Boil chana until completely tender. Once boiled set aside and add jaggery, let cool and add all other ingredients. Garnish with chopped green chillies, cilantro, sliced round onions, sliced tomatoes and serve with a side of chutney, yoghurt, chaat masala, papri or any other desired side.  
Pakoray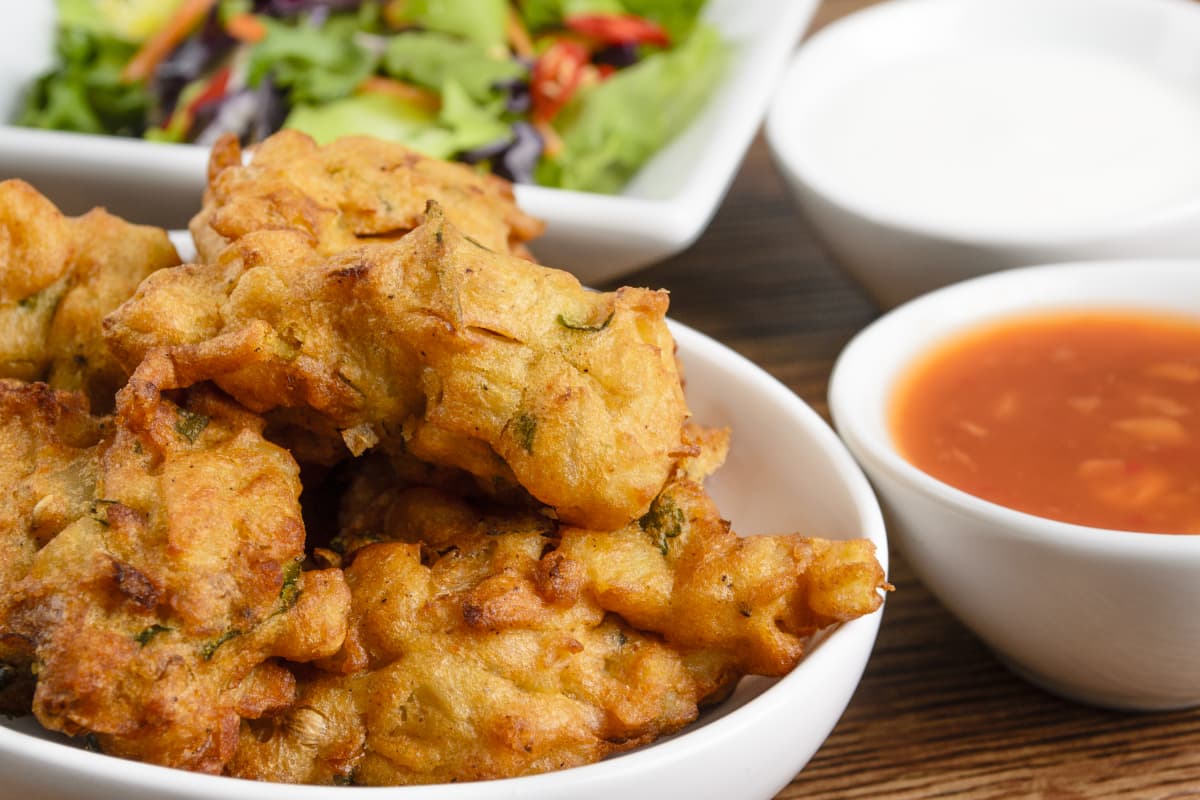 Ingredients
2 cup gram flour
2 green chillies, chopped
2 medium-sized potato, sliced 
2 to 3 boiled eggs, sliced
1 small eggplant,
2 tablespoons sliced spinach leaves
6 tablespoons cilantro, chopped
Salt to taste
Red chilli powder to taste
1 teaspoon ajwain (carom) 
1 teaspoon coriander seeds 
1 teaspoon cumin seeds (pan roasted and roughly ground)
1 teaspoon baking powder (level)
Method
Mix ingredients, eyeballing amount of water and deep fry until crisp and crunchy. Enjoy with chaat masala, yoghurt chutney or ketchup. 
Note: Use any vegetable of preference to make pakoras.
Originally published in Dawn, EOS, March 1st, 2020