Here's a handy local guide to find the right tote bag for your budget and style.
With large single-use plastic bags headed for the bin of history and banned to varying degrees in many parts of the country, we still need something sturdy to carry stuff around. This is where tote bags come in.
Tote bags are reusable and durable, usually made of fabric, canvas, leather or plastic — though that's not recommended if you're committed to going plastic-free. Many local high-street brands now also give out reusable canvas tote bags with in-store purchases or stock them as separate items for sale.
They're great for storage and make for great gifts too.
Here's a handy local guide to find the right tote bag for your budget and style. Bonus points if you choose to select one that's for a good cause!
Mai Aur Ammi — as the name suggests — is mother-daughter duo Nayla and Hira from Karachi selling handpainted canvas tote bags through Instagram. "I posted a picture of our first bag on Facebook and many girls loved it. They placed orders and encouraged me and my ammi's work," says Hira, after which she started taking more orders through Instagram.
Prices start at Rs250. You can order a customised one-off or in bulk, and pouches to hold makeup or stationery will be launching soon.
CareForHealth rehabilitates adults with mental illness and reintegrates them into society. The CareForHealth Dukaan is a platform for its clients who have successfully completed a year-long Illness Management Recovery programme to showcase their talents and support themselves as part of the reintegration process.
Bags are made of durable denim or canvas and feature minimal detailing like lace or embroidery.
Prices start at Rs500 and orders can be placed through their Facebook page.
Accessory and stationery brand Fish.'s offerings include canvas totes tie-dyed or screen printed by hand, featuring catchy phrases, bright colours and big, bold typography.
Bags are priced at Rs1,000 and can be ordered through Instagram.
London-based Shazia Nizam's MyKolachi tote bags came about, as many things in Pakistan do, with a wedding. She had some ideas for an artisan collaboration in mind when she came over from the UK to attend one and was introduced to some already working with NGOs by her scuba diving colleagues in Karachi.
She met the artisans, had her designs produced, created a website and the rest is history. But the journey wasn't entirely as simple as that.
"I had a hard time and learnt a lot about how to deal with all the stuff that comes with working in Pakistan: not completing work as directed, not keeping to standards, not finishing on time, how to not upset the workers when this happens and to get products I was happy with," said Shazia.
MyKolachi bags come in bright, bold prints screen printed by hand on sturdy khaddar with faux leather straps, an additional shoulder strap and has a button closure.
Prices start at £40.00, but they're on sale for £20.00 for now.
Founded in the summer of 2012 as a postcard company by art and culture journalist Sonya Rehman, From Lahore With Love was launched with the main aim to celebrate Lahore by paying homage to the sights that make up Pakistan's glorious city of gardens.
The tote bags, introduced in December 2019, have been quite a hot-sell after Sonya exhibited them at TEDxLahoreWomen '19 at the British Council. Over the next few months, Sonya hopes to launch an online store for her postcards, tote bags and other products revolving around Lahore.
The canvas bags are priced at Rs550 and orders can be placed through Facebook or Instagram.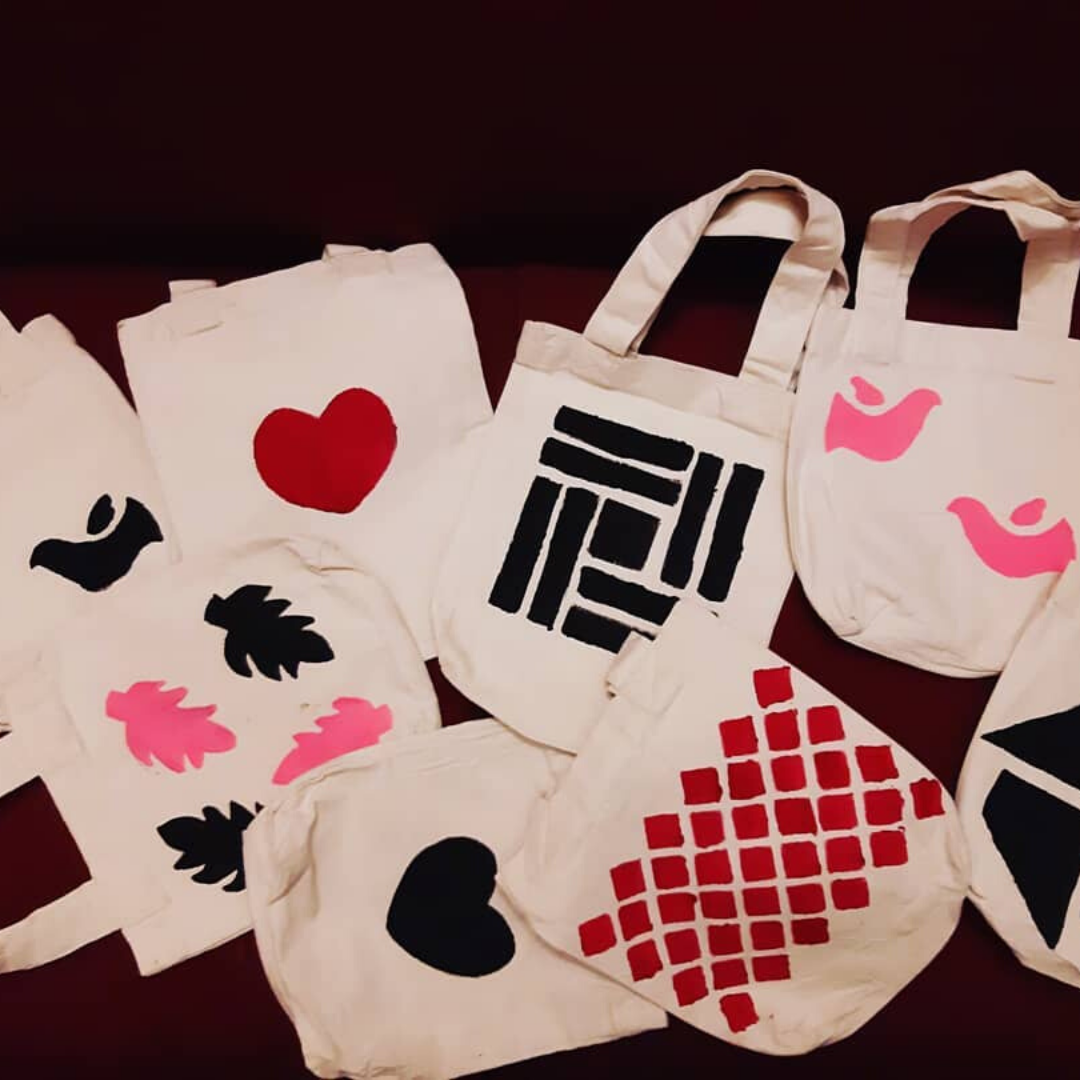 Mehr Husain runs ZUKA, named after her two sons, Zulfiqar, 9, and Kassim, 4, who also help her out). She set up the social enterprise a year ago, making pure muslin scarves, plus khaddar pouches and totes with minimal block prints.
"After writing a book on Pakistani fashion, I realised two things — one, we don't give enough credit to fabrics like malmal and khaddar and two, we need to innovate with our crafts and skills," says Mehr.
"So what I do with the fabric is instead of suits and dupattas, I make scarves, pouches and totes. These are block printed or hand stencilled." The totes and pouches are stitched by female artisans at Lahore-based non-profit Labour and Love.
Mehr also has a special Valentine's Day collection launching soon. "It's going to be a tad different since I'm mixing my khaddar pouches and totes with silk or jamavaar. Why should fine fabrics be limited to shaadi wear?"
Prices for tote bags start at Rs500 and can be ordered through Instagram and Facebook. The bags will also be available at The Ink Factory in Lahore, Kayal in Islamabad and The London T in the UK.
---
How have you adapted your lifestyle to be more environmentally conscious? Share your experience with us at images.web@dawn.com