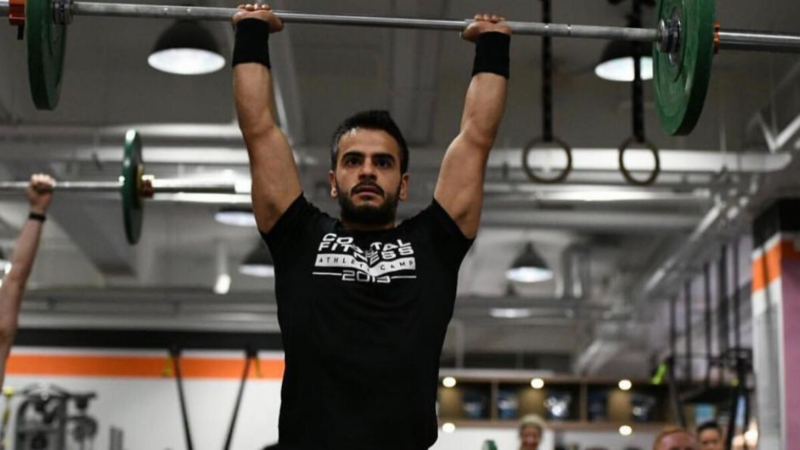 Do you ever feel like quitting your boring desk job and just chasing after your dream, doing something you love?
This investment banker turned fitness coach is doing just that.
Bilal Tariq was a trainer at several gyms before opening MatrixFit in Karachi, which is now affiliated with the global CrossFit brand as CrossFitBnB.
Speaking to Images, he shared how his CrossFit journey began:
"I was introduced to CrossFit back in 2013, immediately fell in love with it and never looked back. In the beginning, it was just experimenting, I didn't really have any guidance. Whatever I saw on social media, I'd just do that. I was doing CrossFit but I did not have any type of routine or any goals; I was just doing it to stay in shape.
Slowly and gradually, learning new things every day, it started coming into a routine and I started becoming competitive. I won the National CrossFit Games Open Championship in Pakistan for the last three years. Now the work has kind of paid off and I'm heading to the CrossFit games to represent Pakistan."
He wanted to "make a difference in someone's life through fitness" and create a sense of community which is what bought him closer to the CrossFit world.
But what exactly are the CrossFit Games?
Tariq explains, "You can call it the Olympics of our sport; it doesn't get any bigger than this. It's is a 4-day event where the fittest people on earth come and compete. At the end of the games, the fittest male and female are awarded the title."
Bilal further added, "I'm the first Pakistani man going to the CrossFit Games and will be competing in the individual category next to 143 of the fittest men in the world. It's happening in the U.S, in Madison, Wisconsin."
Along with him, Mishka Murad will be the first Pakistani woman at the Games.
The first time we got in touch with Bilal, he was busy training a client and said that he's only free for two hours during the day. Out of curiosity, we asked him what his day looks like and what it takes to get to this stage. Needless to say, we were shocked to learn the amount of hard work he has to put in and how intense his workout routine is.
He stated, "My workout routine for the past 3 months, since winning the open has been quite rigorous. I'm spending approximately 6-7 hours just training in the gym. Other than that, the whole day pretty much revolves around the training as well.
When you're a full-time athlete and going to a competition of this magnitude, you have to dedicate yourself 110%. I'm a coach, a business owner, and committed to CrossFit so juggling all these responsibilities isn't easy."
As a professional coach, he gave some recommendations to those struggling with their fitness goals as well.
"It's a very broad topic so there are no right answers. People struggle differently, the one thing is that consistency is always beneficial. You've got to trust the process and in order to succeed in whatever mission you're on, just stay consistent."
As with everything, you need to have realistic goals in order to reach them and Bilal advices you keep your expectations in check as "a lot of us get into this fitness journey with unrealistic goals", and it's important to have definitive goals according to your lifestyle, he added.
About his future plans, he shared that he's always got something planned for the future, to have something to be excited about.
"I keep telling people I'm just getting started. There's so much that can be done in this country and so much potential in terms of what you can do. So I have a bunch of ideas and I'm excited to execute them."
Here's hoping he brings the title home!
---
An earlier version of the story stated that Bilal Tariq was the first Pakistani to compete in the Games. The error is regretted.
Email