A series of photographs providing an insight into the life and landscapes, flora and fauna, communities and culture of Malawi — a landlocked country in south-eastern Africa — were on display at an exhibition that opened at the VM Art Gallery on Monday.
It's the second exhibition by Laurence Savary, a French artist based in South Africa, in Karachi at the same gallery. The earlier one focusing on the wildlife, nature and culture of South Africa was organised in 2014.
None of the 40 images on display were titled, leaving the visitor at freedom to have his or her own perception and understanding of the photograph, each carrying a lot of interesting details of a particular object or sight.
For instance, there were so many shades of different colours in a single landscape depicting an agricultural field. Then, there were photographs in which different animals co-existed in the same environment. In one such image, a deer seemed to have a secret talk with a pair of zebras.
The artist also seemed to have a penchant for old trees as there were quite a few images of them.
"I don't like giving titles to photographs as I want people to interpret them on their own way," said Savary, who has been a versatile industrial marketer for over 15 years.
While Savary has always had a love for photography and used to take photographs of whatever she was attracted to during her professional visits to different countries, she took up photography seriously in 2011 when she was out of a job.
Asked about her visits to Pakistan, she explained her first trip to the country was in 1989 when she came to Karachi and also visited other cities for an academic assignment.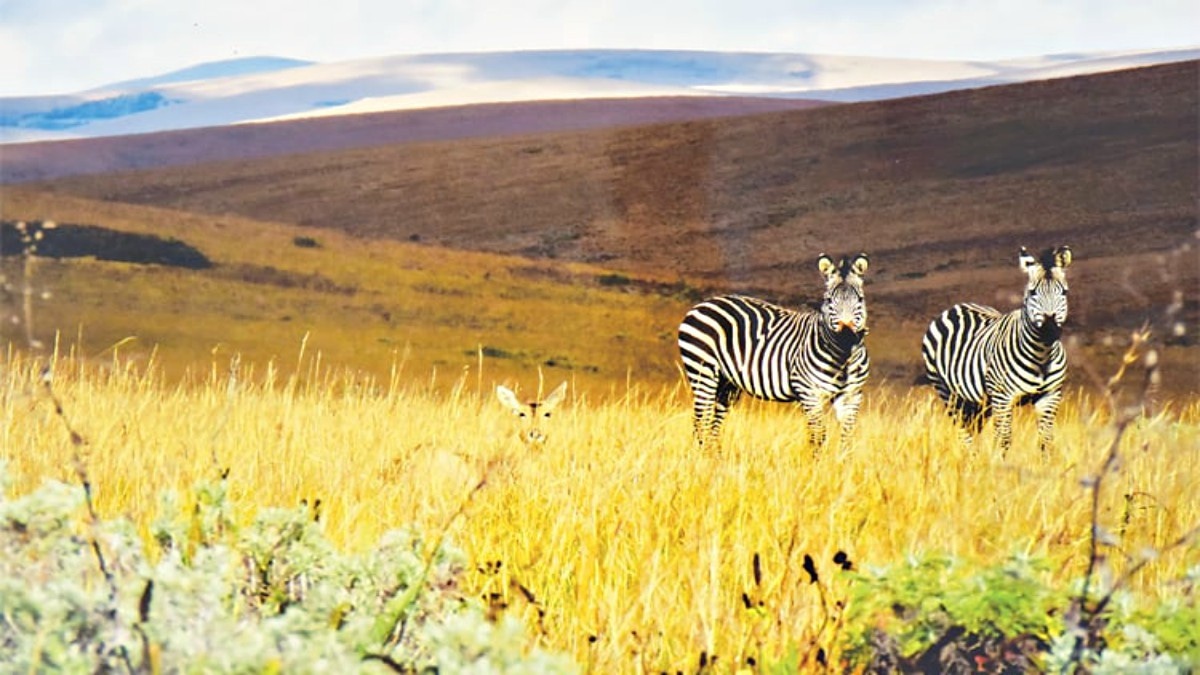 "I have been to Pakistan six times and have a special association with the country. This is also because I got my adoptive parents here," she said, recalling that she was impressed by the love and hospitality of an old couple in Sost village in upper Hunza years ago.
"When I told them that my parents have passed away, they offered to become my parents — that I couldn't refuse," she said.
Savary regretted that she couldn't hold any photography show on Pakistan in South Africa, though she had a good collection of images.
"It's not the matter of provision of space or sponsorship. I found Pakistanis living in South Africa reluctant to come forward and support the show. But, I haven't given up and will try to motivate them again to support Pakistan, their country," she said.
Savary travelled to Malawi thrice between 2017 and 2018, spending time in nature and with families.
Her photographs also provide a peak into the life of local communities of the region, positioning her as a traveller relaying stories across cultures and countries in order to foster greater empathy and trust.
Also, her images are a feast for visitors looking for spectacular landscapes as Malawi is endowed with mountains and the third largest lake in the continent, fascinating highlands, forests and game parks. It's because of this beauty that often people describe this small country as the "warm heart of Africa".
"My initial curiosity was about botany on the rift plateau but then I discovered life in the lake, savannah animals at Nyika Plateau, the missionary architecture, and the warm hospitality of Malawian families and Christian communities around the Cape," she said.
The exhibition is on till July 23 from 11am to 7pm.
---
Originally published in Dawn, July 16th, 2019
Email