An exhibition of artworks made by Shaukat Ali titled Labyrinth is currently under way at the Koel Art Gallery. Before one makes an effort to analyse the artist's drift in the 19 paintings that he has put up, it would be apt to narrate a story from a Hollywood film.
The reference is to the 1986 Jim Henson-directed movie having the same title, Labyrinth, starring Jennifer Connelly and David Bowie. Its story pivots around the character of the 15-year-old Sarah's (Connelly) attempt to get to the middle of a maze in order to save her younger brother from the Goblin King (Bowie). Another interesting aspect of this little nugget of information is that Henson was a famous puppeteer.
Shaukat Ali's artworks have at least one thing in common with that film: journey to move out from a complex physical space to a state of (relative) uncomplicatedness. This sounds complicated in itself. It's not. One only has to look at the larger elements in his exhibits. First of all, there's the dominating colour black which, with lighter or darker shades, forms the base of each piece. This denotes the search for light, almost an act of seeking enlightenment.
But then there are the various formations of lines, ranging from zigzag to circuitous and from knotty to indiscriminate. The patterns can become a lot more comprehensible when the viewer reads the artist's statement in which he refers to the images that he creates as monologues woven through his feelings and emotions, formed with a number of dots that invite the viewers to "lose themselves in the visuals, travel their own way".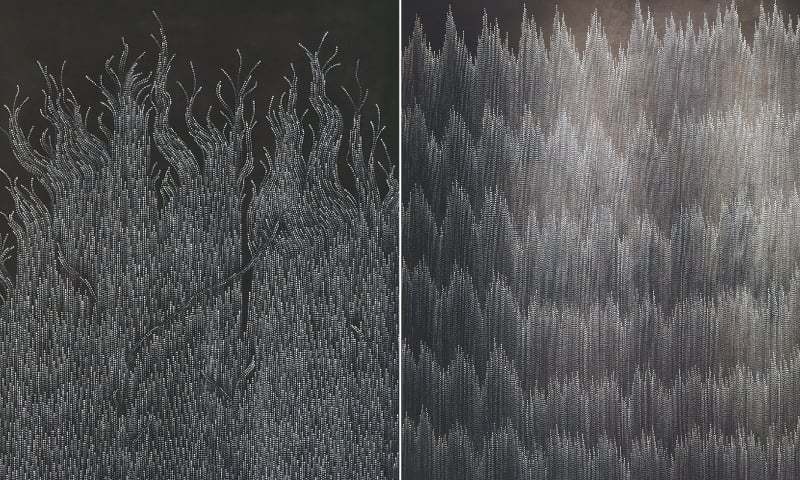 Now the link, again, here is that of the journey that Ali has embarked upon, trying to decipher certain aspects of existence. What happens during this quest is that the viewers get to see some striking untitled acrylic-on-canvas works, which make the whole scenario brim with aesthetic grace and artistic finesse.
The exhibition concludes on July 5.
Originally published in Dawn, July 2nd, 2019