'Tis the season when people begin asking each other, 'What's trending this Eid?' But perhaps a more relevant query would be: does anything ever trend on Eid?
The festive season, following a month of food deprivation, food binges and the proverbial holy battle against vice, has never really been one for sartorial statements. Eidul Fitr, in fact, with its predilections towards mehndi, bangles and ethnicity has always been more of a traditional affair.
Commercially-savvy designers — and there are so many of them now — know this and Eid collections tend to be beautiful, as opposed to cutting-edge. Unfortunately, at the hands of the untalented, beautiful can also be boring. Take your pick of any Eid exhibition taking place in your city and you're likely to encounter cottons in soft pastel shades and the colour du jour, a classic crispy white. The hues and the lightweight fabric make sense simply because Eid this year is likely to be swelteringly, unbearably hot. So far, so good.
But splayed out on this pretty canvas is usually a repetitive concoction of applique mixed with lace, running into chikan finishings with a dash of beaded borders and frills. There is also a favourite buzzword doing the rounds and it's called 'chikankari'. This delicate shadow-work was having a high fashion moment about a year-and-a-half ago. That moment has now been prolonged to eternity and, although it remains beautiful, chikankari is now completely ubiquitous.
"On Eid, people like to go back to their roots," observes designer Rizwan Beyg. "They opt for shalwar kameez and dupattas."
Very few instances of chikankari, such as in Image Fabrics' version which is worked with gota, stand out. In general, though, most Eid exhibits boast the same chikankari as the Pakhtun vendors sitting in Aashiana or Liberty Market. Shockingly, sometimes both have the same fabric!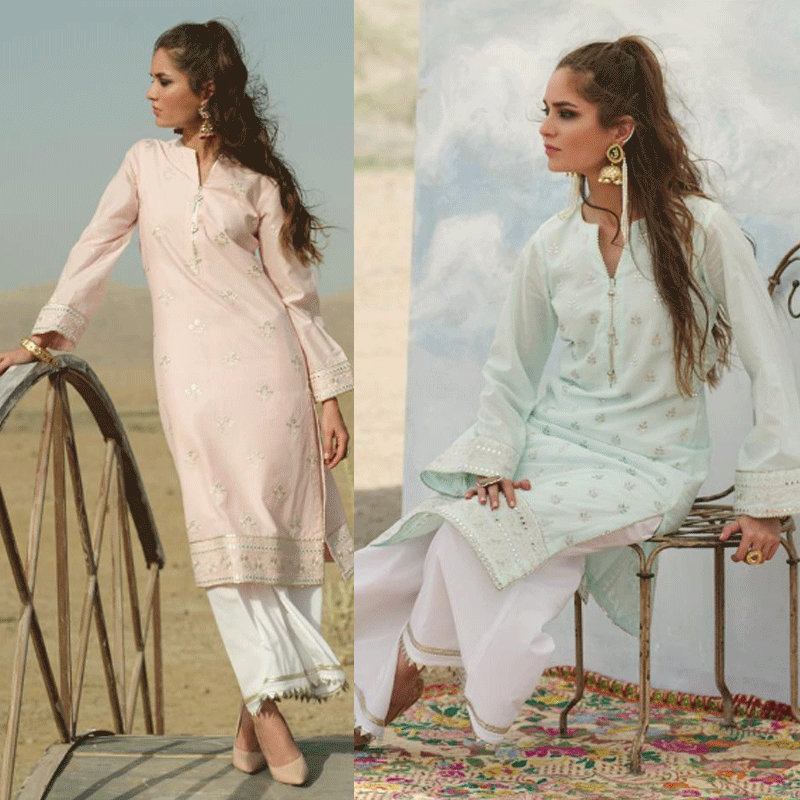 That's another crib one has against Eid designer-wear. In their frenzy to create appealing, commercial design, most brands don't try to add personal touches to their collections. A trip is simply made to a favourite market down the block, swathes of fabrics and finishings are picked up and, then, patched together. Nothing very trendy about that.
Then again, what does stand out in Eid fashion? More than anything, it's the dupatta. Fashion week season may have just culminated but designers have curbed out-of-the-box creativity for now, going all out desi. 'Tis the season, after all.
Fashion goes old school
Having traversed the holy route in Ramazan, the dupatta asserts itself with great gusto come Eid. This scarf is hardly ever visible on the runway or even in fashion shoots, except those dedicated to lawn. Festive-wear line-ups, though, have plenty of beautiful dupatta options.
"On Eid, people like to go back to their roots," observes designer Rizwan Beyg. "They opt for shalwar kameez and dupattas. The only thing that may vary within a collection is the length of the shirt! Also, if there is any experimentation at all, it is in the lowers, which may range from bell bottoms to choorridars, pants and, particularly popular with my clientele, different versions of the shalwar."
Maliha Aziz of Farah Talib Aziz confirms this. "This time round we created four handworked dupattas that could be purchased as separates and they sold really well," she says. "Also, we provided dupattas with our silk tunics and it was really noticeable that customers were more inclined towards buying those particular designs."
"The lightweight cotton gharara makes a lot of sense this Eid and it can be paired with a simple shirt or a more embellished one," says Maheen Khan.
Another traditional staple rearing its head in most collections is the classic cotton gharara. Designer Zara Shahjahan, with her predilection for ethnic fashion, has incorporated ghararas, choorridars and narrow shalwars in her Eid line, pairing them with kurtas and dupattas. The Eid collection at Maheen Khan's high-street label, Gulabo, is also playing to a desi tune.
"The lightweight cotton gharara makes a lot of sense this Eid and it can be paired with a simple shirt or a more embellished one," says Maheen Khan. "So do purely Eastern designs such as the peshwaas and the angarkha. I haven't used any embroideries although there are gota accents in some of the outfits. There is also a mix of textures — a cotton shirt with a kamkhwaab gharara for instance."
In Zaheer Abbas' Eid collection, the main focus has been on handwork, with marorri, kaamdani and gota embellished on to a cotton silk blend, fashioned into kurtas. "I have paired the kurtas with dupattas and lowers because Eid immediately runs into the wedding season. People prefer buying three-pieces as opposed to single shirts."
There is also a small smattering of designers who have given classy spins to cotton, lace and embroidery. Maheen Karim, with her penchant for anglicised luxury wear, brings some of the same glamorous aesthetic to her Eid collections, creating layered shirts and tunics worked with geometric embroideries, 3-D florals and sequins. And Shamaeel Ansari's quintessentially regal aesthetic has been translated to Eid pret in the form of scenic prints, well-placed embroideries and princess-y flowing laces.
Prints get blocked
Within Nida Azwer's atelier, there are minarets, palm trees and ebullient little birds screen-printed across the hem. Sania Maskatiya has block-printed floral motifs and the PinkTree Company has paid ode to a favourite flower with a block-printed collection titled 'Mogra Malti'.
At the other end of the spectrum, there's Wardha Saleem with her newly launched line of block-prints, 'Jhirki', blending zig-zags with dots and a menagerie of flora and fauna. Similarly, there are elephants, giraffes, horses and red chillies dotted about 'Blocked by Afsheen Numair's' canvas.
Easier on the pocket and easier to wear, block and screen-prints are replacing staid embroideries within quite a few collections. The best thing about most of these designs is that, while they can be spruced up for Eid, they can also be toned down later for more frequent use.
The 'unstitched festive' titan
But even while stitched Eid exhibits rage on, the selling power of unstitched festive collections cannot be denied. Featuring three, four or five-piece jigsaw puzzles, these are unstitched lawn's richer cousins, offering a heavier dose of bling, embroidery and finishings. It's Eid after all — for some aficionados, the dressier the outfit the better!
"The market for unstitched voile is extensive because a lot of women in Pakistan like to get their clothes stitched according to their own size specifications," explains designer Khadijah Shah. "They look for suits that are beautiful and that offer great value for money, adhering to certain quality standards and offering a certain calibre of embellishments."
While Khadijah has created a stitched luxury-wear line for Eid under her label Elan, she has also created unstitched festive collections for her high-street label Zaha as well as Elan. The more the merrier — and Eid-frenzied customers tend to be lucrative for designers, even in these economically difficult times.
Another hit unstitched collection, the Crimson Luxury Lawn by Saira Shakira, has dabbled with new techniques in order to gain an edge in the market. Net dupattas have been worked with mirrors and chata-pati borders and, breaking away from print, fabric surfaces have been created with embroideries and appliqués. "We have tried to trickle our couture aesthetic down to the masses," says designer Saira, "and have added elements that offer great value for money. The profit margins are relatively low, considering the many detailings that come with every suit."
There are many more designer unstitched 'festive' collections in the market — line-ups by Zara Shahjahan, Sana Safinaz, Faraz Manan and Zainab Chottani with her signature chikans come to mind — and they are likely to keep crawling out of the woodworks till Eid day itself. High-street players similarly have their own offerings and, interestingly, most of them sell very well. As textile moguls will tell you, there's no bigger market for apparel in Pakistan than that for unstitched fabric. It entices the pret-wearing urban woman to invest in a suit or two and proceeds to grip the smaller cities altogether, where getting clothes stitched is not just a necessity but a popular feminine hobby.
The hobby, of course, multiplies manifold come Eid. With unstitched collections selling out and exorbitantly priced exhibits clustered with heavy duty crowds of women, one could almost believe that the country isn't currently in the grips of an economic crisis. As it is often wisely pointed out, we live in a poor country where the people are rich!
We also live in a country where personal style often fades out in the quest to show off an outfit that boasts a hefty designer name. Coming full circle to the complaint voiced earlier, this is precisely what induces Eid fashion to often be utterly mundane and tasteless. But deep within the crowds of bling, lace and applique, there is also bona fide designer wear that stands out. You just need to look for it a bit longer.
---
Originally published in Dawn, ICON, May 26th, 2019
Email