Keeping track of who said what can be confusing. We'll break it down for you.
Lux Style Awards has long been synonymous with controversy but this year's backlash is different.
The nominations released by LSA on March 30 included an artist accused of sexual harassment. The pushback was instant, with model Eman Suleman withdrawing her nomination in protest the same night.
And after a brief lull, Eman's statement snowballed into a much larger movement with several more nominees refusing to participate in the LSA for honouring an accused harasser. Other industry members have chimed in with their views, some applauding the walkouts and others criticising them.
Keeping track of who said what can be confusing. We'll break it down for you.
March 30: Eman Suleman refuses to share her LSA nomination with an alleged harasser
The model is the first to speak out and refuses to share the platform with the accused, saying that she has chosen to withdraw her nomination from the 'Best Emerging Talent in Fashion' category.
In a short video on Instagram, Eman said: "I was extremely honoured to be nominated for the Lux Style Awards. What I'm going to say next is probably going to result in a lot of eyerolls and vitriol. [But] I do not wish to be part of an accolade that is shared with an alleged harasser. I feel no joy. Maybe give the nomination to someone who feels happy about it. I don't. I am basically done."
April 6: Hareem Farooq calls out people for supporting alleged harassers
A week later, with the backlash to Mehwish Hayat's Tamgha-i-Imtiaz win and Eman Suleman's LSA nomination refusal still fresh in everyone's minds, Hareem at the SZAB Media Festival said, "We're living in a time where women receiving such prestigious awards are questioned but nobody stands up and questions when a harasser is getting awards."
April 22: Generation and Saima Bargfrede reject their LSA nominations
Within a few weeks of Eman Suleman's rejection, clothing brand Generation and make up artist Saima Bargfrede issue a joint statement saying that they too have rejected their nominations to stand in solidarity with victims of sexual harassment.
"The two entities have been nominated for awards in different categories and believe that by accepting any nomination or award and participating in LSA 2019 would be doing a disservice to the cause of women's empowerment and the urgent need to address the menace of sexual harassment," read their statement.
Generation had been nominated for an award in the category of 'Achievement in Fashion Design (pret)' while Bargfrede has been nominated for 'Best Hair and Makeup Artist' at this year's Lux Style Awards.
April 23
Meesha Shafi rejects her Best Song nomination
A day later Meesha Shafi also withdrew her nomination. She asked the Lux Style Awards to remove her song Mein from its list of Best Song nominations. Her tweet read, "I want to thank Eman Suleman. What she, Generation and Saima Bargfrede have said and done is what I consider my award."
She went on to say, "In a perfect world, I would love to see women retain their space in the industry while being safe, so that the cost of speaking up is minimized, or even done away with altogether. A cost which is all too high at present. Our boycotts should not overshadow our achievements. With brave women like these, I feel optimistic about getting there one day."
The Sketches follows suit and drops out of the LSAs
Later the same day folk band The Sketches also dropped out of the Lux Style Awards.
The band, which has been nominated in four categories (Best Song, Best Playback Singer, Best Original Soundtrack and Singer Of The Year), said it decided to withdraw from the LSA race in a press statement on Tuesday night.
"Our reason is simply based on our values and principles, which, we will not bend for any award," said the band in its statement.
Talking about its desire to support Pakistan's #MeToo movement, the band said, "Even after being silenced, threatened, mistreated, and judged, women in Pakistan are rising too. They are stepping down from LSA because they stand with survivors of sexual harassment. Without passing judgment on any individual's character, the band considers it our responsibility to applaud & encourage these brave women to speak and be heard."
April 24
Jami strikes back by dumping his LSA awards on the street
The director who has been vocal on social media about the award's harassment controversy chose to leave one of his LSA statuettes on the streets as a sign of retaliation.
Speaking to Images the director said, "Putting out our (Jami and Azadfilm company) Lux Award is an extreme reaction to an extreme action. LSA should've been more careful and sensitive towards women and their massive harassment issues. This time I feel LSA completely missed the point by not taking our women's point and stories seriously."
Shamoon Abbasi is dumbfounded by all the walkouts
The same day actor Shamoon Abbasi took to Twitter to call the LSA walkouts "baseless" citing that Meesha Shafi was fined Rs10,000 as she was unable to provide proof of harassment allegations against Ali Zafar in the court.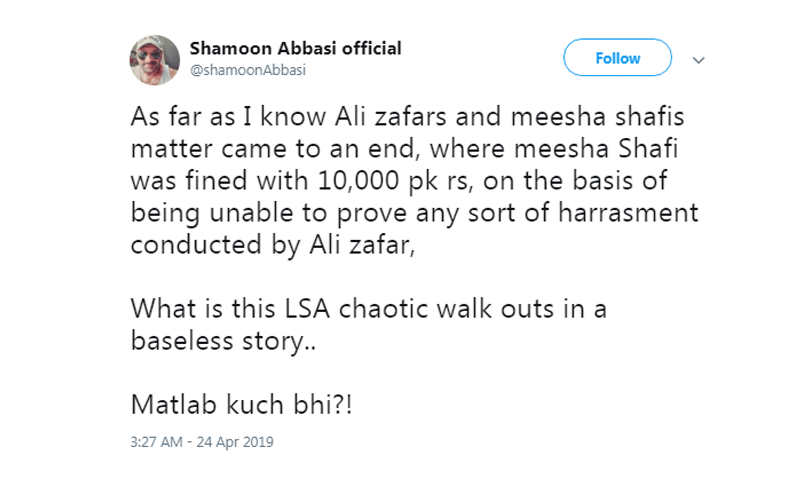 However, it is worth noting that Meesha was fined because she failed to attend a hearing in a defamation case filed against her by Zafar, not due to a lack of proof.
Maheen Khan supports victims of harassment, chooses not to support the LSAs
Later, designer Maheen Khan, who had earlier criticised the LSAs for what she called its lack of authenticity and transparency, took a stance in favour of victims of harassment and said she's chosing not to support the event.
"The LSAs, in fact all awards, have lost their integrity in more ways than one. More so as a victim of sexual abuse and supporter of the MeToo movement I cannot in all conscience support the event," she wrote on Twitter.
Fatima Nasir also withdraws her nomination
Moments later, the makeup artist followed in the footsteps of her peers and chose to step down from the LSAs. She was nominated in the Best Hair & Makeup category.
Fatima posted on social media, "I am withdrawing myself from LSA's nominations this year. I stand in solidarity with those who have withdrawn from the awards before me and we need to keep raising our voice against sexual harassment until the industry, and the world, is a safe place for women to work."
Sadaf Kanwal makes it a point to display her love for the LSAs
In the midst of the controversy, the model's Insta story read: "I love the Lux Style Awards."
Rubbab Ali drops out of the LSA race
The same day, model Rubbab Ali too announced that she is opting out from participating in the event, making her the seventh nominee to withdraw from the award show.
"I've been in this industry for eight years and it makes me sick in my stomach to see the kind of casual harassment and inappropriate behaviour towards women that gets excused in the name of social 'norms'," said the model on social media.
She added, "LSA [has] the right to nominate whoever they deem appropriate — but as artists and public figures we also have a responsibility to speak up against those who perpetuate injustices against women. And finally — we have to support each other."
Ahmed Ali Butt expresses distress at Jami throwing away his LSA awards
The Jawani Phir Nahi Ani actor who's been nominated for an LSA award in the Best Actor category shared his distress upon news of Jami tossing away his accolades.
"An award has no worth for anyone except to whom it is given to. It's a token of appreciation from your fellow peers, all the nominees who are elected with you hold that same respect and honor for their craft, yet you are the winner which means they have given you that respect and honor," Butt wrote on social media.
"People have the right to protest and even request not to be nominated if they please to do so, but to degrade an award and to treat it like a piece of garbage is truly sad and uncivilised. This means you have no regard for the art and your fellow peers who gave you the title. There are better ways to protest and let your voice be heard and the matter is already in court will be dealt by the law. LSA is the oldest running awards we have and has nothing to do with the other thing. Let's keep it that way by being civilized and respectful. (still if you want to put it out on the road it's better to return it to the LSA with dignity)."
Tabesh Khoja mocks the LSA withdrawals in a now-deleted video
As more and more nominees drop out of the LSAs throughout the day, stylist Tabesh takes on the issue in his Insta story mocking the stars who said they were standing by victims of harassment.
"You met those ex-nominees na, such excited people. Loonies, no, no, no, no. I love them, they're so cute, so precious. I love overworked, underpaid people, especially when they're like them you know. They've gone deranged, there's nothing in their heads now, they're just like babies talking crap all day making up stories. They love doing that," he said in a video.
Hours later, Tabesh deleted the story and issued an apology saying he "didn't want to offend any human as I really value humanity and women in specific".
Rehmat Ajmal applauds the nominees for walking out
On the other side, Rehmat Ajmal lends support to the nominees who walked away from the LSA.
"It's time that we use our privilege to benefit rather than exploit. We need to come together, like an army when any member of our community is threatened — & here, there are thousands of victims," she says.
"Lux Style Awards has been careless in fulfilling its social responsibilities but that is no reason for you to do the same. We need to break out of these cycles if we hope to transform negative events of injustice into positive change."
She adds, "It's easy to laugh it off & it's easy to do so in the comfort of your home. People forget that what they are doing is a public act that can harm others. Where and when possible, social media should to be used a tool to call out injustice and to stimulate dialogues. All my love and respect for those who stepped up. May you make more noise and amplify your voice!"
Iman Ali calls the walk-outs "childish"
Actor Iman Ali also decided to share her position on the controversy.
"Our sense of entitlement to quickly judge anyone and jump to conclusions is worrisome especially in the age of social media. A platform that has made it too easy for people to become a part of a controversy or join a bandwagon and become famous overnight and potentially ruin anyone's life or a body of work in minutes. Fame and respect should be earned with hard work, not by childish walk-outs and social media posts playing judge, jury and executioner."
Farwa Kazmi applauds LSA nominees for dropping out, calls out Tabesh for his video
Later in the night, model Farwa Kazmi shared her views on the LSA controversy and the stylist's video by saying, "It is very disappointing to see influential people like Tabesh disrespecting and ridiculing those who stand up for issues like sexual harassment and people who withdrew their nominations from the LSAs."
"If some of us have raised our voices, please please respect our choices if you cant support us. DO NOT RIDICULE US, THIS IS UNACCEPTABLE. "
Farwa then tagged all the nominees who've withdrawn from the award platform and wrote: "I have huge respect for [all] for taking such a huge step. We've got your back. No one can disrespect this decision of yours. You're the real heroes."
April 25
The LSA film jury issues a statement, stands by its nominees list
After seven nominees reject their Lux Style Awards nominations, the LSA's film jury finally released a statement later in the night defending its decision to include the accused.
The jury stated: "The LSA film jury joins the Lux brand and Unilever Pakistan in condemning all acts of intolerance, discrimination or harassment. However, it is also important to emphasise that the decisions of the film jury were based on an assessment of the merits of the cinematic work. We do not consider any other extraneous issues related to the personal characters or actions of people associated with that work."
Rehan Bashir slams people mocking those who rejected their nominations
Without naming her, Rehan Bashir strongly criticised Sadaf Kanwal's response to the LSA controversy.
Frieha Altaf asks the alleged sexual harasser to step down rather than the other nominees
Frieha Altaf, who has had a longstanding association with the Lux Style Awards as the director of its annual shows, has spoken up after criticism over the controversy.
She says: "The #MeinBhi movement is not a one-off. The struggle to ensure a safer workplace will be a lifetime effort. My #LSA turf is the LSA show and the stage — not the nominations that are done by independent juries. No one has a say in what the jury decides.
"In my opinion, if anybody should step down it's the alleged sexual harasser, not those who are innocent and oppose him. The LSA platform and event is very close to my heart and I will continue to fight, on my turf, for women's rights and empowerment."
Zara Peerzada shares her two cents on the controversy
Model Zara Peerzada responded to the LSA film jury's position that the courts should decide the accused's fate with a sarcastic one-liner, "It's heartwarming to see how many members of the Pakistani elite suddenly have 'full faith' in the justice system."
When stylist Azka Shahid talked about the culture of silencing in the fashion industry, Peerzada responded, "When you let deeply misogynistic, ill-informed, ignorant walking/talking egos become the gatekeepers, what do you expect?"
Munib Nawaz is confused why LSA's integrity and values are being questioned
The designer shared a few thoughts on the issue saying, "I might as well say it out loud. Sorry not sorry."
"Why has the world become guilty until proven innocent. Nothing against anyone. I feel we very quickly judge as per our own convenience. May sense prevail and no one ever feels unsafe in any environment," wrote Munib.
He also referenced Jami dumping his awards with an odd comparison: "What about the horror stories everyone has heard of children being harassed in schools. Schools are still operational. No one seems to throw out their degrees. All of us who are a part of this industry or have been a part of this industry owe this platform a little more respect."
Iffat Umar strongly criticises the film jury's defence of its nomination process
The actor said on Facebook that she would be ashamed of her previous LSA honours if it was the same jury who nominated her.
April 26: Ahsan Khan defends LSAs, says the award should be applauded for 'not passing judgement on a sub judice matter'
In an Instagram post, Ahsan has stated, "I find it impossible to jump on to the bandwagon and criticise Lux Style Awards. The platform has always supported our industry. They are the ones who gave me the best actor award when I worked in a play that highlighted the issue of child sexual abuse. They gave me a platform to talk about the lynching of Mashal Khan. And they gave me an opportunity to present a song about the harassment cause."
Ahsan believes that LSA's impartiality is a good thing: "And we should applaud the fact that Lux Style Awards did not take it upon itself to pass judgement on a sub judice matter. Anybody can accuse anyone and without the courts it would be a lawless society."
April 27: Humayun Saeed becomes the next major celebrity to defend the Lux Style Awards
In a statement on social media, he said, "The Lux Style Awards have been recognising a diverse range of artists for nearly two decades. Any dispute regarding nominations shouldn't take away from the fact that it's the country's only platform to have managed to acknowledge so many incredibly talented Pakistanis for such a long time thereby making it imperative that it continues to do so in the future as well."