Gully Boy is director Zoya Akhtar's ode to all those who are told that they cannot dream.
It's a story about resilience and struggle, told with tenderness that breaks you apart and pulls you together only so you can desperately cheer for the characters - raw, vulnerable, real characters - to beat the odds. But then they do - and the movie goes from being potent class commentary to a story that wraps up all the loose ends so you can walk out feeling like the characters you invested yourself in will be successful and will be okay.
I very rarely have such conflicted post movie feelings. I walked out of the movie theater tasting salt from the many tears I had lost in the 2 hour 33 minute run of the film, and a catharsis fueled energy that made me look at the world with purpose while I was still trapped in what I call the 'Gully Boy daze.'
But there was also this creeping sense of discomfort, and as the daze began to crack the questions came flooding in - did they actually darken Ranveer Singh's face to make him 'fit in' to the movie's 'gully aesthetic'? Was the 'Gully aesthetic' just an aestheticisation of poverty? Was this story Zoya Akhtar's to tell? How would it have been different if it had been told by those whose experiences it attempted to document?
To call Gully Boy an important film would be an understatement - it is a rallying cry for South Asian youth who dare to dream different, despite being socialised to believe that they lack the privilege to do so, and it is told in a language that is accessible, urgent and moving. Gully Boy gets so much right, and yet you're constantly left questioning - at what cost?
Meet the characters
The movie takes you into the world of Murad (Ranveer Singh) and Safeena (Alia Bhatt), tender lovers struggling to be their own person in a world that does not give them the space to be anything beyond what society expects of them. Two Muslims from Dharavi - one of Asia's largest slums - they find small ways of resisting the overwhelming oppressiveness that threatens to consume them.
Safeena works hard to become a surgeon so she can escape an abusive mother and a stifling household in which she is expected to be a dutiful 'girl', and she ardently loves and dotes on Murad - they share a childhood, music and stolen, tender silences that hold them together in a precarious world.
Murad, our hero, is even less privileged than Safeena. She has the privilege of going back to a physical space - the privilege of shutting a door and being alone to gain respite from the societal space she is robbed off on a daily basis. Murad does not have that space, he shares an oppressively tiny home with a mother, a grandmother, a brother, an abusive father and his new wife. And yet, at night, behind the safety of a mere curtain - Murad writes poetry.
One of the best things about the film is how self-aware it is. It is aware of the fact that the poverty it documents, is also being commodified by those who seek to benefit from it.
Murad also listens to rap - anthems bursting with angst, articulations of oppression from another world that bare a startling resemblance to his reality. His life takes a sharp turn when his father incurs a foot injury that forces him to be homeridden. Murad is expected to cover for his father at work - and so he is forced to skip college to instead drive around the rich residents of Mumbai, at their beck and call.
His experiences are a constant reminder of his class - he is told by various people in his life that he is the son of a 'servant' and so he must remember to only dream the dreams afforded to him by his reality.
Around the same time that Murad begins work as a chauffer, he also meets 'MC Sher' (Siddhant Chaturvedi), a fellow poet who raps. As Sher takes Murad under his wing, Murad begins to document his observations and his struggles in a new language that has not only a rhythm but also a beat and a 'tempo.' Rap becomes his salvation, his escape from a life which attempted to rob him off the ability to hope.
Gully Boy is a lesson in masterful film telling. The best storytelling happens when the characters silently convey ideas and feelings that cannot be tangibly articulated. From Murad silently counting his steps to measure the length of a bathroom in the house of a privileged, US educated Mumbai girl who finds him and helps him with his music - to Murad lazily spreading a hand to cover his face, instead of moving away or articulating a lack of consent when a white man, touring his house as part of a 'slum tour' asks to photograph him.
The cinematography gives you the space to step into the world inhabited by the characters - you're on the inside looking out, seeing the world like the characters do.
How does the film navigate representation in a climate that prizes authenticity?
One of the best things about the film is how self-aware it is. It is aware of the fact that the poverty it documents, is also being commodified by those who seek to benefit from it.
And so while there are music videos in the film itself that 'aestheticise' the poverty - there is also a scene that mocks the practice of slum tourism, and the tendency of privileged people to exoticise the lives of those who lack privilege. The 'aestheticisation' of poverty that the film partakes in itself, leaves one conflicted - Zoya Akhtar when questioned about it by Anupama Chopra, retorted by arguing that she had shot her entire film a particular way, why should she film a slum, or general poverty differently?
She poses an interesting question - as a consumer, you end up so wholly sucked into the world that you stop 'othering' it, and that in large part is due to the fact that everything in the film is shot in the same way, and you're not given the space to step out to objectify or commodify.
And yet, there is no getting past the fact that the film itself is commodifying poverty - by virtue of the fact that it is allowing the likes of Ranveer Singh, Alia Bhatt, even Zoya Akhtar, all extremely privileged individuals to cash out on an 'aesthetic' and a story that perhaps isn't theirs to tell? The question that I struggled with the most while watching Gully Boy was - the people I'm rooting for on screen, is this even their story to tell? That might sound like an odd question to many, because most films employ the use of actors and directors who may learn to empathise with the reality they're depicting, but will never 'belong' in it.
While Zoya Akhtar successfully challenges certain tropes, she falls victim to a need to wrap up a story that perhaps cannot be 'wrapped up'. You're left questioning the narrative's authenticity and whether it would come together in the same way if it was told by those whose experiences it depicts.
And it did take Zoya Akhtar almost three years to make this movie because she spent an extensive amount of time researching - spending time with rappers who are a part of Mumbai's underground scene, meeting their girlfriends and families and attempting to understand their life. The world that exists inside the film also does feel authentic - over 50 rappers contributed to the music or were employed in the project in some capacity, working on the vernacular, the body language and the overall 'authenticity' aspect. Even more importantly, the Ranveer + Alia duo gives this important story an unarguably important commercial appeal making it accessible and strengthening its reach.
And yet, there are certain choices made with the narrative and certain tools that have been employed, that make it difficult to get around the fact that the filmmakers are co opting stories, realities and art that does not and should not belong to them.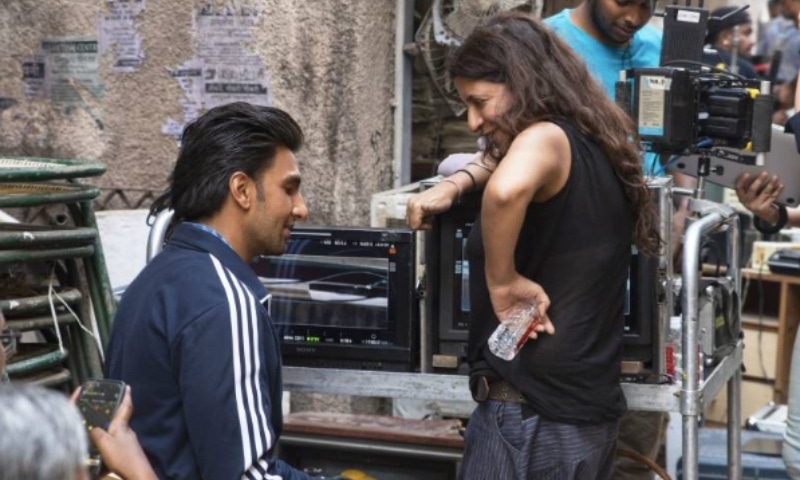 I found myself appreciating the tropes the movie challenged - for instance, Murad did not have to pay a cost for stealing cars to get by, because in real life you do not pay for every 'bad' thing you do. Similarly, I kept waiting for one of Murad's friends to feel jealous of his success or to sabotage him for self gain - particularly when one of his friends lands up in jail for a crime that both of them committed and Murad offers to take his place - but the movie surprises you with the brotherhood, loyalty and tender care it depicts.
When a chance to open a concert for popular rapper Nas opens up, instead of fighting for the little privilege that is dangling just within their reach, Murad and MC Sher support each other and work together even though they know only one of them can win.
That kind of representation is so important that it is a political act in itself - too often our films show those without privilege fighting each other for it, villainising them in the process.
And yet while Zoya Akhtar successfully challenges certain tropes, she falls victim to a need to wrap up a story that perhaps cannot be 'wrapped up'. You're left questioning the narrative's authenticity and whether it would come together in the same way if it was told by those whose experiences it depicts.
Almost everything in Gully Boy sorts itself out - for starters Murad, through the art he decides to pursue, wins money. The money allows him to bail his friend out of jail, it allows him to earn validation from the community he has grown up in. It also secures his, and his mother's freedom from an abusive father who had kicked them out of his house - and yet even he, after seeing Murad's success, appears to come around.
Murad and Safeena also overcome differences that develop because of the changes in his life, with her vowing to support his decision to pursue his dreams with financial security ensured by her own career choices. There is also a scene at the very end which implies that Safeena's parents might consider Murad to be an eligible suitor, despite their very obvious class privilege over him, because of his success. MC Sher also never appears to develop a problem with the fact that Murad is able to procure economic security through his art, at the cost of MC Sher and many others like him losing out. You're left questioning - what happens to those who don't make it?
Zoya Akhtar shared her thoughts with Quint, ''We've colonised our own people into a class system and we have just made them believe that this is your lot. I don't think there's anything worse than making people feel that they can't dream, that it's out of their reach. And art, weirdly - any form of art just transcends class. It just goes through barriers, borders. It cuts through anything.''
While her observations about class are important, is her claim about an artist's ability to overcome class structures true? Does art give everyone the space to cut through barriers and borders? Does it allow you to overcome a deeply entrenched class system? Is pursuing your passions and working hard, enough to protect you from the institutions that are set up to oppress you, hold you back, and ensure that you stay trapped within an oppressive reality for the functionality of the systems that govern you?
The film also leaves one asking important questions about filmmaking and storytelling in general, especially at a time when 'authenticity' sells, and political correctness becomes increasingly important to consumers.
The film is political in a way that brings the question of privilege to the forefront, and that makes it impossible to discount the privilege of its makers from the equation. Zoya Akhtar's lens is powerful, but it also has a rosy tinge that gets in the way of the 'authenticity' the film promises. A good example of this perhaps, is the controversy surrounding the 'Azadi' chant.
The 18 track playlist of the movie checks all the boxes. The rap is political, it's relevant and the beats are incredibly catchy. It has also introduced audiences who were previously unaware of the underground hip hop scene in Mumbai to the likes of Dub Sharma - the original versions of 'Jingostan' and 'Azaadi' tracks are excellent - but the filmmakers have raised eyebrows by their very blatantly co opting of some of the music. The Azadi chant used in one of the tracks, especially, has been commodified in a way that is unforgivable. It has a history that is anti Hindutva, maybe even pro-'azadi' on the Kashmir question, and a context that cannot be ignored given the current political climate in India.
And yet, the film chooses to ignore, and maybe even erase that context - the chant and the track it is a part of is played when Ranveer Singh's character Murad is stealing cars, and the anti-Hindutva phrases have been edited out of the version used in the film.
The JNU student protestors and their pain, their struggle - the issues and realities that resulted in the chant to begin with, are largely compromised. Ranveer Singh, when asked about the politics of the inclusion of that chant in the film, claimed to be apolitical and shared, "We're just happy bunnies listening to the track going like 'bolo azaadi'", laughingly. The phrase is definitely not a 'happy bunny' chant, and its commodification is no laughing matter. The freedom it demands comes at a very high cost, and Singh's comment is a reminder of the fact that he has never had to bear the burden of that cost. It is dangerous to underestimate the consequences of the commodification of a political chant - Ranveer Singh himself, by describing it in a 'Happy Bunny' context is diluting the political history, struggle and pain associated with the movement that the chant emerged from.
Gully Boy walks the slippery path of sometimes reinforcing the commodification it mocks and challenges. It is an important film, because it reminds you of the need to dream, to give people the space to pursue their art, and to challenge and overthrow class structures. It raises essential questions about privilege - and yet, it is perhaps necessary to pose some of those questions to the filmmakers themselves.
The film also leaves one asking important questions about filmmaking and storytelling in general, especially at a time when 'authenticity' sells, and political correctness becomes increasingly important to consumers. In many ways, the film is very aware of those changes in consumption patterns - despite being a musical, it does more with less and you can tell that genuine efforts have been made to tell an 'authentic' story, and to give back to the community it takes from. And yet, perhaps, 'commercial' film itself, in all its trappings, makes it difficult to 'give back' to the communities it 'borrows' from, in a way that feels as 'authentic' as the 'authenticity' it sells.
Email