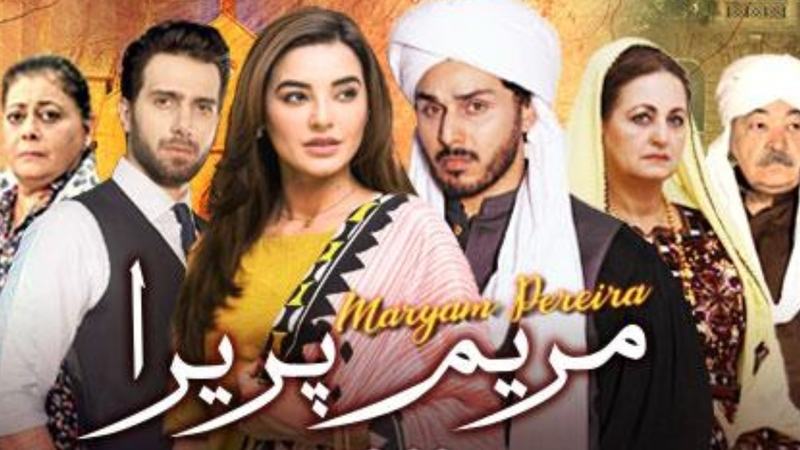 Pakistan's minorities are a rare presence in our TV dramas, so even the modest uptick in representation is a step in the right direction.
The recent TV One drama Seeta Bagri focused on Karachi's Hindu community; however, the miscasting of Bushra Ansari in the title role kept it from garnering the attention its script and actors deserved. Another serial Ghughi was a well-made retelling of Amrita Pritam's Partition novel Pinjar. It's no accident that all of these serials are aired by TV One whose CEO Seema Taher Khan appears to have taken up the challenge of giving the public more diverse and challenging viewing.
TV One's latest offering is Maryam Pereira, which focuses on the life of a young Pakistani Christian (Sadia Khan) in Karachi. A strong, educated young woman, Maryam has taken on the role of breadwinner for her mother and younger siblings since her father's death.
When we first meet Maryam, she is planning to marry Sufiyan, her best friend Hafsa's older brother. However as the responsibility for her family's upkeep begins to weigh heavy on her shoulders, she realises that she cannot leave them and turns away from Sufiyan. As she tries to manage her own disappointment, Maryam meets Ali Khan (Ahsan Khan), a fellow teacher at her college. Ali is an honest person but his wealthy father is infamously involved with the land mafia threatening the Christian colony where Maryam and her family have lived for generations before the Partition.
If there were a prize for good intentions this drama would win immediately. The story touches on issues our dramas rarely tackle, such as forced land grabs, the lack of minority representation on both political and social levels, and the quiet exodus of a people who don't feel safe in their own country. However, like most dramas these days, it loses points in the execution, handicapped by a haphazard script, underdeveloped characters and nothing fresh to breathe life into it.
Sadia Khan is not an especially natural actor but can be induced into giving a good performance as she did in Khuda Aur Mohabbat and the recent Shayad when guided by a strong director. However, director Iqbal Hussain seems to be missing in action in this slow paced drama. The serial is put together with a heavy hand with timelines and dialogues not making sense at all times.
Seemi Raheel plays Maryam's mother like a refugee from an '80s Bollywood movie and I keep waiting for her to say "Apun" like Anthony Gonzalez. Emmad Irfani, who was so watchable in Kuch Na Kaho doesn't make much of an impression as the lovelorn Sufiyan, which leaves Ahsan Khan's understated and controlled performance to keep this story afloat. Ahsan Khan's character Ali seems to be the only one the writer actually invested any time or effort in. Unlike the usual villainous waderay ka beta we see on our screens, Ali is a kind, sincere person who doesn't want any part of his father's criminal, strong arm tactics .
For a story about Christian Pakistanis precious little research seems to have been done to make this serial authentic. Apart from Maryam and her family none of the Christian characters have been developed at all, so instead of giving the average viewer a connection to that community their voices are again suppressed.
The story is also contradictory; for example, Maryam's mother is happy to see Maryam marry a Muslim man but upset with her younger daughter Jenny dating another Christian boy. Then when Sufiyan pushes for marriage, no one is the slightest bit concerned about the difference in religion, which rings untrue for a conservative country like Pakistan. Even in the liberal West, Pakistanis of any religious tradition tend to view interfaith marriages with deep seated suspicion.
While it's a good thing that producers are looking for innovative and barrier-breaking story lines, those stories need to be well researched and properly conceptualised in order to effectively make an impact on the audience. Looking back on dramas like Meri Adhuri Mohabbat, Bilqees Kaur, Akbari Asghari, Parsa and Kuch Pyar Ka Pagalpan there have been some nuanced and respectful portrayals of minorities along with some incredibly bad ones such as Saya e Dewar Bhi Nahi.
If we can take a look at other faiths outside the lens of confrontational politics, Partition or even the hackneyed star-crossed lovers trope, we can start to recognise each other's common humanity.
Just like minority representation, good dramas are a scarce commodity at the moment. Just look at the lurid and regressive themes that haunt our prime time viewing schedule this season. Murderers (see Khaani) and kidnappers (see Ishq Tamasha) are somehow romantic heroes, while women are constant victims willing to marry their own stepfathers if it makes them mazloom enough to get ratings (see Ghamand).
When we tire of such "sweet romance", we can always turn to the other dramas full of manipulative, sazishi sisters-in-law, a sickness even a good drama like Babajani has fallen prey to. Among these lurid storylines, however clumsily made, Maryam Pereira looks like a quaint throwback with a defiant heroine and respectful men as her love interests.
Pakistani dramas have the potential to be an engine of social change. If they can touch on such sensitive topics as child abuse, they can also highlight the plight of minority communities such as Christians and Hindus. If we can take a look at other faiths outside the lens of confrontational politics, Partition or even the hackneyed star-crossed lovers trope, we can start to recognise each other's common humanity.
Perhaps we can remember this when we watch a Hollywood film stereotyping Muslims as terrorists or giving them a western savior to fix their problems. Similarly the lack of nuanced Muslim characters in Bollywood may help remind us that we too need to keep our minorities visible and part of the fabric of society so we don't forget we are all in this together.
---
Maryam Pereira airs at 8pm tonight on TV One.
Email