Ever since Pakistani cinema launched into its bumpy road to revival, Javed Sheikh has become omnipresent.
From one film to the other, one Eid to the other, he's played every role under the sun: the bespectacled bumpkin, the lascivious millionaire, the do-gooder, the villain. He's been in the super hits and in the super flops and now, this Eid, he continues his cinematic trysts by going behind the camera.
Long before local cinema chose to rise from the ashes, Javed Sheikh had often played director. His last venture was 2002's super-hit Yeh Dil Aap Ka Hua and now, he plans to make his return with Wajood.
The movie stars Danish Taimoor in the lead role with the female characters played by Saeeda Imtiaz and Aditi Singh and an ensemble caste consisting of Ali Saleem, Nadeem Baig, Shahid Hameed and Frieha Altaf. Javed himself, of course, also stars in the movie.
He also stars in another Eid-ul-Fitr release, 7 Din Mohabbat In, and following this, in July, he'll be seen in Ahsan Rahim and Ali Zafar's Teefa In Trouble.
"People complain that I act in too many movies but they don't acknowledge the appreciation that I get for my roles. I have gotten awards for my roles in Na Maloom Afraad 1 and 2 as well as for Wrong Number. I may be taking on a lot of work but I bring something different to every character that I play."
"The trick is to ignore all this unnecessary critique that often stems from jealousies and biases," he continues. "Ek kaan say suno, doosray kaan say nikalo (Listen to it from one ear and let it leave from the other). That's what I do."
This policy may just manage to keep him sane as the release date of Wajood looms closer. "It is an absolute entertainer and people are going to love it," he professes. And yet, the pressure is on, with mixed reviews filtering in regarding the movie's initial teasers.
At his end, Javed is endeavouring not to leave any stone unturned. When I meet him, he is in the process of planning out a country-wide promotional tour while also squeezing in a trip to Thailand in the middle, where he will finalise production.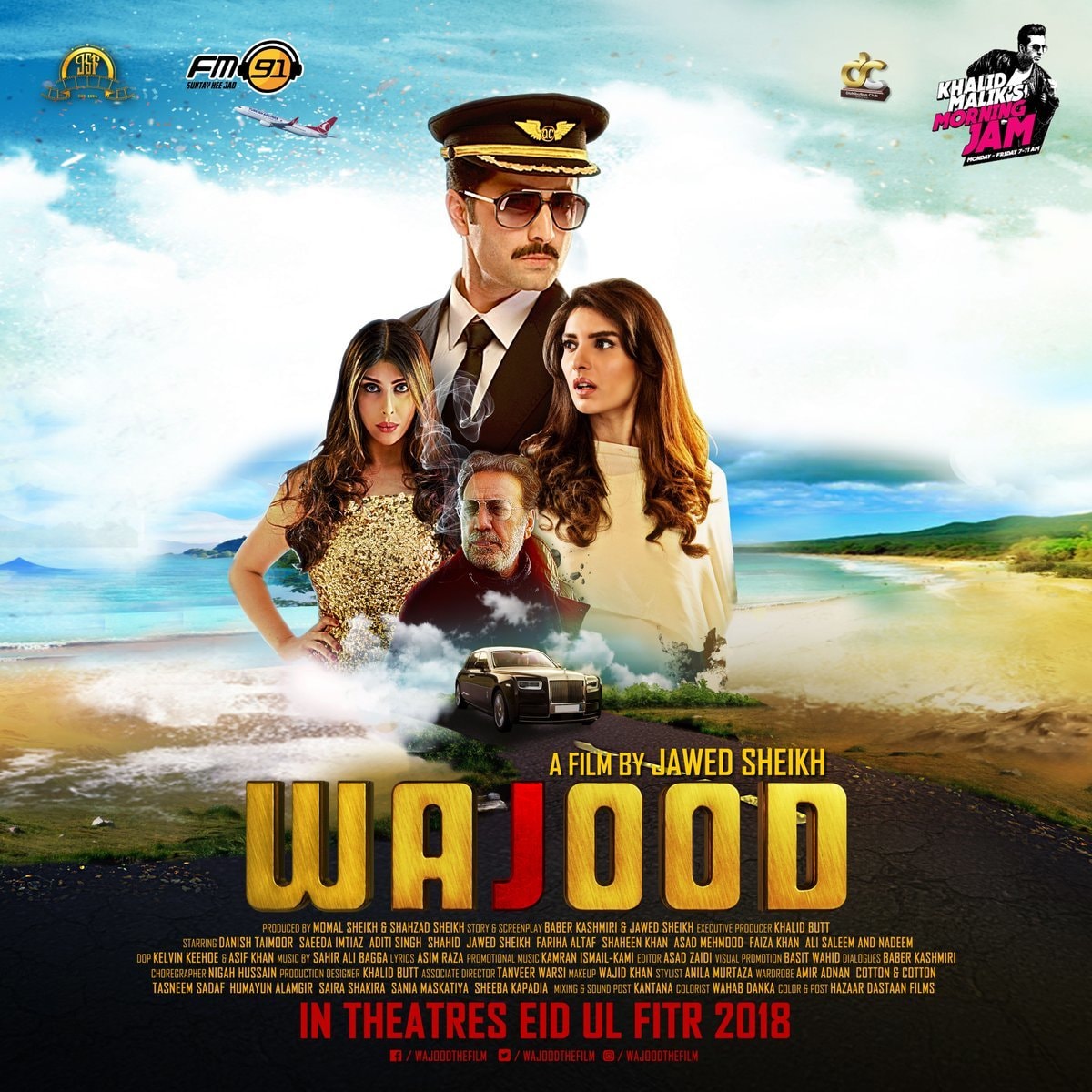 Then, he will bring the movie back to Pakistan so that it can be approved by the censor board. His timings are veritably nocturnal owing to the fact that it is Ramazan and he is fasting and so are most of the people he works with. "Everyone is really getting down to work after opening their fasts at sunset," he tells me.
Needless to say, after endlessly scheduling and rescheduling our interview, Javed and I only manage to sit down for our interview close to midnight – too late in the night on normal days but only the start of a working day in Ramazan, according to him!
Our meeting is worth the wait. He's a veteran, comfortable in his own skin, well-versed in the ways of cinema and willing to tackle every topic that I had ever wanted to discuss with him: cinematic rivalries, Indo-Pak relations, that almost-kiss with Mahira Khan at Lux Style Awards (LSA's) and #MeToo…
Images: You're soon going to be touring the country for promoting Wajood. Back when you started out, promotional appearances hardly ever preceded a movie's release. Do you think that they are necessary in today's day and age?
Javed: A good movie will do well regardless of pre-release promotions. Still, it is the norm now to create pre-release hype. Social media plays a significant role, given that it allows filmmakers to connect with the youth.
Also, people love it when stars make promotional appearances at malls and colleges. It builds excitement regarding the movie.
Images: You feel that social media is significantly important and yet, you haven't made an effort to build your presence on Twitter or Instagram. Why?
Javed: I just don't feel inclined towards it. I am not fond of self-publicizing and I think I manage to get a lot of attention simply through my work.
Images: Do you think that social media has the power to thwart a movie's success when negative comments are aired out immediately after a premiere? The movie releases a few days later and some producers – like Shaan Shahid and Yasir Nawaz – have felt that their movies' opening weekends suffered simply because social media dissuaded audiences from buying tickets in the first place…
Javed: Negative comments don't have the power to make a hit movie a flop or vice versa. I remember a few bad reviews that came out immediately after Yeh Dil Aap Ka Hua's release. The movie was still well-loved by the general public.
But yes, social media can be unfair. There are people who criticize just in order to get attention and are very damaging for the industry overall. They will look at just a trailer and make dramatic declarations that the movie will flop. They just want to create controversies, not realizing that they are bringing down someone's hard work without giving it a chance.
I simply ignore all this but this negativity around us has made me decide that I won't be hosting a premiere for Wajood. I don't want to invite a bunch of biased bloggers to come and watch my movie and then viciously rip it apart.
People who want to watch it can buy tickets and watch it with everyone else. I think other filmmakers may just also start doing the same because premieres are pointless. Even my own family and friends will go to see Wajood on Eid, with the rest of the crowd.
Images: One of the critiques aired at Wajood is that the trailer and poster seem to hint at a predictable story of a good cop, a virtuous heroine and a salacious 'it' girl. Is this really the case?
Javed: Not at all. That's the beauty of the movie. The story is completely unpredictable.
Images: One would have expected you to take on your own son, Shahzad Sheikh, in the hero's role. Why did you opt for Danish Taimoor? Also, what prompted you to cast Indian actress Aditi Singh?
Javed: I am making a movie, not arranging a family function. Shahzad was a bit under-age for the hero's role while Danish fit the bill perfectly. My only requirement from Danish was that he needed to shave his beard. I wanted him to have just a moustache in the movie, look like Clark Gable.
Aditi, also, fit her role. She plays a modern woman who wears short skirts. I felt that none of our local actresses had the body language to be able to carry such clothes but Aditi did it with complete ease.
Images: Does Aditi's ease with skin-show imply that there will also be an item song in Wajood?
Javed: No, there isn't. I don't believe in unnecessarily plugging in item numbers in a movie. If the situation requires it, then it can be added in.
Images: Wajood is your eighth film as a director. What took you so long to return behind the camera?
Javed: I have been very busy with work. But I did know that I wanted to work with the new cinematic technologies that are now available. The concept behind Wajood struck me some years ago while I was working in India.
It took time to have the story written and to shift my production house from Lahore to Karachi. I purchased a new camera from the U.S.A. especially to film the movie.
Images: Did you especially plan an Eid release for Wajood in order to cash in on the increased traffic in cinemas during the festive season?
Javed: Not really. Wajood was supposed to release much earlier but it got delayed. I was then advised to plan an Eid release because it is a movie that has all the ingredients that would appeal to the festive season. People will enjoy it and feel proud of it.
Images: You are consistently working in Pakistani cinema but prior to this, you were well on your way to building an acting career in Bollywood. Do you regret the way Indo-Pak politics thwarted the careers of Pakistani actors in India?
Javed: I don't regret it but it shouldn't have happened. The conflict was purely political but certain factions within Bollywood chose to take advantage of it. They began to rant against Pakistani actors, demanding that they go back.
They simply felt threatened by us because some very good Pakistani actors were entering into Bollywood at the time and they were being offered major projects.
I had shifted to India for five years when I was getting a lot of work there but incidentally, I wasn't there when these conflicts took place. Had I been there, I would have asked them why they were asking me to go back. I had come there on a work visa and I hadn't come begging for work. Instead, major Bollywood filmmakers had approached me to act in their movies.
Offers have always come to my own. I would be sitting in Karachi when I would get a call from an agent asking me if Indian director Imtiaz Ali could call me. I said that he could. Imtiaz then called me and narrated the story of Tamasha to me, a movie starring Ranbir Kapoor and Deepika Padukone.
He could have approached any number of actors in his own country but he chose to offer me a role. Then, he proceeded to work through the considerable red tape so that I could be allowed to go to Simla, where the movie was being filmed. He made all this effort because he wanted me to be in his movie.
I laugh when actors narrate stories of how they get offers from India but refuse them because they want to stay loyal to Pakistan. As actors, we are representing our country wherever we go and I know for a fact how certain actors desperately try to get their foot into Bollywood.
Fortunately, I have never had to ask for work whether in India or in Pakistan.
Images: But is it really necessary for you to take on so much work? Don't you think you should be more selective about the roles that you do?
Javed: I am selective. If I don't like a movie I simply quote such a huge remuneration for it that the filmmaker backs out. That way, they don't feel insulted that I am rejecting their offer!
Images: Right after Eid, you're going to be seen in Teefa In Trouble, starring Ali Zafar. Do you think that the movie will still fare well given the recent controversy surrounding Ali Zafar and Meesha Shafi?
Javed: I am sure that it will do well. Even while shooting the movie, I told Ali and the director Ahsan Rahim that they had a blockbuster in the making. In fact, if Teefa had opted for an Eid-ul-Fitr release, I would have immediately delayed the release of Wajood!
Images: You've worked with Ali very closely in recent times and yet, you haven't been very vocal with regards to the accusations of harassment leveled against him by Meesha Shafi. Why?
Javed: I just feel that Ali is not the sort of man to harass a woman. He has women approaching him constantly. Why would he make unwanted moves towards anyone?
Images: As an industry veteran, have you seen harassment taking place in the film industry?
Javed: I have known of it. Harassment is everywhere and it is very good that women are raising their voices against it. At the same time, the intentions behind the accusations need to be looked at carefully. If a woman feels that she has been exploited, she needs to report it. Why wait so many years before speaking out?
Images: You've recently had a mildly uncomfortable moment of your own – when Mahira Khan turned away as you leaned forward to kiss her on the LSA stage. How did you deal with the matter?
Javed: I ignored it and I advised Mahira to ignore it also. Such social media scandals die out in a matter of days. It was completely blown out of proportion. If I wanted to kiss Mahira, why wouldn't I do it backstage instead of in front of everyone at the LSAs?
She respects me a lot and always meets me like this. What really happened was that I was leaning forward to kiss her on the forehead when at that very moment, she heard someone call out to her from backstage and she turned away. Immediately, people decided to turn it into a controversy!
Images: You are, of course, not alien to controversy at all. All through your life you have been associated with multiple link-ups and affairs. Are the stories of your associations with various actresses mostly true?
Javed: Yes they are and I don't have any regrets. One day, I want to write my own biography and I will call it A journey of passion. I have always been very passionate about all that I have done and I have so many experiences to share. I am proud that I have always made my own decisions but have never hurt anyone. That's what's important.
Email