There are numerous reasons why I'm all for local beauty brands.
Apart from wanting to support our own, I recognise the personal benefits of using South Asian brands. They are customised for our skin type, made using ingredients that can handle the weather and other environmental factors in our part of the world. I may be a Sephora regular but get annoyed sometimes when trying to figure out if a certain foundation shade would suit me or if all the shades in an eyeshadow palette will complement my skin tone.
That's why I'm always on the lookout for beauty brands such as Masarrat Misbah Makeup that cater specifically to desi skin tones.
A recent hunt brought me to Badmaash Beauty, a new US-based beauty brand currently being developed by Mariam Shah and Beena Alvi. While the name was enough to grab my interest, discovering that the brand not only caters to women of colour but prioritises South Asian women had me going "yes please!"
According to Beena, "It's not difficult to see the gap in the beauty industry for women of colour. We're South Asian women and we wanted to start from there. I think it was an easy place to start because just within the South Asian community, there are so many shades which are usually 'in between' the usual shade range that beauty brands offer."
Mariam added, "South Asian women are barely represented, be it in media or otherwise. The beauty industry is so heavily focused on lighter skin and looking a specific way. They prefer the ethnically ambiguous look. I myself have been subjected to that."
"Badmaash is the label that young girls get called for being outspoken or standing up for themselves. If being ourselves makes us badmaash, then we're badmaash beauties." — Badmaash Beauty co-founder Mariam Shah
The two revealed that they thought of the name together and the term has more significance than just tongue-in-cheek humour.
Said Mariam, "Yes, we wanted to create good products but we also wanted our brand to speak to the experiences of South Asian women in a fun way. There was some back and forth because we didn't want to call it 'Mariam and Beena beauty' or something. We wanted it to have an impact."
So why Badmaash?
According to Beena, " Women, in general, go through so much, even beyond [their] beauty [experiences]. There's so much we can't do because of societal pressure. Our brand in a way addresses that and allows women to reclaim the things they've been hearing all their lives."
Said Mariam, "Badmaash is that label that young girls get called for being outspoken or standing up for themselves. So this is what we're reclaiming. If being ourselves makes us badmaash, then we're badmaash beauties."
Mariam pointed out, "We're not encouraging women to be bad or badmaash in the literal sense but how many women get called bad for actually being bad?"
It's unfortunate that Mariam had to put this disclaimer out.
What to expect
Badmaash Beauty is currently working on three products: an eyeshadow palette, a highlighter palette and a small range of lipsticks. But it's not just the inclusive shade range that desi makeup lovers will enjoy. The brand boasts some quirky shade names that are desi-specific and it's about time we get something like that.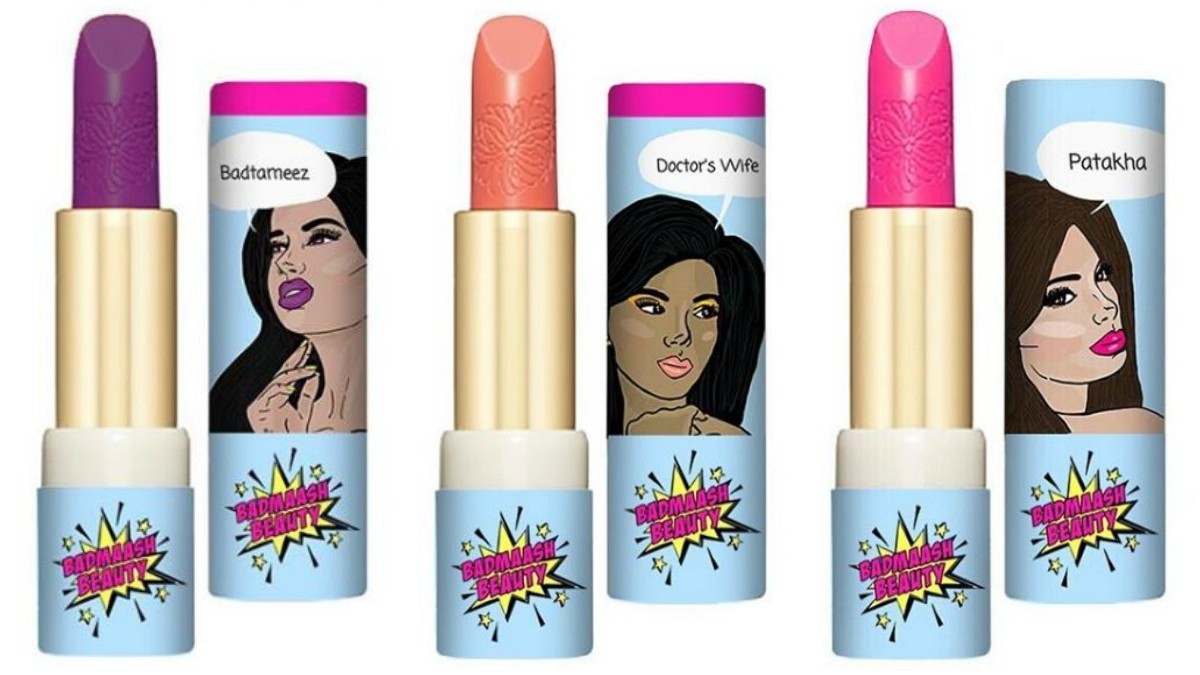 Names like 'gulab jamun' and 'rishta aunty' are associated with every shade. Also, the eyeshadow palette is called The Nazar Magnet and that is genius.
The artwork is done by Saher, who's popularly known as the Pakistani Martha Stewart. And the artwork suits the idea completely.
Maryam reveals that the shades are named "according to our experiences and those of our friends and families. And it was kinda easy to do so because we have so many experiences to pick from. When it came to naming our shades, we were on a roll!"
But is it all just a gimmick?
Would a makeup fan be willing to give this brand a try if it weren't for the quirky names?
Beena responded, saying, "We made sure that anyone who gets our palette will be able to use every colour. Our goal was to make the products suitable for every skin tone. I feel like customers of Badmaash Beauty would be willing to return to us for more goodies knowing there will always be something for them."
She added, "We also have our samples ready as to know exactly how the quality will be, we don't want mediocre products. After all, we got a lot going on here for Badmaash Beauty and we don't want to fizzle out."
Badmaash Beauty will have its official launch in October.
Email