This take-away joint brands itself as healthy and low-cal... but the food says otherwise
For most people, weekends are synonymous with gluttony. And I'm no different.
But last week, I decided to try something different from my usual weekend choices and placed an order at Thaigrr, a Thai food take-out and delivery joint that I discovered randomly through Facebook, which brands itself as low-cal and healthy.
I thought to myself: a Thai meal should be healthier than junk food and more flavourful than a salad, right? Did Thaigrr satisfy the picky eater in me? Let's find out.
The delivery service
Judging from their logo and Facebook content, the name Thaigrr comes from 'tiger', which connotes the eatery's promise to deliver 'furiously good food'.
Located in Phase 2, the business operates much like Golden Dragon.
Placing the order
When I rang up Thaigrr, the person on call offered to send me a menu... on WhatsApp. While that's not how I usually like to place my order, I sent a list of foods I wanted in a single reply.
The food arrived piping hot after the promised 45 minutes but I was disappointed to learn that I paid a whopping Rs300 for delivery. The server didn't mention a break-up of the food prices or delivery charges at any point during our entire conversation, so I didn't see that coming.
Considering Thaigrr is located 15 minutes away from my house, I'm fairly certain I could've Careem-ed to the joint, picked up my food and paid a smaller amount for the round trip. Sigh.
The food
I wanted to try their Gai Thod (deep fried chicken drumsticks) but they never arrived in the delivery because they ran out...
I hoped the mains would make up for the disappointment, but that wasn't the case.
Let's start with their Khao Pad, which is Thai stir-fried rice that comes with your choice of protein (I opted for chicken).
Thai stir fried rice are sticky, I get it. But these were a tad too chewy for my liking.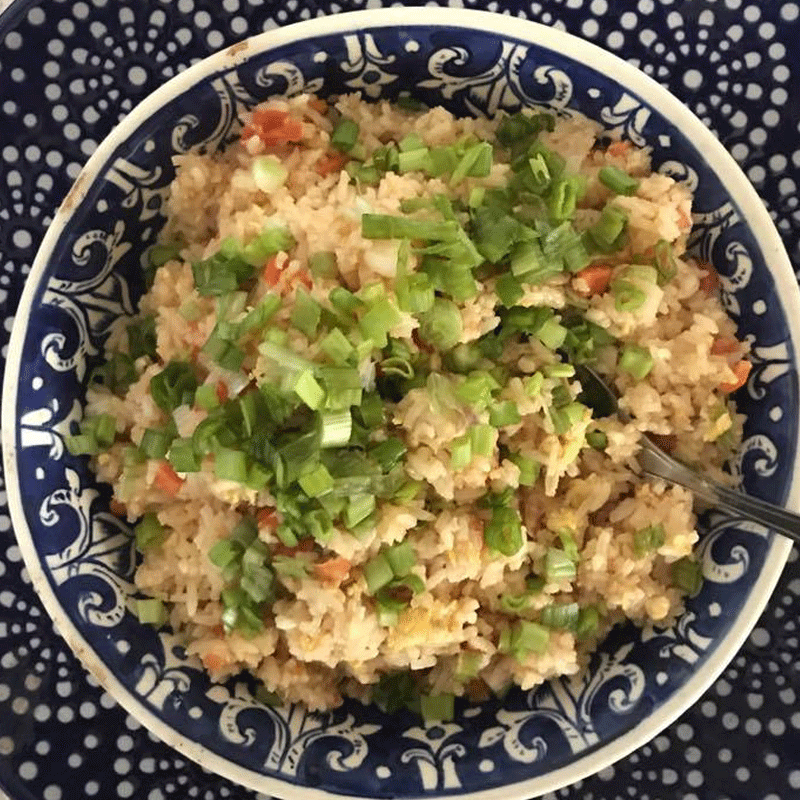 I appreciated how the rice was packed with protein - eggs and chicken - but the overall taste of the veggies, rice and seasoning together fell flat. The Khao Pad lost major points for flavour. I feel the seasoning to rice ratio was off, which is why it tasted bland.
Also, the restaurant didn't mention serving sizes or options of ordering family servings anywhere on the menu or over the phone. This was an inconvenience because I ended up ordering less than I should have.
I quite enjoy Thai curries (particularly red curries), so I ordered their Kaeng Phet, which is the Thai red curry in beef. What I sadly ended up with was a curry way too runny for Thai standards and layered with too much oil that gave off a desi feel. So much for my low-cal eating plans.
The dish looked far from healthy and the after-taste was not pleasant.
As much as I wanted to, I couldn't judge the meat in the curry too well. The meat cuts were bite-sized but some pieces were chewier than the others.
For me, this dish was also a no.
If there's anything that saved the day, it was their stir-fried Thai noodles, Yum Mama.
Mama is to Thai people what Maggi is to us desis. The noodles held a texture similar to ramen noodles and thankfully were loaded with crunchy veggies like celery, tomatoes, onions, and chillies with chicken. They could have gone easy on the onions and tomatoes, though.
Strangely, the noodles had a funny odour (no, not like the authentic Thai food smell) but the seasoning had the right kick of flavour; a balanced blend of sweet and spicy. I'd say they were pretty close to authentic Thai stir fried noodles.
Damage on the pocket
I ordered about three not-so-sufficient servings of food items and ended up paying Rs1770 (including a crazy Rs300 delivery charge). Their Yum Mama or stir-fried egg noodles were Rs350 plus tax, Khao Pad stir-fried rice in chicken, Rs400 plus tax and their Kaeng Ehet Thai Red Curry in beef, Rs550 plus tax.
Verdict
What I liked: Thaiggr's delivery time was spot-on; the food arrived piping hot and within the time promised, without any confusions about location or multiple calls. The packaging was well done, no dripping, spillage or oily business here.
What I didn't like: placing the order via WhatsApp... they need to set up a better ordering system; prices are high considering their small serving sizes. The food (particularly the curry and rice) isn't really worth re-ordering for me.
I believe a take-out food business only has its food's taste to bank on and Thaigrr needs to work on that.
Considering how competitive the food industry is right now, Thaigrr really needs to pull up its socks. I understand it takes newbies a bit of time to transform into full-sized, functional businesses but food and taste are things you need to sort before you launch.