Motorcycle Girl is smart, funny, poignant and it delivers a touching story without any gimmicks
Let's get one thing straight right off the bat: Motorcycle Girl is barely a biopic.
This needs to be said because the movie was marketed as one in its initial stages. However, just yesterday, the film's director and writer Adnan Sarwar admitted that it is "a heavily fictionalised account" of Zenith Irfan's life so far.
Zenith is not your average Pakistani girl. Her multiple bike journeys (documented in her Facebook travel blog "1 Girl, 2 Wheels") through Northern regions of the country "where it's taboo for women to venture out unaccompanied, let alone riding solo on two wheels" attracted worldwide attention and have been covered by publications such as CNN, New York Times and Vice to name a few.
Ahead of the flick's release, she shared via Facebook: "I want you all to know that Motorcycle Girl is not just a film about motorcycles or traveling, it's a film about a daughter's relationship with her father and how she connects with God while on a quest to find her father in the mountains."
As someone who followed Zenith's journey through social media, I was aware that a big driving force behind her embarking on this adventure was to feel a connection to her late father who had dreamed of traveling the world on his motorbike. On that front, I was a tad bit disappointed but more on that later.
Did Sarwar do justice to Zenith's story? To an extent, yes. But one thing's for sure, Motorcycle Girl moved me in ways I didn't see coming.
Here's the plot
Motorcycle Girl kicks off by drawing us into the seemingly mediocre life of 20-year-old Zenith (Sohai Ali Abro) who is based in Lahore and lives with her mother (Samina Pirzada), paternal grandmother (Shameem Hilaly) and brother, Sultan (Hadi Arshad).
Like most young women her age, she feels down-on-her-luck and underappreciated at the workplace. Frustrated by the unwanted advances of her van driver and lack of mobility, she takes up learning how to ride a motorcycle with the encouragement of her brother and much to the dismay of her grandmother, boss, fiance (Ali Kazmi), parosi ka beta, the infamous 'log kia kahenge' club, you get the picture.
So you know I was screaming "Yaaas girl!" in the cinema when she flips off the creepy van driver while zooming off on her bike.
She gets fired from her job through no fault of her own and gets engaged to Zaffar, a self-involved investment banker from New York. Before they get hitched and she has to pack up her life and move to the U.S, Zenith has just one request: she wants to take a trip to the Northern areas on her bike by herself.
After much haw haye, he surprisingly agrees, gives her "ijaazat" (and never lets her forget it!) and off she goes; her story is told in flashbacks as she rides her way to Khunjerab Pass on her trusty motorcycle.
What worked
Going into the movie, I was kind of expecting to see a road-trip flick.
Boy, was I wrong. We only see glimpses of her actual journey throughout and whatever we do see almost feels a little rushed but in a way, I was glad; we see just enough stunning visuals without it becoming overkill (you know which movies I'm talking about) so shout-out to the movie's cinematographer.
Yes, Pakistan has a lot to offer in terms of awe-inspiring landscape but there's only so many movies we can watch with excessive drone shots of the Northern areas. It sometimes feels like movie directors are just using the mountains and lakes to compensate for an otherwise small budget, you know, working with what you've got.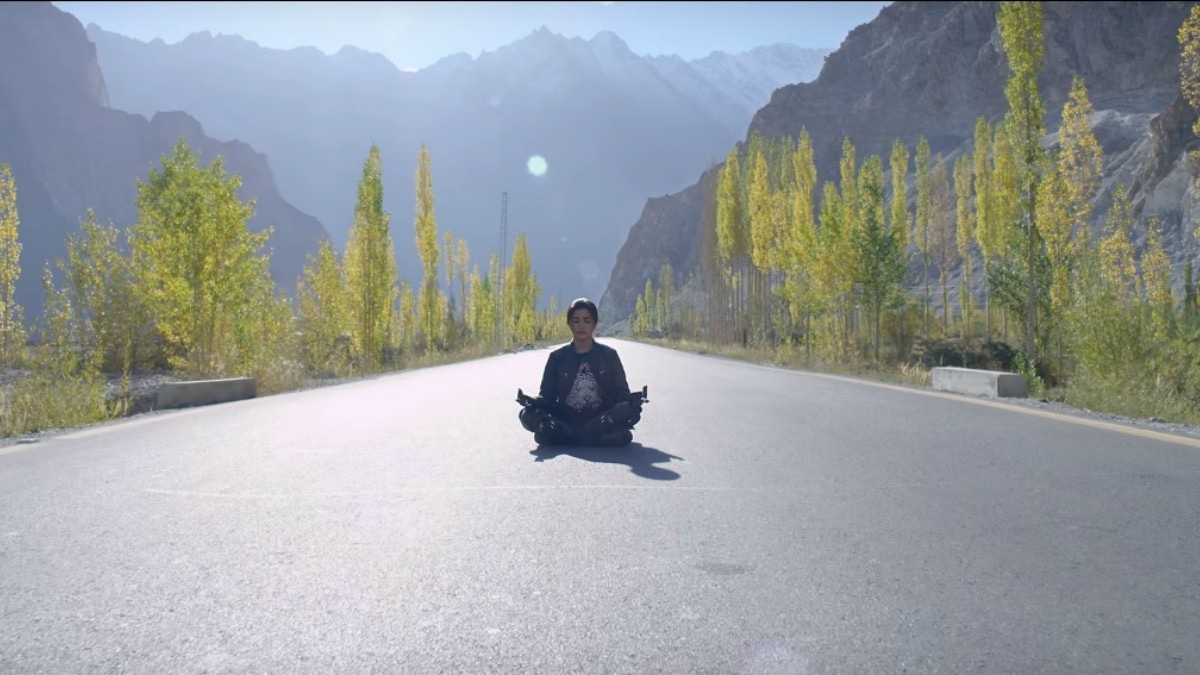 Motorcycle Girl on the other hand is a character-driven movie, which takes its sweet time developing Zenith's character, showcasing what drove her to take matters of her conveyance into her own hands and risk doing what essentially no other Pakistani woman had. Along the way, she gets a taste of quintessential Pakistani hospitality, surprises even herself with her resilience and meets people from all walks of life, many who leave a lasting impact on her.
The glue that holds this movie together is its cast. Sohai plays the role of the disillusioned but fierce and determined young adult honestly and endearingly. She is charismatic and so, so relatable. This is her shining moment, the role she'll be remembered for. Ali Kazmi made me hate the misogynistic Zaffar and Sarmad Khoosat was the employer nightmares are made of so clearly they held their own.
Everyone from Samina Pirzada as the caring mother, Hadi Arshad as the feminist brother to Mehrbano, who plays Zenith's witty and cheery friend, Aisha from work played their parts well.
SPOILER ALERT
Although this isn't a first for Pakistani cinema but I appreciate that in Zenith's story. the focal or prominent point wasn't a man; we see her crushing on a co-worker who turns out to be a jerk only to see her get engaged to an even bigger one. She soon realises she doesn't need male validation at this point in her life and breaks out of an unsatisfying relationship. Romance takes a back seat and the familial bonds in her life, the ones she shares with her mother and brother as well as those she forms along the way with people she encounters, are what keep her going.
And Motorcycle Girl wouldn't have the same feel without its music. It's got a great soundtrack that's incorporated into the script without the help of any dance numbers or Bolly-inspired masala. There was no intermission but to be honest, we didn't even need one.
The problems
A movie that hits all the right notes at its basic level is just intelligent story-telling. While Sarwar seems to be getting better with each movie (Shah was his first), I do think Motorcycle Girl could've benefited from some thoughtful editing. I know it's hard to just slash your masterpiece and as a filmmaker, you yearn for the audience to see it all but sometimes less is more.
There were a handful of slightly irrelevant scenes in the movie. Yes, some were funny, some were preachy but overall, if they had swallowed their pride and left out some sequences, I doubt we would have missed much and we'd be out of the cinema 20 minutes sooner.
Instead, I wish we had seen more of how this journey achieved what Zenith had set out to do: feel connected to her dad, a man she didn't even really remember. She starts riding to fulfill his dream but by some point in the middle of the movie, their relationship almost starts to seem like an afterthought.
I'm guessing they made sacrifices because they thought they had a lot of ground to cover. It's no secret that Pakistani filmmakers have not mastered the art of subtlety; the movie tries to tackle too many social causes at once and started to feel like a public service message in the process. The film's message(s) about gender equality, women empowerment, glass ceilings in the workplace, dearth of mobility, the importance of reclaiming public spaces are all relevant yes but also just shoved into the story one after the other.
There's a fine line between highlighting valid social issues and preaching; they might have crossed it a tad bit and this was the only thing that partially kept the movie from being an entertaining, fun watch through and through.
Lastly, I won't take digs at product placement because independent films like this are hard to get going so I won't hold this against them. Good on Telenor for taking a chance on these guys and good on the team of Motorcycle Girl for making it happen in less money than it takes to produce a commercial in the country.
Is it worth your money?
To be put it in one word: absolutely.
Motorcycle Girl is smart, funny, poignant and it delivers a touching story without any gimmicks; in it, we see a real girl, a go-getter taking on the world, chasing her dreams and is unquestionably the star of her own story.
There's so much I haven't discussed, themes the movie touches on in subtle ways, like the pressure to get married, shame surrounding menstruation, even Facebook trolling.
Here's hoping it ignites some much-needed conversations about the things we like to hide under the carpet.
Motorcycle Girl opens in cinemas today.
Rating: ★ ★ ★ ★ ☆