Sometimes it's as simple as asking the server to replace regular milk with almond/coconut milk
It's hard to be on certain diets in a meat-loving country like Pakistan, especially if one is vegan.
For someone who doesn't eat or use animal products at all, it can be difficult to go out to restaurants; a simple meal with friends or family can turn into a nightmare if there is nothing on the menu which caters to your diet, except water...
When we sat to think about how many eateries offer vegan options, we could hardly come up with names - we had found ourselves a task. So we got in touch with popular eating spots in Karachi to see if a vegan can survive in the city when going out to eat.
Here's what we found out.
If you want something light...
Try Figaro's Tabbouleh
If you're a salad lover, you'll really enjoy the Tabbouleh. It's fresh, crunchy with tons of flavour and super light. Or if you want something a bit more filling, go for their hummus sans the pita bread.
Try The Deli's Nutty Granola Salad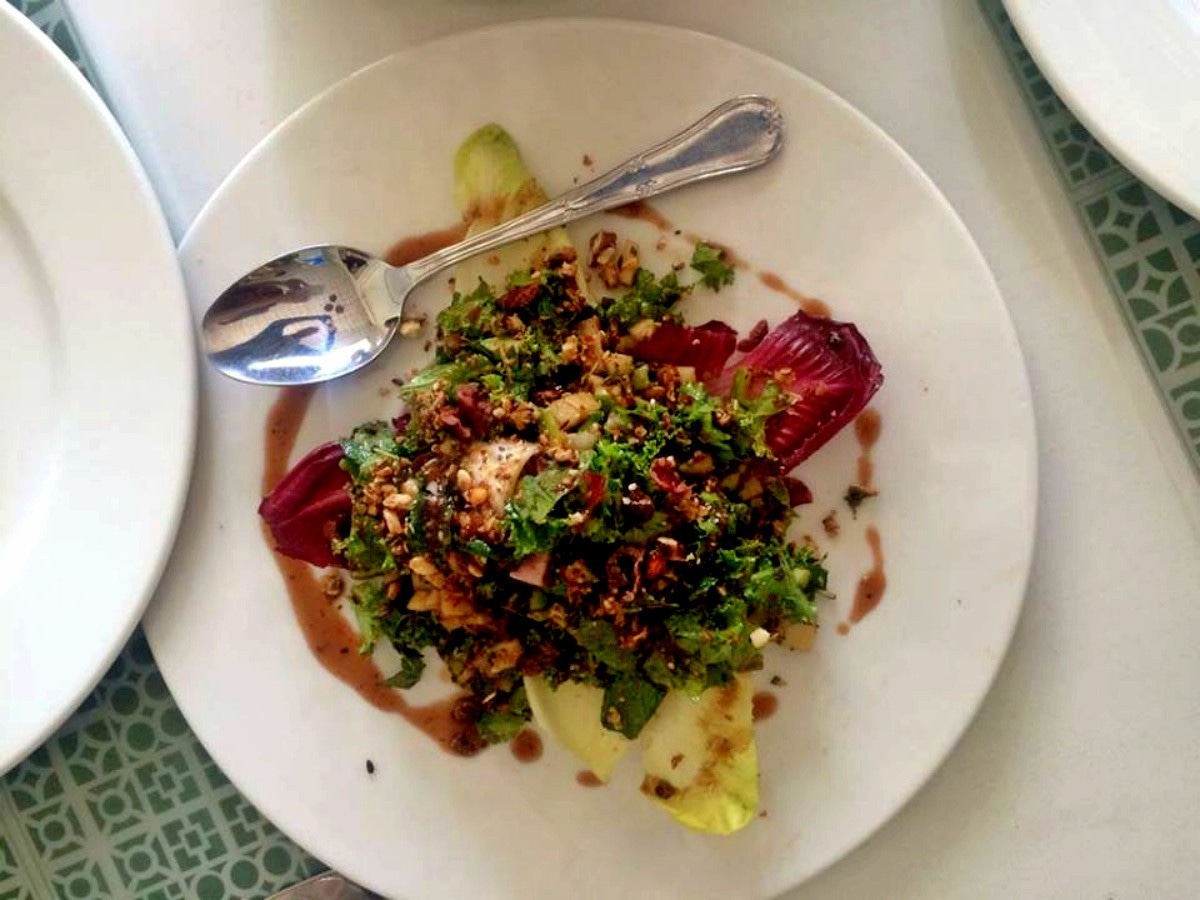 Kale, apple and cranberries are tossed together with nutty granola, giving the salad a very sweet yet acidic flavour along with a smokey taste that ties up the salad perfectly. It's filling, healthy and delicious!
Try Chupa Rustom's Aloo Methi Kebab
When you're not too hungry but you want something nice and light, give this Aloo Methi Kebab a shot and we promise you won't be disappointed.
If you're feeling generous enough to share...
Try Sattar Buksh's Veggie Pakoras
They're crispy and light and what better way to enjoy the company of your friends than with some pakoras and chutney on the side.
Try Aunty ke Qalandari's Pani Puri
It hits all the right notes. It's khata and the imli gives it the burst of flavour needed for the chickpeas.
If you're in the mood for something filling...
Try Chop Chop Wok's Make-Your-Own-Wok
You can opt for the brown/ jasmine rice and select a suitable flavour, and your protein of choice can be tofu. Super easy and you get to play around with flavours!
Try Mirchili's Khaas Katori Chaat
You don't have to opt for the yoghurt that they serve on the side, but you get the protein and the crunch with lots of khatta meetha taste.
If you're feeling indulgent...
Try Market's Crispy Black Pepper Tofu Rice Bowl:
This Rice Bowl will leave you feeling full and happy. It's got green beans, mushrooms, baby corn, onion, red chilies, garlic fried rice and of course tofu!
Try Floc's Cauliflower Thai Red curry
It's packed with flavour and lots of vegetables cut to the right size. Our favourite part about the dish was how the garlic complemented the curry - not too dry, not too sticky, just perfect.
Special mention: Okra Fries
We cannot rule out the delicious okra fries that they served on the side. They were light, crispy with the perfect seasoning and the salsa worked wonders with it. Total win!
Try Neco's Laksa
Noodles are comfort food and Neco's Laksa is the perfect meal when out with friends.
If your sweet tooth is calling
Try Lush Crush's Strawberry Satin
Honestly, their fruity popsicles are only made with real fruits and they'll have you beating the heat with tons of natural sweetness.
Try Neco's Strawberry Crumble
Granola and fresh strawberries make for a delicious combo and we can't think of a better way to end a meal.
Try Floc's Gluten and dairy free brownies
Who doesn't love chocolate? Thankfully there's an option for vegans out there and it's delicious.
---
Did we miss your favourite vegan dish? Let us know in the comments below.