Finding the right salad is like finding the perfect life partner; hard to find but once you do, it's till death do us part.
Call us dramatic but we take our salads verrrry seriously. Unfortunately, discovering a good salad is quite the impossible feat. Yes, you can go wrong with salads - they're not just ghaans phoons.
A salad needs to be balanced just right; with the perfect dressing and right ratio of vegetables to meat/other ingredients. So when we set out on a search to find the best salads in Karachi, we were pleasantly surprised by the result.
We give you 10 salads in the city which we could eat on repeat (no joke!).
The Thai Beef Salad at Chop Chop Wok
Let's just get one thing straight: everything at Chop Chop Wok tastes fantastic. And their Thai Beef Salad is no different — onions, cucumbers, bean sprouts tossed with Nam Jim sauce. It's crunchy, spicy and makes you feel like you're chomping away on the streets of Bangkok.
The Caesar Salad at Espresso
Fancy salads always get us excited but sometimes, you just need to go back to the basics: fresh iceberg lettuce, a juicy grilled chicken breast, olives, tomatoes with a killer dressing and Espresso delivers just that. It's what you want to curl up in bed with after a long day.
The Pear & Walnut Salad at Lal's
This was a surprise find. Crispy, crunchy, sweet and healthy - Lal's hits all the right spots with this one.
Unlike most salads in which the greens overpower the other ingredients, this salad manages to balance the flavour of the sliced pears, rocket leaves and parmesan perfectly. And the best part? The candied walnuts - so much win. The salad is not overly sweet and the balsamic olive oil dressing adds a touch of acidity to the varying flavours. It's also on the light side and won't land you in a food coma. You'll save plenty of room for dessert!
The Quinoa & Cranberry Salad at Xander's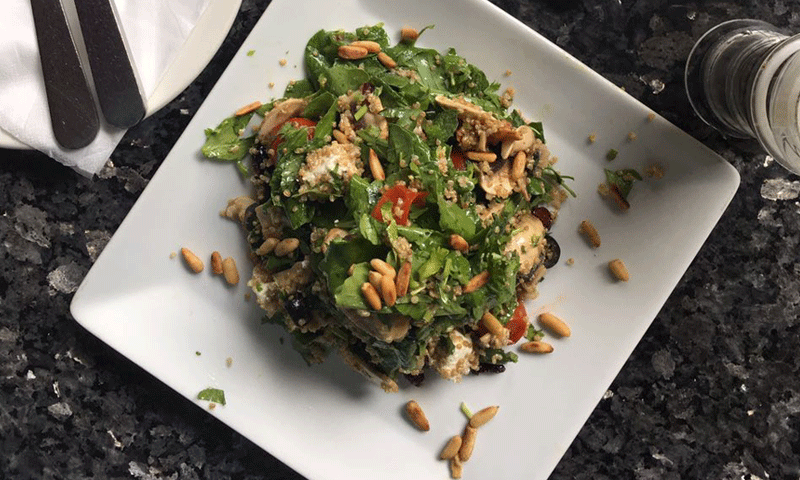 This one's for the books. But be warned! Only attempt to eat this salad if you're looking for something filling. This is not for those looking for a 'light' salad.
Packed with just the right amount of quinoa, rocket, feta and baked cherry tomatoes - more of quinoa though, YUM! - and sprinkled with a generous amount of cranberries and pine nuts, Xander's manages to make a meal out of this salad and a healthy one too. The flavours don't fight in your mouth and each ingredient manages to shine. Sigh, we're drooling just thinking about it!
The Roast Beef & Quinoa Salad at The Patio
We love our beef, enough said.
This salad is not THE greatest we've ever had, but it's really good. It's fresh and the serving is generous. With just three main ingredients — leafy greens, quinoa and roast beef, topped with Dijon dressing — The Patio manages to give you a filling salad which is also big on flavour. The roast beef is sliced to perfection and everything balances out great.
The Nutty Granola Salad at The Deli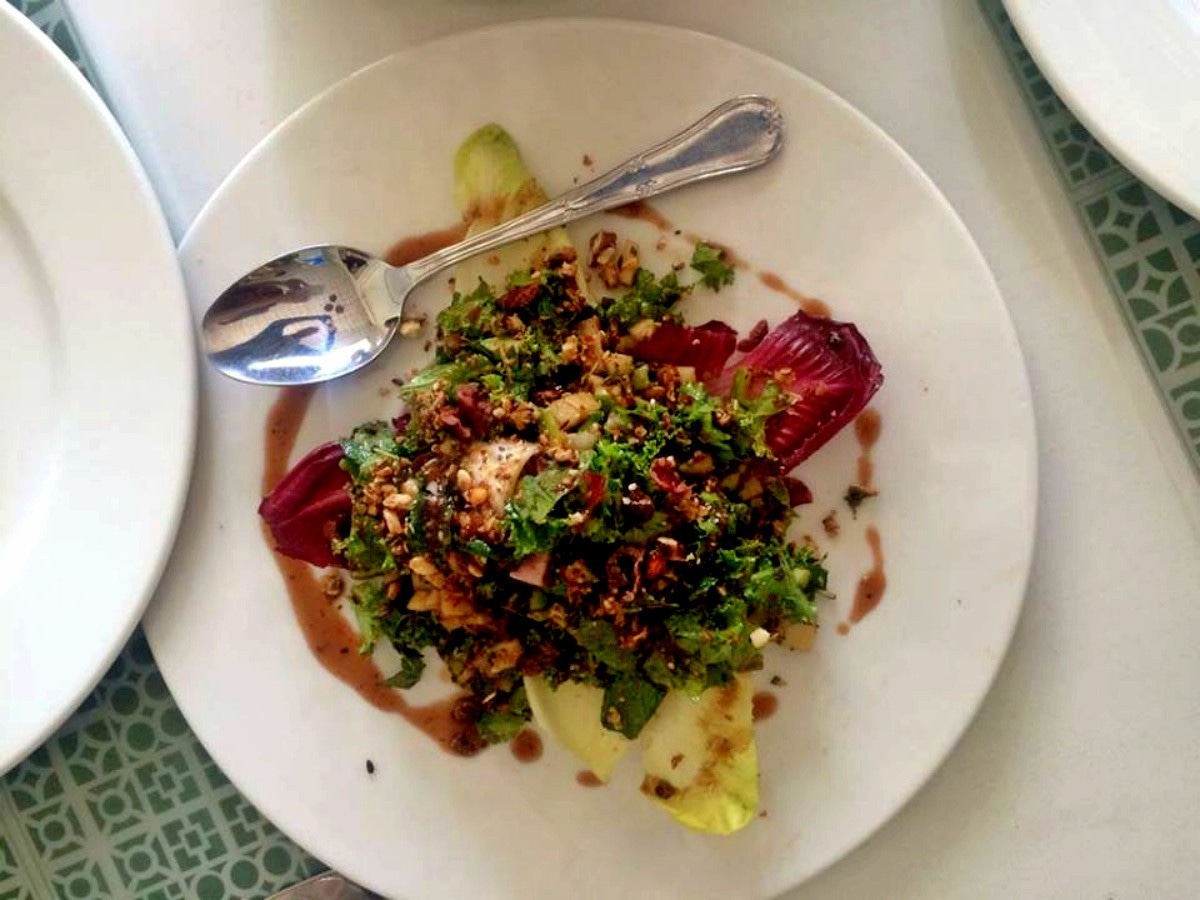 The Deli is definitely one of our top go-to salad places and their nutty granola salad is a unique offering we adore. Kale, apple and cranberries are tossed in with the nutty granola, giving the salad a very sweet yet acidic flavour along with a smokey taste that ties up the salad together. It's filling, healthy and delicious!
The Vietnamese Prawn Salad at Chatterbox
Some of us have a huge Chatterbox bias. We love their breakfast, we love their setting and it's long been our go-to place. Which is why we were lucky enough to discover Chatterbox's Prawn Salad on their specials menu. It is more than just an appetising salad, it's pretty much a meal.
The greens in the salad provide texture while the prawns give it a crunch. We love the sweet chili saucy seasoning of the prawns which are nice and warm over the rest of the veggies and the sauce makes for a nice salad dressing. Perfect for those whose prefer a more savoury taste in their meals.
The Asian Crunchy Salad at SOI
When SOI calls their salad crunchy, they mean crunchy! The salad contains vegetables like carrots and cucumbers, which are covered in crispy noodles and just when you think you're done, Soi tops it all with peanuts. We love the peanuts in this salad as it gives a very underrated Thai flavour that really needs to become more popular here now.
The Asian Brown Rice Salad from Eatfit
The Asian Brown Rice Salad from EatFit is divine! It almost feels like an even healthier rice bowl from Chop Chop Wok. It's filling, wholesome and all the ingredients, like the water chestnuts, sesame seeds and bell peppers just go really well together.
Also, special shoutout to their Rice Noodle Salad!
The Chicken & Pesto Salad at Floc
One thing we love about FLOC is their attempt at keeping all their ingredients fresh. They make their rotisserie style chicken in small quantities and use it for their dishes like the Chicken and Pesto Salad with apples and cherries.
We love the presentation of this dish. The salad is wrapped in thinly sliced cucumber and once you open it up the quantity is generous. The unique combination of cherries and pesto is actually a must-try.
Email