We might put a ban on Valentine's Day, but that doesn't mean Pakistanis aren't big on love!
Every other bus, truck or rickshaw tells a story of the driver's most painful heartbreak and shaadis may as well be our national past-time.
Safe to say, lurve's pretty high on our list of priorities.
Let's observe...
1) Imran Khan knows how much love means to him
When rumours of Imran Khan's third marriage broke in early January, it was nothing short of a scandal on social media. Soon enough, Imran Khan interrupted the chatter to help everyone see his side of the picture: he's been lonely for far too long.
He tweeted, "...pray I find personal happiness which, except for a few years, I have been deprived of."
Aww! :( wipes tears
2) Fawad Khan's admitted he's been a lover boy from the start
He may pretend to be cool and aloof now, but Fawad Khan's admitted he was bit by the love bug baaad in his teen years.
"I wasn't a fan of the university I was attending. I was only bothered about what college my girlfriend — now wife — was going to," he shares about his early romance with wife Sadaf. "Education had lost its importance for me at that point because I was a man who had just fallen in love."
That's not all... Fawad also admits he went into acting because he needed a distraction from missing Sadaf all the tiiime!
"Since this university was far from the campus where my wife was, I took up acting as a means of escape," he said.
And look at him now. Who knew being away from your beloved could be so profitable?
3) Saba Qamar posted pictures with a friend and boom... she was "engaged"!
Ever post a picture with a friend of the opposite sex and have everyone assume you're a couple?
It's happened to Saba Qamar and her friend Arslan Faisal, who were rather randomly assumed to be engaged, until Qamar officially busted the rumour!.
Pakistan can't let a guy and girl be just friends.
4) Fans really want #OsMaya to date in real life
More proof that we're suckers for cute couples: fans are so moved by hit TV joris like Osman Khalid Butt and Maya Ali that they're willing to alter reality to make them see their potential together! Case in point:
That's some crazy cult you got there, OsMaya!
5) Even Bilawal can't escape the rishta aunties!
You think matchmakers only haunt women, but turns out Pakistan won't leave eligible bachelors like Bilawal Bhutto alone either.
During a press meet in November 2016, reporters flustered Bilawal with questions about his love life. "Have you received any marriage offers?" they pressed him, laughing as he explained how any woman would face a lot of difficulties if she decided to marry him.
Frankly, we're surprised the question hasn't come up again.
6) A love marriage even made it to the evening news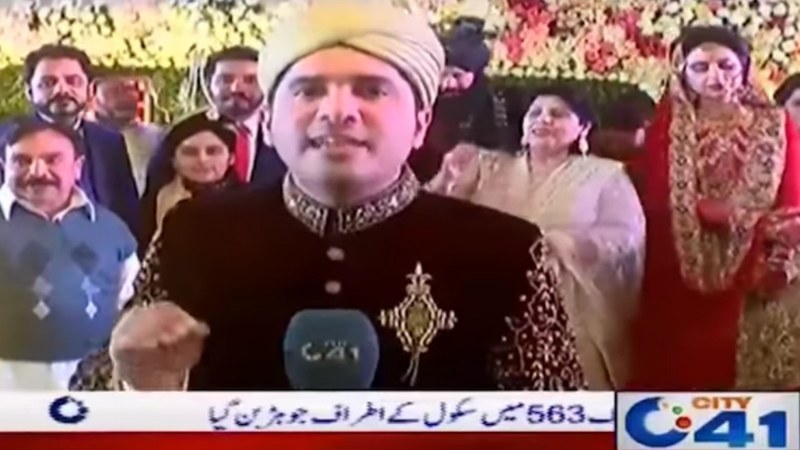 We didn't see this coming: C41 reporter Hanan Bukhari decided to do a segment on his own wedding and interviewed some of the key players on his big day, wife included.
During the report, he thought it important to emphasise that his is no ordinary wedding. Why? "I have a love marriage and in this love marriage, my wife and her family are also very happy," he quipped.
He added, "I chased this woman for a good 3-4 years, and after that, she finally agreed to marry me. So I'm happy."
7) We go gaga over every cutesy Wasim-Shaniera photo
10,000 likes, easy.
8) Or every Danish-Ayeza photo... Or Urwa-Farhan photo... Or Sania-Shoaib photo...
See? We adore couples in love.