We're heading in to Day 2 of the Karachi Literature Festival!
The opening ceremony of this year's KLF happened yesterday, with Noor ul Huda Shah and Francis Robinson performing the Keynotes addresses.
Three prizes were announced yesterday as well. Imagining Pakistan by Dr Rasul Baksh Rias won the KLF Pepsi prize for nonfiction, while Omar Shahid Hamid wont the KLF Getz Pharma fiction award for The Party Worker and Altaf Fatima won the KLF-Infaq Foundation Urdu literature prize.
Stick with us as we keep you updated in real time about whats happening at KLF 2018. You can also check out our picks for must see sessions here.
---
7:15: Ending Day 2 with a concert!
Okay we are beat! But before heading out we got a glimpse of Arieb Azhar in concert!
---
**6:15: Mushaira time!
---
6:10: Lyari's local media
Dostain Baloch, Zia Rehman and Waheed Noor sit with moderator: Nida Kirmani for the screening of documentary Don Akhbar and a discussion on Lyari's local media is session.
The session was full before it even began and people are loving it.
---
6:00: Reality catches up with satire
Zarrar Khuhro and Fasi Zaka sit with moderator: Nadeem F. Paracha in session Reality catches up with satire.
Nadeem F. Paracha starts by saying, "I want to say to Mubasher Luqman, this is not an Indian flag I'm wearing, this is the European flag."
Says Zarrar, "Television management has given up on us. They let us do what we want because they say yeh toh aisi hi hain (They are just like this)."
According to Zarrar, "The things is, you can't get angry, you look for the weak points and wait after ten thousand responses for them to break."
When asked if satire is for a certain agenda, Fasi responds, "Satirists themselves, we have a base and we relatively have a base of people who largely agree with us. We believe we're converting the other side."
Adds Fasi, "There's a major problem with satire today, satire was against Zia back then. Today in the past three to five years, it's against religious bigots, etc. It was Musharraf 20 years ago and now we're punching down."
He explains, "There are a lot of people who didn't like Qandeel and did so in their right, but we knew what was coming. The first time Junaid Jamshed got in trouble, I called Nadeem up and said 'Whatever you do don't touch this guy, they're going to kill this guy.'"
"People say there was a time when people were tolerant, that's not true at all!! People have always been intolerant. You just hear them now," says Zarrar
---
5:35: Presenting the UBL Literary Awards
---
5:05: A talk on the education of girls
Says Nadia, "Surveys show that 75% of Pakistani parents think that education for girls is as important as boys... Gender gap in education is 10% in Pakistan and most of this gap exists in rural areas.
She adds, "Access to schools is the problem; the stigma isn't girls schooling but girls going to school - meaning, mobility's the issue."
According to Nadia, "You need to make school safe for girls by having more female teachers... You can get girls to schools but you also need to have quality education. Schools and education aren't the same thing, and that's where we're failing"
---
5:00: Book launch of 'Mr and Mrs Jinnah'
Author Sheela Reddy talks with Mohammad Zubair, F.S. Aijazuddin and moderator Kamran Asdar Ali about book, Mr and Mrs Jinnah: Hindustan ki Hairankun Shadi.
"Jinnahs personal life has never been discussed in this way. Pakistanis would probably not like it (the book), they don't want to humanise Jinnah in this manner, they can't fathom that he fell in love with a Parsi girl. So they might not like it but the truth must be told" says Mohammad Zubair.
Author Sheela Reddy is asked what attracted 42-year-old Jinnah to an 18-year-old Parsi woman, to which she responds, "I think on his part it was her very youth that might have attracted him, she was a great romantic. I think she had qualities that he had suppressed about himself due to his need to self-invent into another man, a great man."
---
4:50: Short play 'Chup'
---
4:45: A panel on Electronic media
Secunder Kermani, Ghazi Salahuddin, Huma Baqai sit with moderator Fasi Zaka in session Electronic Media: Making and Breaking News.
"80% of producers, when I appear on TV, tell me to not speak like an academic, to simplify my ideas," says Huma Baqai
---
4:00: Book launch of 'Governing the Ungovernable'
Author Ishrat Husain talks with Mani Shankar Aiyar, Y. Venugopal Reddy and moderator Sima Kamil on his book, * Governing the Ungovernable: Institutional Reforms for Democratic Governance*.
Says Venogopal, "A leader can make a difference at an opportune point in time."
Says the author, "I looked at the explanations of Pakistan's decline. First and foremost, Pakistan is a fragile flailing state with nuclear power, extremism roaming about, tension with India and the US."
He adds, "Whenever Pakistan has received generous foreign assistance, Pakistan has done well. This has been in relation with military governance."
---
3:45: Book launch of 'Of Pearls and Pecks of Straw'
Author Iqbal Akhund talks with Ashraf Jehangir Qazi and moderator Maniza Naqvi on his new book, Of Pearls and Pecks of Straw: Recollections, Essays, After-thoughts.
Says the author, "I am one of the last few Indians left. Many of you were born and bred here. I was born there and I was not at all in favour of Pakistan; we lived happily with Hindus, Christians and Parsis. Eventually I came around to the idea but I must confess I still have a certain nostalgia for that country that was."
About the book he says, "In 18 years I wrote 20-30 pages but then the book started to write itself and it was done in 2 years."
---
3:40: Harf-e-Baryab
Iftikhar Arif has a conversation with moderators Asif Farrukhi and Nasira Zuberi and also performs a few readings.
---
3:30: Francis Robinson talks about his book
Francis Robinson talks with Mahmood Jamal and Hameed Haroon on his book Jamal Mian: The Life of Maulana Jamaluddin Abdul Wahab of Farangi Mahall 1919–2012
---
2:45: Sania Saeed highlights importance of theatre and its impact
In session Can Art and Culture Save the City?, Sania Saeed talks about the impact of theatre.
Says the artist, "I was born during the time of dictatorship so we were just thrown into democracy. We didn't know what todo because we were told what to do and what not to do. So we never saw political dialogue."
She adds, "Theatre has a respectful engagement of the presenter and audience it is non threatening and non confrontational and more engaging and has a longer impact and if it can be continued then it reflect more positively in people's attitudes. However, art doesn't come under the politicians' radars, which has allowed us to get away with a lot of things."
"It's difficult to get people out of their comfort zone because they've accepted and are living in this garbage, and to shake them out of this and get them out of it is difficult," says Sania, adding, "So it's a psychological issue too. There are limited theatres in Karachi, it you don't get along with Arts Council, pack up and leave, you can perform on the streets, not that even."
Responds Durriya Kazi, "I think the artists bridges the gap between chaos and order."
---
2:40: BNN session finally starts
Session Going Bananas with the Boys had a delayed start as the panel participants got late. But this session is jam packed!
---
2:35: Book launch of 'The Faltering State'
Author of The Faltering State: Pakistan's Internal Security Landscape, Tariq Khosa sits with Babar Ayaz, Hamid Khan and moderator Javed Jabbar to discuss his book.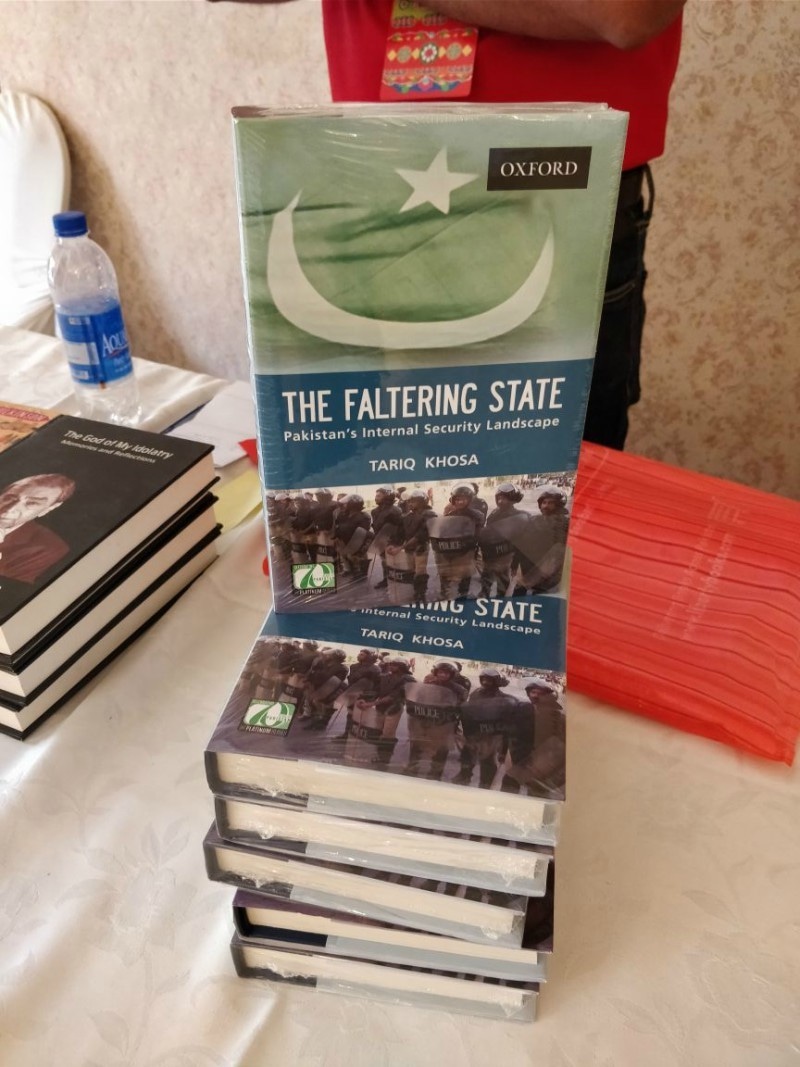 Says Khosa, "I believe that our state institutions have failed to develop a security policy that can save Pakistan from faltering."
He adds, "Pakistan seems to be at war with itelf due to the policy blunders of those at the helm... What is required is a security policy that discourages violent religious extremism."
---
2:25: A talk on Pakistani Women's Autobiographies
In session The Power of the Individual Story: Pakistani Women's Autobiographies, Attiya Dawood, Azra Abbas, Samina Rahman and Kishwar Naheed sit with Kesho Scott.
Says Kishwar, "When I wrote the poem 'Farewell to uterus' all my friends said 'hawwww'. I asked them did you read the poem or just the title? They said oh we didn't read the poem because of the title."
---
2:15: A panel on art and culture
Durriya Kazi, Sania Saeed, Faraz Hamidi and Yawar Jilani sit with moderator Naila Mahmood in session Can Art and Culture Save the City?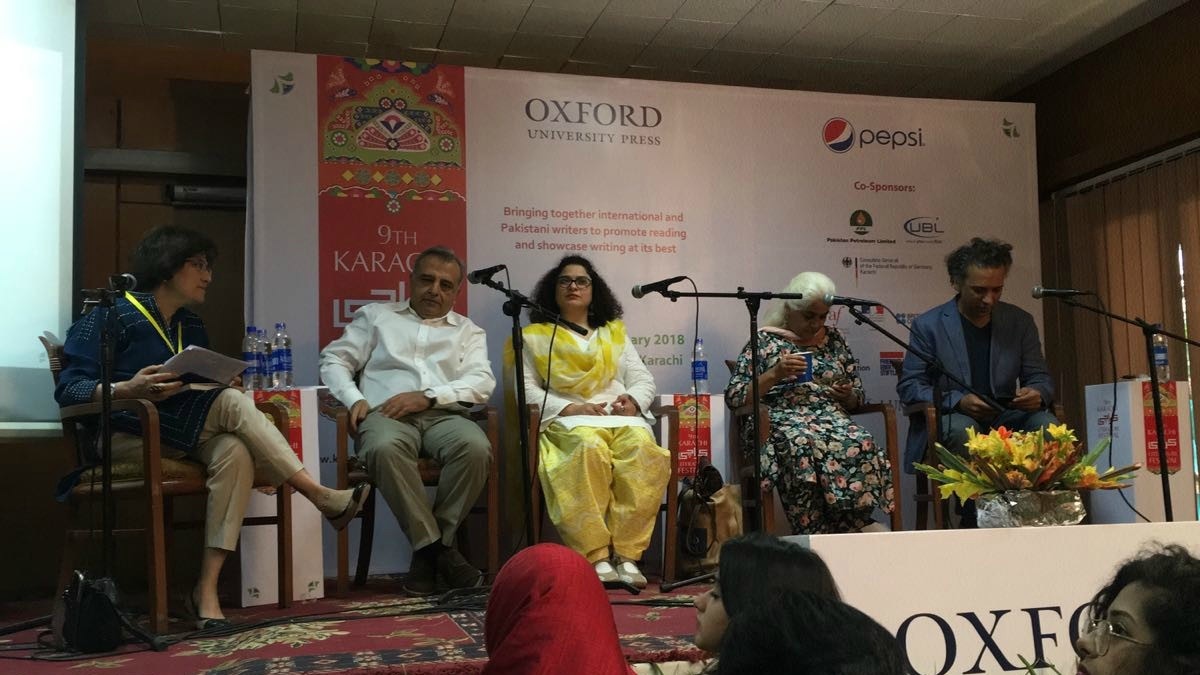 "Citymaking is a complex task especially if you bring culture into it. Citymaking needs a conscience, an understanding of history," says Yawar Jilani on architecture and pubic spaces.
He adds, "This process of engagement and dialogue. Our city has no planning authority. It's headless. There is no institution to have dialogue or a thought process about which direction Karachi should be headed."
"Television is the most covert controlled medium," says Sania, adding, "If you watch television you'll know what kind of mindset they're (media) trying to promote."
---
1:37: Book launch for '*The Three Innocents and Ors'
Shahnaz Aijazuddin and Sabyn Javeri sit with Saman Shamsie to discuss book, The Three Innocents and Ors.: Chughtai on Childhood.
---
1:36: Book Launch for 'Travels in a Dervish cloak'
Author Isambard Wilkinson talks to Victoria Schofield about his new book.
Says the author, "I thought looking at Pakistan through the War on Terror was very narrow; I wanted to correct what I thought was an imbalance."
He adds, "I saw that there was resonance of syncretic culture in Pakistan, which took me to Sufi shrines."
---
1:35: Book launch for 'A Thousand cups of tea'
Jurgen Wasim Frembgen sits with Arfa Sayeda Zehra to discuss his book, A Thousand Cups of Tea: Among Tea Lovers in Pakistan and Elsewhere in the Muslim World.
Says the author, "In Lahore the writers would sit together, Manto etc. It's not like it is now in defence. Clifton, on heir phones. Not communicating."
Arfa responds, "We do dharnas, now. We don't sit to have tea anymore. But they ask serve tea there so it works."
She adds, "By reading your book I realised that just the act of sipping tea is an emblem of our hierarchy, our habits, our upbringing."
---
1:25: A conversation on autobiographies
Zubeida Mustafa, first female editor of Dawn and author of My Dawn years sits with Kesho Scott of The Habit of Surviving & Tight Spaces.
Says Zubeida Mustafa, "I wouldn't say I was the first woman in journalism but I did join it at a stage when I could influence policy and pave the way for other women."
---
1:00: A session on cricket
Richard Heller, Shaharyar M. Khan and Mohsin Khan join moderator Sohaib Alvi in session Howzat! The Madness that is Cricket.
Says Shaharyar M. Khan, "You need coaching academies across the country and not just the big cities so young talent can flourish."
He also calls out journalists for not covering women's cricket. We agree!
---
12:45: Lets take a look outside
We need to stretch our legs for bit! Here's what KLF 2018 looks like now. Quite a rush, no?
Also, more food. Don't judge us.
---
12:35: Readings by Zia Mohyeddin
Zia Mohyeddin talks why Shakespeare is Shakespeare and performs a few readings.
---
12:22: Nasri Nazm aur Nayee Shairi
Afzal Ahmed Syed, Tanveer Anjum, Azra Abbas, Arfa Ezazi sit with moderator Syed Kashif Raza.
---
12:20: A session on gender issues
In session #.MeToo: Gender issues today, Aurélie Salvaire, Kami Chouhdry and Haris Gazdar sit with moderator Bina Shah.
"A lot of the issues brought up by the me too movement expose not just sexual exploitation but economic exploitation," says Haris Gazdar, adding, ""Surveys reveal that women themselves don't regard their own labour as work."
Aurelie Salvaire says, "I find there are more feminists in Pakistan's lower middle class than in the upper classes"
She adds, "Imagine what would happen is all the women in Pakistan stopped working for one day, the country would be paralyzed. We have so much power but we don't know it because patriarchy has divided us."
---
12:15: Three book launches
There are thee books on Socio-Economic and Governance Priorities for Pakistan launching. Hafiz A. Pasha, Sakib Sherani and Vaqar Ahmed sit with moderator Abdul Qadir to discuss.
Says Hafiz A. Pasha, "Since the 90's Pakistan has lost its growth. What is equally worrying is that we have high and rising inequality the evidence is that over the last 15 years and so, the gap between the rich and poor has risen to 12-1. In the last few years the gap has increased by one thirds. The fundamental is how to manage the low growth and inequality."
---
12:00: Time for a break!
We're done with the first round of the sessions and we are hungry! Time to grab some goodies from the food court.
---
11:45: Book Launch for 'Pirani & other short stories'
Mahtab Akbar Rashdi, Attiya Dawood, Shah Muhammad Pirzada and moderator Masood Lohar sit down for the book launch of Pirani & Other Short Stories by Jamal Abro.
---
11:35: Book Launch for 'Bhopal Connections: Vignettes of Royal Rule'
Shaharyar M. Khan, author of Bhopal Connections: Vignettes of Royal Rule talks with Mani Shankar Aiyar with Sadaffe Abid as moderator.
Says the author, "Bhopal was remarkable during those times. There was harmony between Muslims and Hindus."

11:33: Book Launch for 'Remnants of a Separation'
The book launch for Remnants of a Separation: A History of the Partition through Material Memory by Aanchal Malhotra has a panel consisting of Aanchal Malhotra, Naz Ikramullah Ashraf, Shahnaz Aijazuddin and Reema Abbasi with moderator Saif Mahmood.
Says the author of the book, "When you are born in India or Pakistan, you cannot separate yourself from partition."
Shahnaz Aijazuddin points out, "In Harry Potter, wizards use everyday objects and magic to transport them to another place. In Aanchal's book, she has used ordinary objects to transport herself back in time."
Aanchal adds, "Official history doesn't encompass everyone so we have to trust peoples memory. But memory is inherently fallible so collective memory becomes personal memory. We have to take things at face value, blend of oral history and academic history as they cannot exist separately from one another."
About interviewing people regarding partition, Aanchal explains, "Memory is not chronological, you need triggers to remember. You need to talk about senses, ask questions like what did Chittagong smell like at that time."
---
11:32: First German Peace Prize winner is Dr Rasul Baksh Rias
The winner of the KLF Pepsi prize for nonfiction wins first prize for book Imagining Pakistan.

11:30: Roksina Chaudhuri talks with Kamila Shamsie
In session Home Fire: Rosinka Chaudhuri in conversation with Kamila Shamsie.
---
11:20: Ijaz Hussain wins second German Peace Price
The author wins for Indus Water Treaty: Political and Legal Dimensions.
Says the author, "The only way to solve the water problem in India and Pakistan is to work together"
---
11:15: Slam Bam Verse!
We're checking out some interesting slam poetry happening in Slam-Bam Verse! Utterances of the Age
Zohab Khan, Zoha Jabbar, Batool Hassan, Shameneh Majid, Mariam Paracha and Hamza Iftikha talk about what poetry means to them.
---
11:00: German Peace Prize winners
The German Preace PRzie winners are being announced and the third prize winner is Ahtar Baloch for prison narratives.