There's no denying that climate change is real, and so is our love for hot chocolate!
Nights are cooling down in Karachi and mornings are getting chillier, making it the perfect weather to enjoy a good ol' cuppa hot cocoa. But let us tell you, finding the perfect chocolate/cocoa concoction in this city hasn't been easy.
We get it. Hot chocolate is not our regional delicacy so it's obviously a struggle to get the drink right. The soft, velvety texture, the consistency and the balance between the bitter of cacao and the sweetness of sugar is difficult to master.
But what you can do is get as close to the original hot chocolate drink, or its European version, as possible.
Passionate for this festive winter beverage, we set out on an expedition of our own in Karachi to find the perfect cup of hot chocolate. We tried the drink from eight popular cafes in the city.
Here's who we thought serves the best (and worst) hot choc in town:
Winner: Butler's Chocolate Café
Let us tell you, being the hot chocolate-snobs that we are, we found Butler's hot chocolate selection the best among all.
First, we tried their regular Hot Chocolate, and for a person that cannot handle the bitterness of cocoa, it was perfect. Though a little more on the sweeter side, anyone who loves milk chocolate would love this concoction of sugar, milk and chocolate.
Honestly though, it left us disappointed. Because to us, hot chocolate isn't just cocoa powder mixed in milk and warmed up, it is a delicious elixir of true chocolate (which is different from cocoa powder) slowly dissolved in milk/water with other goodies thrown in for taste. So in our quest, we gave their Dark Hot Chocolate a try ─ and that blend emerged as the clear winner.
It was smooth. It was velvety. Most importantly, it was thick.
The texture and the consistency were just right. Our tastebuds could detect no added sugar, so its sweetness did not overpower the chocolate, which is what hot chocolate is about, or should be, anyway.
Runner Up: Lal's
The Viennese Hot Chocolate from Lal's Patisserie came in second from the eight places we tried.
Again, it wasn't bitter and not as velvety as it should be. An authentic Viennese hot chocolate contains egg yolk, but we doubt this had any as the drink did not feel thick enough at all.
The sugar and the milk proportion were right but it could really use a stronger unsweetened chocolate flavour.
Perhaps, they call it "dark" because hot chocolate (as it's supposed to be) may not be everyone's cup of ... chocolate?
Everyone in the middle:
We tried the hot chocolate beverage at a few other places and all of them had one thing or the other missing.
The hot chocolate at FLOC was still acceptable as it wasn't as sweet as some of what we tried at other places. But it failed to deliver the dark, bitter taste we were expecting.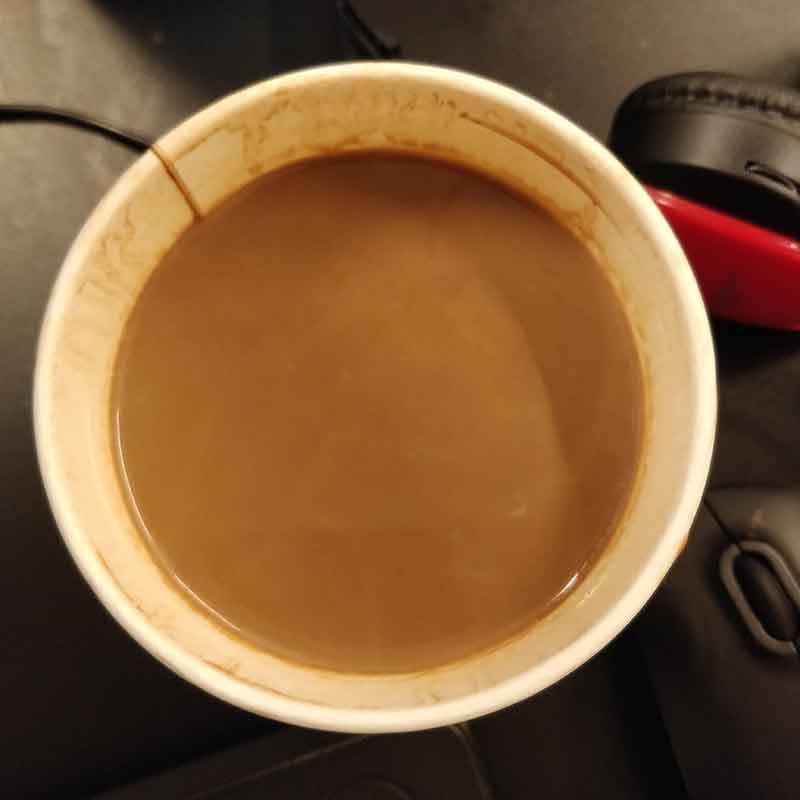 FLOC's owner Fauzia Siddiqui told us that their hot chocolate is made from Lindt chocolate, but we felt its taste had been diluted by using too much milk.
The Classic Hot Chocolate from Vintage Cafe did not taste very 'classic', so to speak. It could definitely use a bigger helping of cocoa, and a lot less of sugar. Because what we had, tasted more like warmed up chocolate milk instead of the actual hot chocolate drink.
Mocca's hot chocolate was deceiving, to say the least. It had a nice, chocolatey brown colour, building up our expectations. But when we tried it, you could actually feel the heaviness of whole milk in it. The sugar overpowered the chocolate. It was thick and creamy, but not rich.
The hot chocolate at Espresso ranked after Mocca, though it was similar in texture and taste. Definitely milky, a sugar fest and not rich at all.
Out of the Race:
If disappointment had a taste, it would taste like the hot chocolate drinks at New York Coffee and Bella Vita. It felt like the hot chocolate served at NY Coffee was made with one of those Cadbury instant hot choc packets. The colour was a pale pinkish brown, and the consistency was way off.
The Bella Vita serving doesn't justify its price tag at Rs270+tax. The cup is tiny and the hot chocolate in it was a lot like hot Ovaltine milk, still more on the milkier side.
That's all from us for now on the best hot chocolate debate. If we missed your favourite hot chocolate, let us know in the comments section below.
Email