The 2nd QMobile Hum Style Awards had some highlights
The 2nd QMobile Hum Style Awards (QHSA) took place on Saturday and boasted of a high celebrity quotient. Despite Mahira Khan and Fawad Khan's absence, mostly everyone who was anyone from the film, TV and fashion world attended.
Hosts Saba Qamar, Farhan Saeed and Ali Kazmi guided our star-studded event, full of dances, comedy sketches and, of course, the awards. But the show has its fair share of misses, even if some of these were balanced out by hits.
Here are our top ten most memorable moments from QHSA17 — for better or for worse.
1) When Saba Qamar's feisty opening act was the best of the night
Host for the evening Saba Qamar opened the show with a performance that gave a brutally honest account on how to be a star in Pakistan.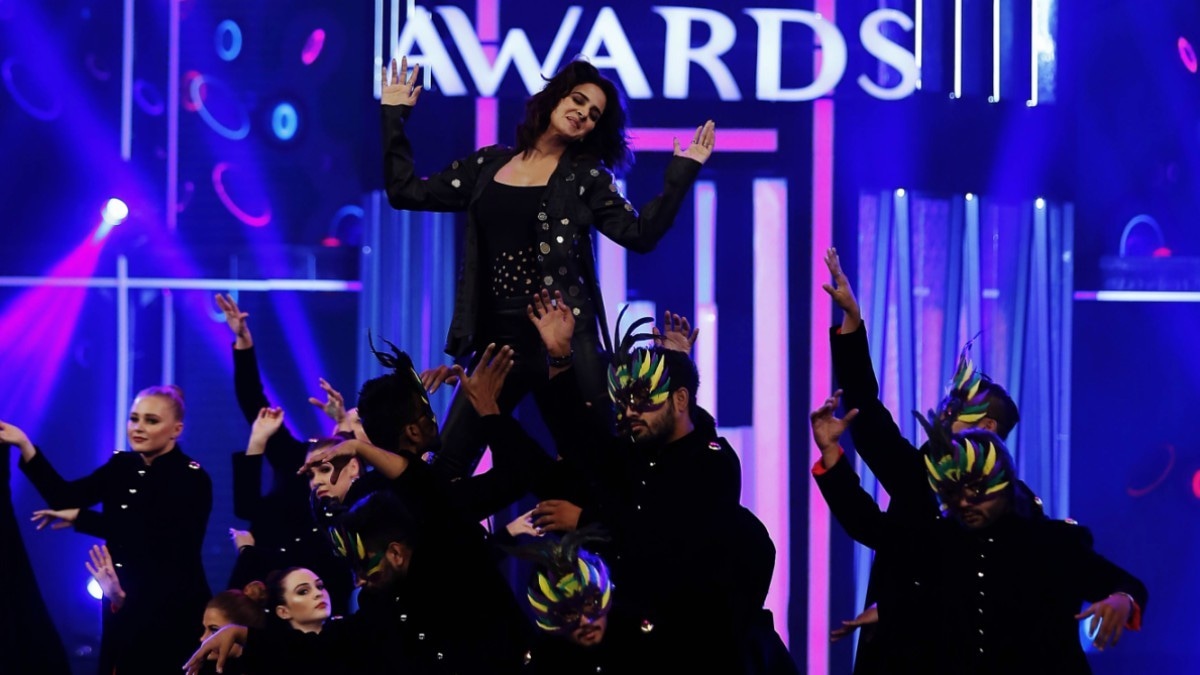 The actor performed to an original track, written through her point of view, that recapped the past year in the Pakistani entertainment industry.
She mocked star behaviour that includes aging actors men still playing the part of young heroes, celebs who insist on high-end cuisine on shoots and producers that mock an aspiring actor's looks but praise them when they become stars.
Have to say, it really reminded us of Kangana Ranaut's Bollywood Diva song.
Our favourite moments were Saba's discreet throwback to Mahira's leaked photos and a subtle dig at Fawad's leaving Bollywood to becoming a judge on Pepsi's Battle of the Bands. Oh yeah, she went there.
2) When Syra Shahroz challenged Asim Azhar to a poorly executed dance battle
Before the awards a video went viral where Asim Azhar called Syra Shahroz unprofessional. Now we know why.
Mid-way through her performance, Syra called Asim Azhar to the stage and challenged him to a dance off. Her line was "You called me unprofessional. We all end up learning professionalism. It's talent that counts. If you think you have it, then bring it."
After this a dance battle took off. It was a decent effort that ultimately didn't have the right impact as Syra tended to lack expression and flair.
Also, another downside: Syra may have had us thinking she was bringing her own personal fight to the stage, but we were just getting the vibe that QHSA was trying to top Mahira Khan and Osman Khalid Butt's rap battle from the Lux Style Awards.
3) When Ali Gul Pir's script was full of tired sexist jokes
Before calling out the presenters of an award, host of the night Farhan Saeed would make a quip that hinted which award was up next. 'Cute' notes that were perhaps there to make things relatable to the audience.
It didn't come off as cute. The one liners were tied sexist jokes that we are way too tired of hearing.
Farhan Saeed already seemed to be having difficulties pulling off Ali Gul Pir's script but these jokes were making it difficult for us to enjoy the night.
We mean, is it really funny to present an award for best designer in lawn by saying, "The only thing a woman wants more than a rishta is lawn"?
And was it necessary to go with this line: "They say haya is a woman's jewellery but in the fashion industry, jewellery is a woman's jewellery" before presenting the award for best designer in jewellery?
Um, no.
4) When Meesha Shafi's award was accepted by Shoaib Malik... who doesn't know her
Meesha Shafi won the HSA for most stylish performer female, but the star wasn't present to accept the award. Neither was anyone close to her. So the presenters asked Shoaib Malik to accept it on her behalf.
Only thing is, Malik doesn't know her.
In a cute acceptance speech Malik said, "Well, I've never met her but I'm sure she's very happy for winning this award and is grateful to those around her."
We're guessing the same Shoaib Malik.
5) When Ali Kazmi had us believing Shah Rukh Khan was attending the awards
Ali Kazmi, third host of the night, made an announcement that Shah Rukh Khan is about to take the stage. Yes we laughed, we rolled our eyes and thought let's move on. But then Kazmi went on to talk about security measures and how it's a surprise it all worked out. And we wondered, is this really a joke...
Ali Kazmi then proceeded to say that the king of Bollywood will only come on stage with his leading lady from Raees and that's why we hadn't seen her all day. We got our phones out for pictures.
Of course, it wasn't SRK and we weren't surprised, but Ali Kazmi definitely did a good job at half-convincing us that Shah Rukh Khan was about to enter the stage.
6) When Saba Qamar's Mahira Khan impersonation fell flat
'Shah Rukh Khan' entered with Saba Qamar as Mahira Khan. The actor wore a black dress reminiscent of Mahira's LSA outfit, was sporting Mahira's loose wavy blow out and spoke in a soft voice full of giggles and excitement for being around Shah Rukh Khan.
But she was possibly too excited. While the SRK impersonator went up to every star and made comments in a 'what would SRK say' style, Saba's Mahira just giggled and tittered and loomed over SRK like an obsessive fangirl. This might've been funny for a little while, but that's what she kept on doing throughout the skit, with repetitions of "Oh Shah Rukh, I'm your biggest fan."
It was excessive. The skit itself became very dull and repetitive and we expected better from Saba Qamar. Especially after some funny impersonations done by her already.
7) When Atif Aslam couldn't accept his award and everyone knew why
We know celebs usually suffer from invasions of privacy but this was way too TMI.
Atif Aslam won the style icon of the of year award but when it came time to announce his category, hosts Mawra Hocane and Shoaib Malik realised they had to stall. Why? Because Atif was nowhere to be found.
Where was he?
Well, thanks to Shoaib Malik we all found out he was in the bathroom.
Yes, we all knew where Atif Aslam was on Saturday at one point... and it was awkward.
8) When Shoaib Malik thanked everyone for his award except his wife
Shoaib Malik won best styled sports personality and had a long acceptance speech.
In the speech he named every single member of his family with a line about their support and love. But he forgot someone.
After thanking his three sisters, brother, mother, father, team mates and fans, he pondered: "I feel like I forgot something." A member of the audience called out "Sania!" and Malik responded with, "Mai boht naam le chuka hun ab bas (I've taken so many names so enough)."
He did dedicate a few lines to Sania Mirza after Saba joked "Aap ko ghar bhi jana hai (You have to go home too)" but the tension had set in by then.
9) When Shoaib Akhtar hosted for a hot minute and was better than everyone else
Shoaib Akhtar took the stage and announced he'll be hosting for "just a little while." And we have to say, we're glad he did.
Farhan Saeed was trying really hard as a host but his well-rehearsed lines came off as rote-learning. Saba Qamar and Ali Kazmi did their best as well but we got the vibe that they weren't as organised as they should be. Plus they all lacked that presence that a host should have to keep their audience engaged.
Shoaib Akhtar, with his light-hearted and fun style, did a great job at hosting the show. He's definitely learned a lot from hosting his game show as he had the energetic presence we all would want from a host.
Akhtar also took the opportunity to corner Sultana Apa and ask her why she never made good on her promise to give him a game show. Talk about carpe diem!
10) When the winners list had us confused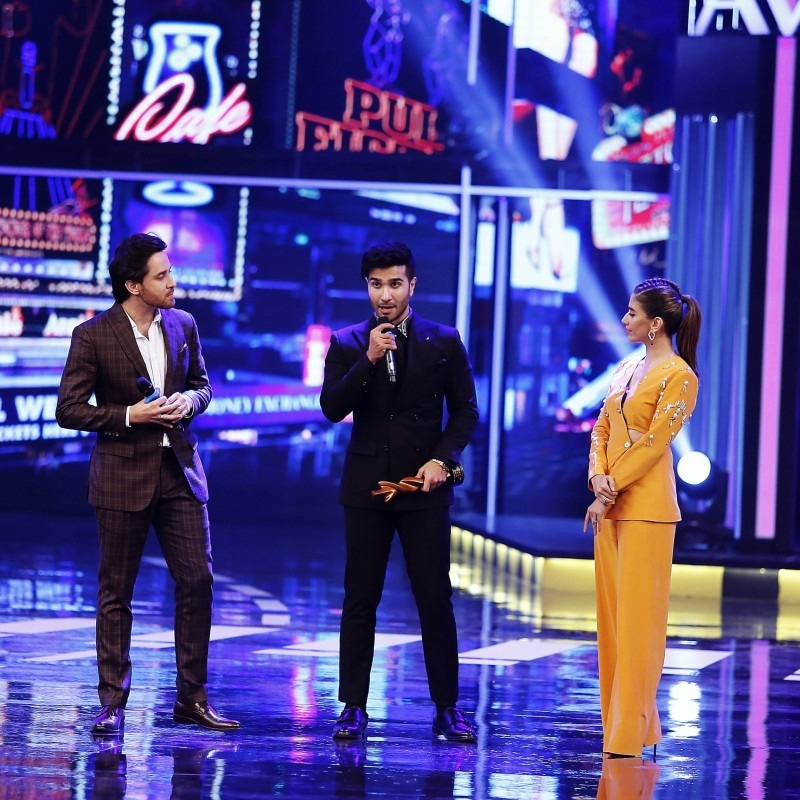 Some of the awards handed out were truly well-deserved but others had us shaking our heads in confusion.
Shehla Chatoor's win, for example, was questionable as the designer has not made a significant mark in bridal wear this year, especially when compared with heavyweights Faraz Mannan and Elan.
And achievements in demi-couture (itself a questionable category) were best espoused by Sana Safinaz (or even Shehla Chatoor) as opposed to HSA winner Zaheer Abbas.
Other confusing wins included Most Stylish Male Model Salman Riaz and Most Stylish Television Actor Feroze Khan.