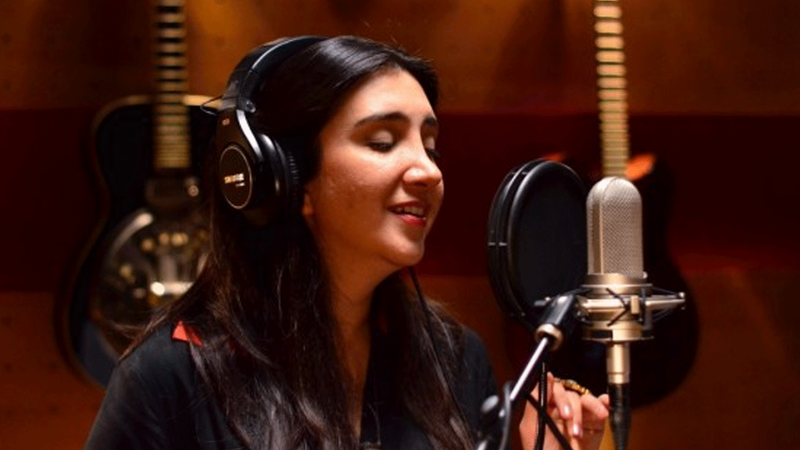 Zebunissa 'Zeb' Bangash has become a force to be reckoned with across the border.
The Pakistani singer's song compositions - 'Le Li Jaan', 'Jigi Jigi' and 'Ishiqya' - in controversial film Lipstick Under My Burkha have made her one to watch out for. In an interview with Indian Express, she talks about her treatment of the songs and where she gained her inspiration from.
"Since it was a story set in Bhopal and I come with some Pashtun heritage, I thought it would be nice to have Afghani elements in the fabric of the film's music. Alankrita (director) wanted to bring the old and new worlds together and see that tension in the story, which is why you hear a diversity of sounds. It has this whimsical quality to it, with the modern flavour in place," said Zeb of the Hindi version of her song 'Le Li Jaan'.
The song Laila Jaan was originally sung by Afghan pop star in the 70s, fast forward to 2013 and Zeb and her partner Haniya gave it a different spin on Coke Studio Season 6 with Rohail Hyatt at its helm. Now, it has a Hindi version in the Bollywood film.
Writer and director of Lipstick Under My Burkha Alankrita Shrivastava heard Zeb and Haniya's 'Bibi Sanam' on Coke Studio and found what she was looking for. "I had heard 'Bibi Sanam' from Coke Studio and knew that's the sensibility I was looking for."
Zeb was instantly on board. "Alankrita had done her homework. For every song and every situation, she had a very clear idea of how she wanted things to sound."
With India's ban on Pakistani artists, Zeb believes art transcends all - even the risks involved.
"Bringing someone for you (in India) is a risk. Coming for us (from Pakistan) is a risk. We work together because the art speaks to us, not just because we are Pakistani or Indian," she said.
"And in that process, with artistic integrity in the background, you don't even realise you are building bridges, or may be being provocative. That's because of your commitment to the art. Art itself is provocative. If you can keep yourself true to your art, within that moment, then truth transcends. And it will speak to people regardless of where they are from."
Zeb has previously worked on songs for Bollywood films including Katrina Kaif starrer Fitoor and Alia Bhatt's Highway.
Email