I was a young girl when I was diagnosed with OCD... Obsessive Cookie Disorder.
To date, there has been no found cure. A sweeping epidemic that has taken over Karachi in the last two years! So here I am, helping out my fellow chocolate chip cookie bandits in search of the best cookie for when you can't keep your hands out of the jar!
Much to my husband's dismay I announced that this week was cookie week! Having had to bear through many such 'weeks' throughout my pregnancy, he dejectedly got into the car and we began our journey.
We started with one of my old time favorites.
1) Subway
A fresh Subway cookie always hits the spot. Every outlet in Karachi now knows to put two white macadamia cookies in the bag with my order. In the past, many unfortunate Subway employees have heard me go into a 20-minute monologues about how giving out free white macadamia cookies on check-ins will make their business go through the roof.
Subway's white macadamia cookies make up for their late-night stale bread, perpetual lack of turkey bacon and occasionally questionable lettuce. I assume they include a picture of me with a warning in their new staff training programs.
Next up was the cookie I bet everyone has had at one time or another.
2) Espresso
One place that needs to stop their check-in freebie cookie is Espresso. They are giving out biscuits masquerading as cookies. Too hard, too sweet and a total waste of calories. Stick to your starter platter and leave the cookies to someone else, E.
Literally a few steps away is another infamous cookie stop everyone has likely heard of, if not tried. (By the way, I've come to realise that main Shahbaz is like the cookie-strip of Karachi.)
3) Karamel
You've got to give it to Karamel. They ushered in the cookie trend or at least made cookies mainstream in a whole new way. I remember when they started and were a pick-up place near Clifton, those cookies were so divine - they were gooey, warm and crumbled and melted in your mouth.
My only problem with their cookies is that recently on some occasions I've received them cold, stale and even slightly undercooked. And this time was no different. Although warm, my cookie was cookie dough that held promise of stomachaches and future regret. Karamel have spread themselves too thin by trying to keep up with the high demand.
The more commercial Karamel has become, the more I see its product quality and standard deteriorate.
Home-based bakers that do cookies are a dime a dozen and everyday I see new pictures of cookies that promise to be better than the rest. Let every inch of my affectionately dubbed 'Panda Bod' tell you that I've tried almost ALL of them. I wasn't kidding when I said I have severe OCD (Obsessive Cookie Disorder) and even though my husband has given up much of his free time searching for a cure, there simply isn't one.
4) Batter and Dough
Moving on, this particular cookie place mentioned below stands a cut above the rest and makes my favorite cookie on the list. It also makes wicked s'mores cookies but since I can only pick one, here goes.
I know Nutella has flooded the Karachi food scene; we eat the stuff by the gallons and put it on everything (yes, I'm looking at you Nutella naan). But the one place that uses it right is Batter and Dough.
Their Nutella stuffed chocolate chip cookies are Homer Simpson drool-worthy. These babies are thick, chewy, loaded with chocolate chips and stuffed with just the right amount of the chocolate spread.
A buttery dough baked to golden perfection, these decadent chocolate chip cookies are dreamy and super filling. By dreamy I mean I've woken up at 3 AM and messaged them on their Facebook page begging them to have a batch ready for me by first light.
Next on our cookie campaign I decided to go old school with a circa 2008 treat that basically got me through O' levels.
5) Hot Spot
The Hot Spot cookie feels like a big warm hug. With a generous scoop of thick vanilla ice cream - it's edible nostalgia. They have managed to not only maintain their quality but have also done so without skimping on size.
How they heat that cookie to just the right temperature without melting the M&M's never fails to amaze me. It could even give their signature brownie a run for its money. Countless days after school, tuition or debate were spent in this cozy establishment and not once have I been disappointed by their comfort food.
Their pasta is out of this world, but that is a story for another time. Without me having to say so, my partner in crime shot me a 'you don't have to say it I know where to go next' look
6) Bella Vita
A guide to Karachi's cookies would not be complete without including the Bella Vita cookie. I've never been their biggest fan but one thing they've nailed is that giant cookie.
This massive, freshly baked monster with a side of vanilla gelato arrived at my table and I swear I heard trumpets go off in the background. This thing is straight decadent indulgence and definitely something to avoid if you're counting calories.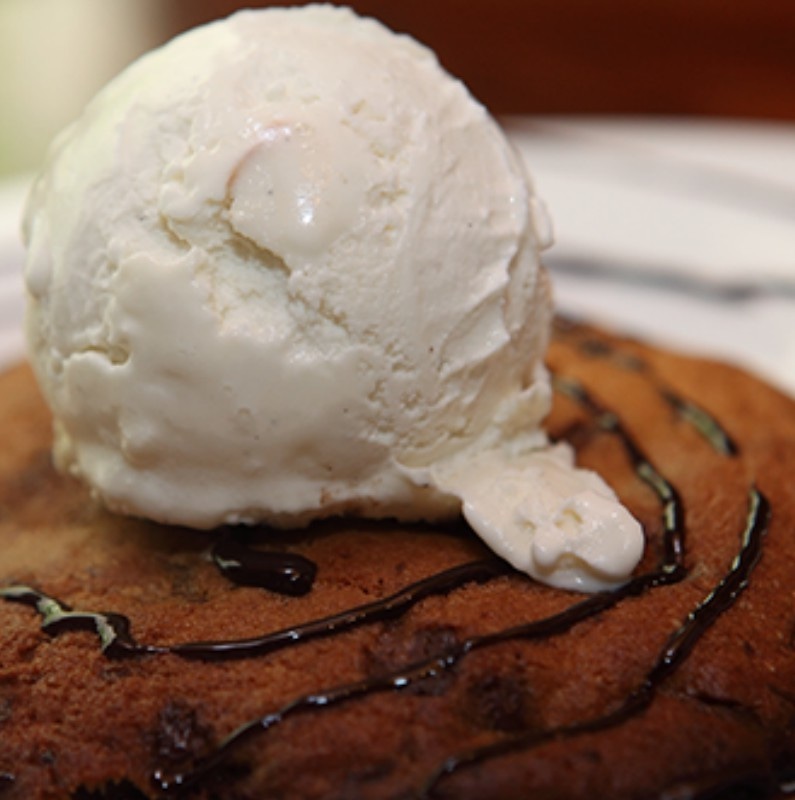 Be warned though, I have been witness to even the strictest of dieters fall under the Bella Vita Cookie spell. One bite and it's game over, there's no turning back. Just thinking of that soft, gooey cookie dough coupled with the cool vanilla ice cream gives me goosebumps.
To really enjoy this cookie you have to have it fresh at the restaurant as it loses its charm in the delivery process.
By this point I needed a break from the monotony of chocolate chips. Our next stop was the very chic and aptly named:
7) The Bakery
If there is one thing a true cookie gourmand knows, it's that one can go beyond the simple chocolate and dough. Enter The Bakery's oatmeal, dark chocolate and coconut shaving cookie. The dark chocolate isn't the milk chocolate they try and convince you is dark, it's the really tall, dark and handsome type dark.
The oatmeal maintains a fluffy chewy center with a unique blend of coconut shavings adding an interesting element to the texture. They do a dozen minimum but believe you me, even that seem too few.
We decided to end cookie week with a place that I've never really been to for anything except their cookie. I had stopped going but decided to give it another try.
8) Del Frio
The last on my list is the Del Frio cookie. It's good, I'll be honest, but with so much competition surrounding them especially in the cookie department I think they need to step up their game.
The chocolate ice cream served on top did not complement the cookie at all, maybe a higher quality gelato to give it that edge?
Just producing a soft cookie is simply not enough today. One must also take into account that with the Del Frio cookie it can be a hit or a miss. One day it's stale and hard and the other it's fresh out of the oven with the chocolate chunks just about to reach melting point. Consistency is key for us cookie fiends and unfortunately Del Frio is falling behind in the cookie race.
---
Email