If I had to eat only one thing for the rest of my life, it would be sushi. I snort wasabi and bleed soy sauce. So you can imagine my excitement when a new Pan-Asian place opened up with promises of fresh Sashimi and dynamic Makis!
My best friend and I put our long standing once-a-week visit to Sakura on hold and decided to check it out for our annual catch-up gab fest!
I thought it was located on Bukhari since every new place seems to be opening up there. My friend was convinced it was on 26th Street. Being the directionally challenged two that we are, we unsurprisingly got lost. I called and called the number on the Facebook page but no one answered. I'm a punctuality freak - and after having a child, on a super strict time schedule - so my anxiety was kicking in.
Finally, we found it after fifteen minutes of driving up and down Shahbaz.
It's located at 40C, Main Khy-e-Shahbaz, Phase 6 and I have to say, it's an elegant space. Nothing is more important than ambiance when it comes to a good gossip session and we were pleasantly surprised by the wooden floors, installations and strategic lighting which gave it a comfortable, inviting glow.
In my humble attempt to be a cultured foodie, I'll eat anything anywhere. From frog porridge on the streets of Malaysia to some highly questionable duck blood soup in China, my motto is 'try everything at least once and the good stuff twice'.
My friend on the other hand, is very particular about cleanliness. He felt this was a reasonable point to pick on, especially as we were at a place that had to handle raw fish! Much to his dismay the cleaning boy was mopping the place while we waited for our food, that too after being prompted to by a server.
We hoped some chilled out tunes would help distract us but unfortunately the soundtrack choice was 'The Marriott, Hotel Elevator Playlist'.
We wanted some variety so we decided to begin our meal with the starter platter. The Dynamite Prawns were not better than Tao's, which have sometimes been the sole reason for me to put on pants and leave my house. The sauce had a nice crisp feel but the prawns themselves were on the smaller side, kind of like shrimps pretending to be prawns.
Same with the Wasabi Prawns, but I must say the balance of wasabi is hard to get right since it is is a very delicate dressing and they did a good job. I am slightly obsessive about seafood so you can imagine my disappointment when the calamari was replaced with Lemon-Grass Chicken as they 'weren't confident about the squid'.
Although I appreciate them being honest, it was a little disconcerting considering this is the opening week.
Next were the Chicken Nana Wings, which are basically crispy chicken pieces with Tabasco smothered on top, of which we couldn't even finish the serving. The Lemongrass Chicken Satay Skewers however were surprisingly succulent and refreshing. Reminded me of authentic street-vendor satay in Thailand!
We even argued over the last piece, which I rightfully won after a heated fencing battle with our forks.
We then ordered a variety of Nigiri and I have to say, it was underwhelmingly average. Nothing really more to say on that front. Traditionally, it is suppose to be served at room temperature to preserve the texture and flavour but these cuts were served unappetisingly cold, destroying the umami.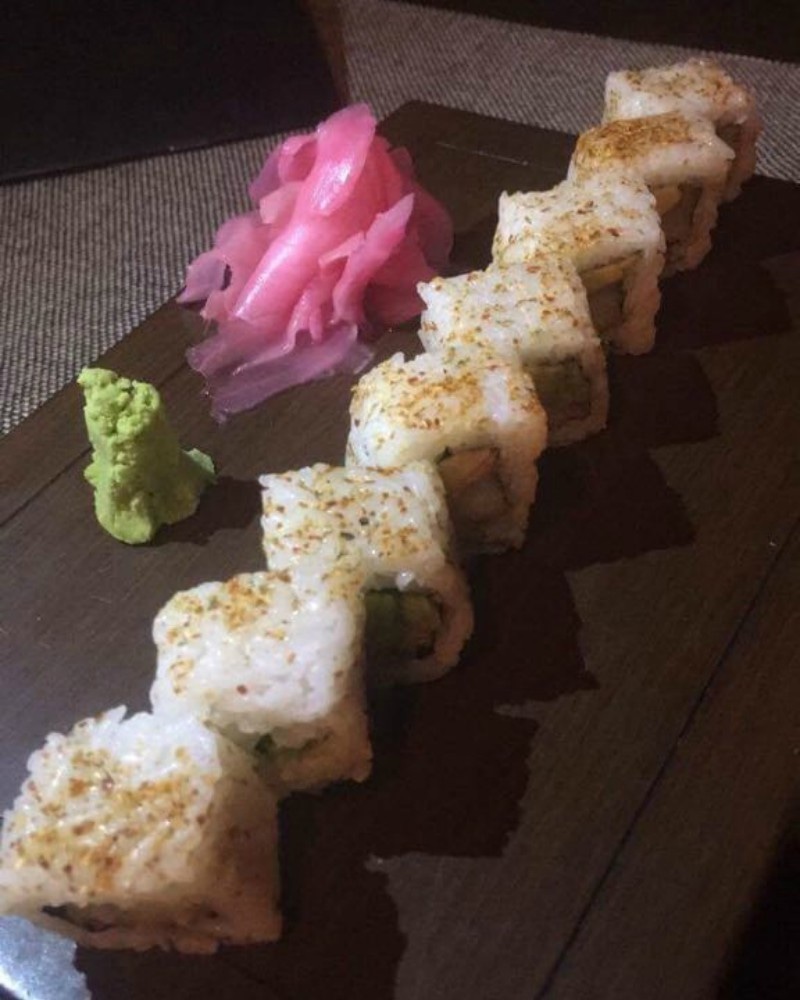 I'm a sucker for some tempura and anything to do with avocado so the Maki menu was like a dream come true for me! We tried the Fire Dragon Maki and the Spider Maki.
The Fire Dragon lived up to its name and packed quite a punch in the spice department. Super yum. They disappeared in seconds. The Spider Maki was predictable but decent.
For dessert, we got the Chocolate Brownie free on check-in which was topped with caramel, and luckily, not too sweet which is usually the problem with brownies here.
We ordered the Tres Leches Cake as well. After being spoiled by restaurants like The Bakery's and Aunty Munawer's tres leches, the less said about the congealed pudding we were served masquerading as a triple milk cake, the better.
All in all, I'd give it a 5 out of 10. The Wasabi Prawns,the Fire Dragon Maki were notable mentions if someone wants to try the place out. However, it was heavy on the pocket - definitely on the pricey side and, at Rs. 3250 a head for that kind of food, I would probably only go if Sakura and Tao were both full.