Carnivores can rejoice because the grilled meat mains at the new eatery had us drooling
Any foodie in Karachi knows what a void there's been in the city for good ol' Latin cuisine.
Lucky for us, Loco's here to fill that vacuum.
"Latin Cuisine is such a fun food experience and it gives us a vast range of cuisines to play with. Spanish, Argentinian, Peruvian, Brazilian, Mexican and so on; each of these countries has something very special to offer!" shares Rayyan Durrani, one of the brains behind the new restaurant.
Be warned though: the eatery's hard to get into. With its capacity limited to just five tables, it's not like you can just up and go stuff yourself silly there as you please. You have to plan in advance, make a reservation and that too is a whole other battle widely discussed on popular food groups on Facebook.
That being said, you can't blame them for being popular. They're evidently having some teething issues right now but they're working through them so no love lost and with authentic, piquant flavours, I predict this joint is going to be around for a long time.
Where to go:
Located on Khayaban-e-Muslim (the same lane as Chatterbox), Loco's hard to miss. Not because they have a flashy neon sign but because there's nearly always a bunch of cars parked outside. We know because we attempted to walk in twice (with no luck!) before we went there for real, armed with a reservation.
The place is small — like, 5-6 tables small — and noisy but also warm and cozy at the same time, with courteous servers.
"Customer intimacy is part of creating the experience, having a small space was not easy and from the get go, a lot of experienced people kept saying it's too small and wont be feasible. However, credit goes to our team who stuck it out and believed in the business model we had from day one. Also, it allows us to cater better to our customers with a lot more personal attention," reveals Durrani.
Also props to the owners for the impeccable modern decor; everything from the tiles, Naveen Shakil Khan's wall mural to the mammoth Frida Kahlo painting they've got hanging on one wall is on point.
When to go:
Sadly, Loco isn't open for lunch. The restaurant opens its doors at 7pm and have reservation slots running till 10:30pm.
What to order:
Since we could only get a table for 10.30pm, we couldn't resist snacking a little around 9ish. Admittedly, we weren't as hungry as we'd like to be when trying out a new restaurant but it might have also been a blessing in disguise for our wallets; the menu is fab and if we had been starving, we would have definitely still overestimated our hunger.
We ordered a mojito first thing since we were parched, The beverage tasted fresh and had just the right amount of citrus.
For starters, we decided to kick things off with deep fried calamari and a pizza de pollo, which was a flatbread with chicken and peppers. The calamari was delicious and the habanero aioli packed a tangy punch. Our only complaint was that it wasn't served with lemon, which really enhances the flavour of the squid but hey, that's something you can always ask for on the side.
The pizza on the other hand was just average. The base tasted kind of soggy and for a pizza with peppers, it was quite bland. When you have to add copious amounts of chilli flakes to your pizza, you know it's lacking something. We've definitely had better cough Xander's cough.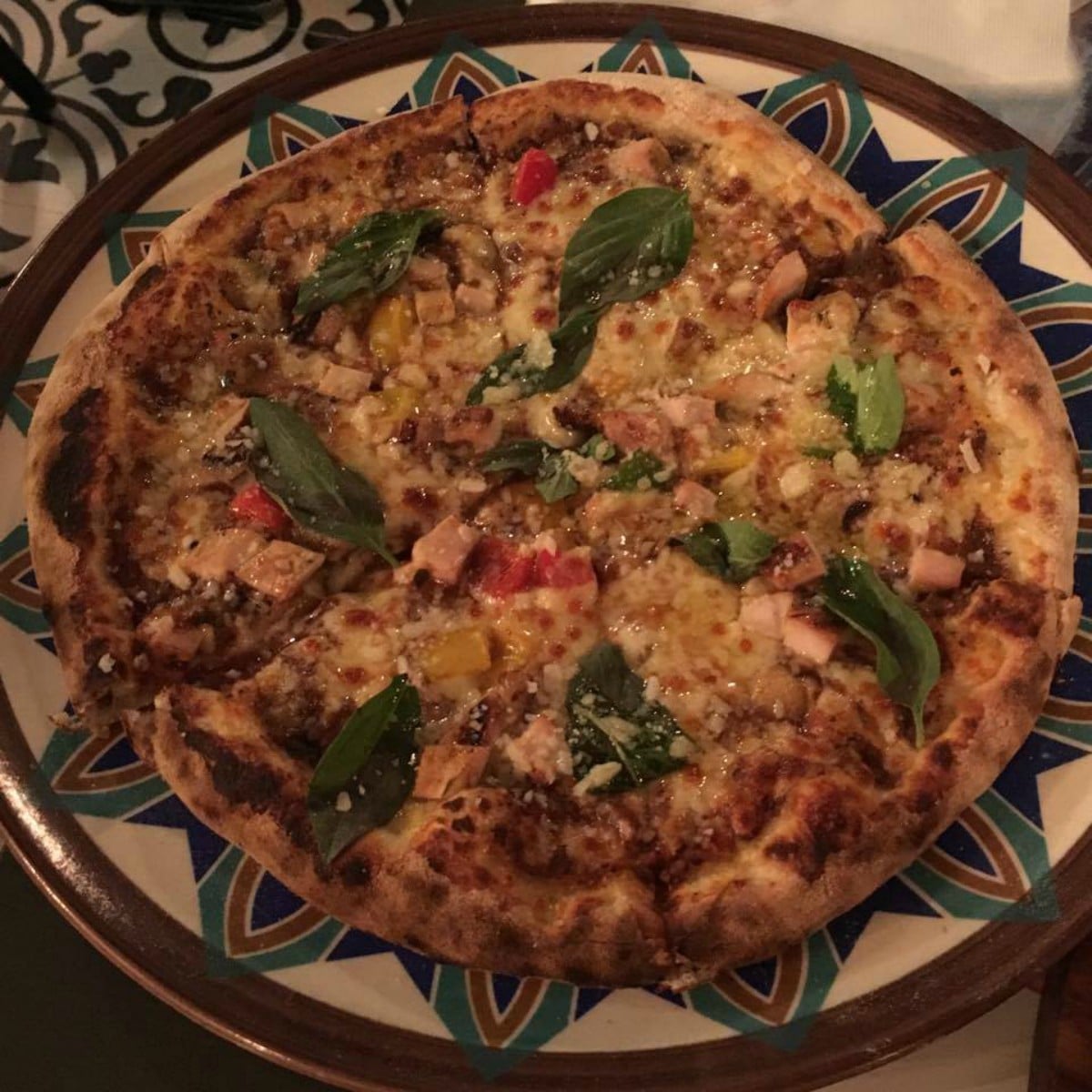 We already have our eyes on two appetisers we want to try next time we go: the baked crab and cheese dip and prawns in garlicky chilli oil.
Moving on to the entrée, carnivores can rejoice because Loco has some excellent grilled main options. We decided to give their mutton chops served with a mint salsa (decent ones are hard to find in the city!), sliced tenderloin with chimichurri and a Brazillian vinaigrette, the smokey charred chicken and the grilled chicken tacos a go.
The tenderloin was succulent and cooked to medium rare perfection. The potatoes were a tad bit under-seasoned but nothing that dipping it in the chimichurri sauce couldn't fix. We also loved how the mains came with a big portion of leafy greens.
Chops are tricky because they're easy to overcook, which ends up making them dry and tough but the mutton chops at Loco were a pleasant surprise. They were charred but tender in the middle; definitely a must try for all meat lovers!
Coming to the chicken mains, we have to admit we weren't impressed. The grilled chicken that came with the tacos was bland and the serving size was a tad bit measly. Two taco shells weren't enough! Though to be fair, the server did ask if we needed another one.
We were hoping the sides like the guacamole and salsa would be the saving grace but sadly, those had no heat either.
The smokey grilled chicken on the other hand was massive! It was served with a side of condiments and rice but portion size aside, this too was missing that Latin spice we were craving. Rowtisserie does a much meaner, yummier grilled chicken.
We reckon Loco is better with beef than chicken!
To satisfy our sweet tooth, we decided to opt for the churros. Finally there's a place in the city that's doing these fried-dough pastries and serving it with a yummy hot chocolate sauce.
On their own, they tasted a little desi, almost like mithai but the dipping sauce was a game-changer. Lots of reasons to go back to Loco but the churros are a major one!
Damage on the pocket?
Two appetizers, four hearty meaty mains, one dessert and four drinks came up to about nearly Rs. 7500, which is just slightly on the pricier side.
However, the portions for the most part are filling, the ingredients taste premium and the flavours for their beef entrees hit all the right notes; you get what you pay for. That being said, the chicken courses weren't a win for us so that's money down the drain.
Pro tip: Go with a larger group of people if you can. South American cuisine is better ordered for the table so that way you can try a variety of different tapas, tacos and grilled items.