If you're interested in Mexican food, then you should definitely give this eatery a try.
With new eateries popping up everyday in Karachi, there was one which caught my attention; a Mexican/Italian restaurant called Buon Cibo.
Where to go
On my way to yoga class, I spotted this new eatery located on Main Badar Commercial (26th street); Buon Cibo, an Italian term that means "good food".
Buon Cibo shares its facade with a superstore called Fairway Martin, which is also owned by the Buon Cibo duo, Asim and Ammad.
As it is located in the busy Main Badar Commercial, car parking could be a problem.
The restaurant opened its doors on February 12 and is in its soft launch phase right now.
What to expect
The joint's exterior is simple: rustic, wooden frames shape the door and wall; upon entering, the staircase leads you to the basement for lunch or dinner. As soon you set foot inside, one can't ignore the cocktail bar as it's lit up with bright red led lights, creating an ambiance of a subterranean club.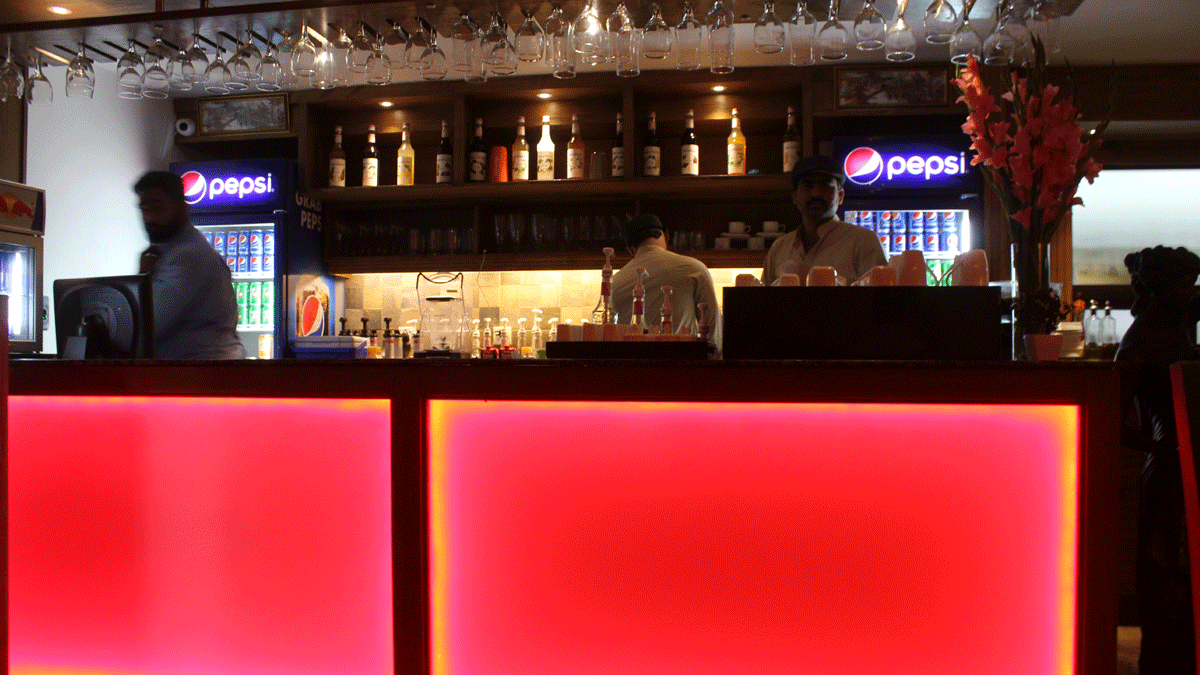 Buon Cibo's seating arrangement is evenly spaced out, giving its customers privacy while dining. Every table is illuminated by an LED light, which is changed according to the theme of the day. For e.g. seafood night calls for an all-blue theme.
The restaurant can accommodate around 65 people with a staff of 30 at their service. Their menu comprises of 65 dishes and is a blend of Mexican and Italian food, giving its audience a wide range of cheesy and extremely spicy food.
Upon talking to Asim, who owns the business with Ammad, I learned about their plans of starting something new - a seafood night once a week.
The owners also mentioned using quality local produce to promote goods our country has to offer.
Enough of the tedious talk, let us dig in with the meals I ordered.
What to order
As I am very fond of ginger, I thought I'd order a ginger drink but unfortunately I couldn't find it on the menu. But to my surprise, I was given a tester drink, which will soon be on their menu called Sweet n Sour Ginger.
This drink comprised of, obviously, lots of ginger -- let's say the right amount of spiciness followed with some tonic water and fresh lemon slices floating in the drink. I would say the drink was refreshing but since it was soda water it falls under the category of fizzy drinks, which tasted pretty average.
Next was the Mexican Bean Soup. Now this was an absolute winner. The soup reminded me of my mother's homemade yakhni (broth), which was extremely flavourful. The soup consisted of some pieces of beef steak and red kidney beans; it was spicy yet very soulful recipe.
One of the main reasons for serving this soup at Buon Cibo is to transport one to the street food of Mexico. It truly triggered memories, which was very surreal. The soup was aptly served with olive bread, lightly toasted in butter, oregano and parsley. When dipped in soup, it was scrumptiously irresistible.
Next was the appetiser: Calamari Rings, around 10 golden brown crispy pieces of calamari. The coating was not deceptive, as it happens in many cases. The size of the calamari was adequate and it was served with a creamy Tartar Sauce, which tasted alright.
The only issue I had with the Calamari was that its taste was overpowered by chaat masala. Seafood is a subtle cuisine, so the lighter the spices, the more you get to taste the freshness of the food.
Now, time for the main course. Without much speculation, I decided to order Buon Cibo's Signature Steak, an in-house specialty served with a home blended sauce, unlike your bottled sauces. As soon as it arrived, not only was it sizzling hot but it was extremely spicy and a fair size in portion. As Mexican food is all about spices, I'd say order this steak if you're a fan of hot spices. Though the beef was ground with many seasonings which gave it a bit of desi taste, one could still taste the succulent beef. The steak was served with mashed potatoes and some grilled vegetables. Mashed potatoes were light, fluffy and creamy, making it delicious; on the other hand, the vegetables were moist and tender and seasoned with butter and oregano.
Now comes the favorite part of the night, meetha. I was disappointed to find no Mexican or Italian desserts on the menu and ended up ordering a Chocolate Lava Cake. Sprinkled with coconut shavings and orange marmalade, my first spoon into the cake and it was all oozing out. The taste was fine but nothing spectacular as the vanilla ice-cream was a bit crystallised and didn't do justice to the cake.
Damage to the pocket
As soon as I wrapped up my meals, I was given a hot towel to clean my hands, which is quite a good idea in my opinion. Buon Cibo has potential to do better as some of their dishes are absolute winners but some others need slight improvement.
In terms of money, their food ranges from Rs400 to Rs3000, giving their customers ample choices to choose from according to their budget. With an interesting ambiance and a daring seafood menu, I'd say this eatery should be given a shot to test some Mexican flavors in Karachi.