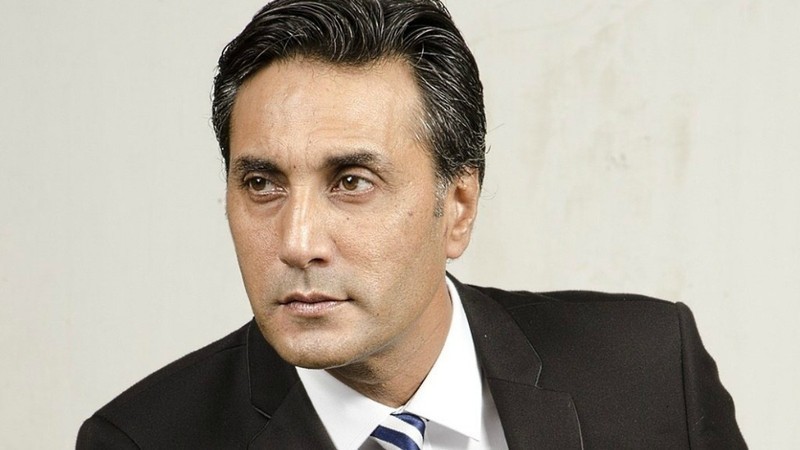 I remember when I first met Adnan Siddiqui in Islamabad. His celebrity cricket team had just lost a game to the international under-19 players, but the actor was still in high spirits. I popped out of nowhere, asking him for a few minutes of his time and he was kind enough to invite me to his hotel where our first interview took place.
I realised during our chat then that this 46-year-old isn't a household name just because of his body of work (40+ TV serials and Angelina jolie-starrer A Mighty Heart) but also the palpable dedication that goes into his projects.
"This is surely our last interview," he says when I met up with him again. I had just told him that I still haven't watched his first TV production, Seeta Bagri. I had to promise that it's on my bucket list before he let the matter go.
We went on to talk about what exactly made Adnan shift gears and enter TV production.
"Acting is something that I've been doing for the longest of time. So I've given that a break to focus on my production house, Cereal Entertainment Company," he said. "I want to establish the production house first, and then of course, acting is something that will always remain with me."
"The sole purpose of my production house is to experiment with unconventional stories, offering more than just the usual run-of-the-mill stories."
However, one's plans don't always materialise that easily. It just so happened that Siddiqui got roped into playing the male lead opposite Mawra Hocane in Saife Hasan's Sammi, the Momina Duraid and John Hopkins University joint production that's touted to be the next Udaari. And so Siddiqui found himself in acting mode again.
"I took up Sammi because I was pressurised by MD Productions to do it," Siddiqui jokes. "To be honest, I had to fulfill the commitment I made. Also, my part [has a] John Hopkins [connection], and my character offers me something that I've never done before, so I decided to go ahead with it."
While many of Adnan's contemporaries, such as Ahsan Khan and Fahad Mustafa, have ventured into production, he insists that he's not merely following the herd, it's just the right time for him to step into the business.
"I think this was just the right time for me to open up my very own production house. Its sole purpose is to experiment with unconventional stories, offering more than just the usual run-of-the-mill stories," he shares. "My first serial Seeta Bagri follows the lives of a minority [group]. It's about the Hindu community in Pakistan and the fact that they have their rights too; they're as much Pakistani as any Muslim."
His second serial, that is currently being shot, is titled Pujaran and stars Adnan's 'lucky charm' Sarwat Gillani as the opportunist and money-hungry protagonist, alongside Zahid Ahmed and Aijaz Aslam. While we both agree that the plot is highly conventional, he defends his case by saying, "Sometimes, you've got to do something for the masses."
Talking movies
While film production is still a relatively distant dream for Siddiqui, he is excited about his acting debut on the Pakistani screen. He stars in the war epic Yalghaar.
"Doc [Hassan Waqas Rana] is very professional. After the success of Waar, he wants to live up to the expectations. He's just being careful and wise to take his time and come up with a project high on quality," Adnan says when asked to comment on the film's repeated delays. "I just have a few more scenes to shoot, and I honestly have really high hopes from it."
And while we have no clue of when Yalghaar will see the light of the day, Adnan has already shot for his debut across the border in Boney Kapoor's Mom, in which he stars with Bollywood veteran Sridevi, Akshay Khanna, Nawazuddin Siddiqui and Pakistani star Sajal Aly.
"Pakistan is the second largest market for Hindi cinema and our actors are getting exceptional work across the border too. To me, entertainment should not be involved in politics at all."
Recalling his initial days in Georgia, where half of the film was shot, he states, "I think it's important to have some sort of burden on one's shoulders while starting off any project at all. There was a lot of pressure of course, mainly because I was an ambassador of my country; I had to show [them] what Pakistani artists are capable of. However, they were all very welcoming, hospitable and respectful."
The actor will be seen playing the husband of Sridevi's character, a stepmother in conflict with her 18-year-old daughter (Sajal Aly).
"It was an honour rubbing shoulders with a star like her," he shares. "Not only is she a star, but also a fantastic human being. That matters a lot. Even after all that she's achieved, she's very humble and down-to-Earth. And I think I learnt a lot from her."
However, Pakistani artists with unreleased Bollywood flicks are truly stuck between a rock and a hard place. An unofficial ban has been placed on them after the Uri attack for which Pakistan has been blamed.
"I've seen the drift between Pakistan and India for as long as I can recall. I'm not being selfish, but I truly believe that things must settle down," the actor says. "Pakistan is the second largest market for Hindi cinema, and our actors are getting exceptional work across the border too. To me, entertainment should not be involved in politics at all."
"In a way I'm relaxed because whatever decisions have been made so far are either by individuals or by a certain group of people. Neither of the governments has issued any statement against us [artists] or the film industry."
We conclude our conversation on a hopeful note, as I ask the actor about how Pakistani cinema must learn from India and what may be the way forward, to which he takes a minute to think and responds, "I think we must always learn; not only from India. And the best way to improve oneself is to learn from one's own mistakes. There's no substitute of realizing your flaws yourself. I also believe that we need to mark our own niche. India has its own style of filmmaking and we must have our own."
Here's hoping that Mom is able to make it to cinemas near you.
Email