Fitness is a big thing in Pakistan now — you've got your zumba, your yoga, your high-intensity interval training and more.
But wait, haven't we forgotten something?
LOLLYWOOD.
You may think Lollywood is over, but it ain't. We watched some of Lollywood's biggest films to show you what the industry's greatest contribution to Pakistani life could be — #fitspo.
Let this workout be your guide.
1) First, stretch that neck and chase your lady love around to warm up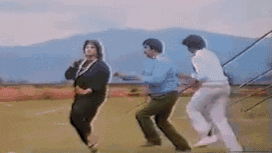 Anjuman and her boy gang in 'Break Dance Bhabhi Break Dance' (Tiger, 1987) make sure to do a short cardio warm-up before jumping into stretches.
2) Now prance like you're in Riverdance
Word of advice: These guys may not be wearing the most practical workout gear, so rethink yours. Let's be honest: only Sultan Rahi can move that swiftly in leather pants.
3) Thrust your hips out coz you got the power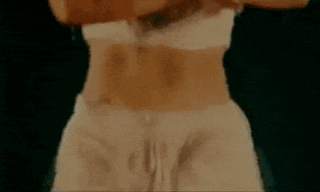 Sana's lightning fast moves put us to shame (literally). No wonder Moammar Rana can hardly keep his eyes off her in 'Pandi Aay Barsaat Way' (Humayun Gujjar).
4) Now do the waterfall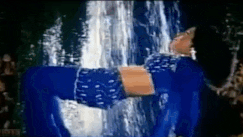 Here, Meera shows how to get sleek legs like hers in 'Saun Da Mahina' (Dada Badmash).
This one is sure to work your butt too; after all, Meera's booty ain't jhooti.
5) If you're feeling itchy, scratch that behind on the floor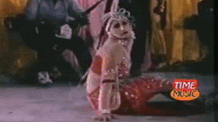 Want Narghis' strong arms? Gotta work work work them triceps like her in 'Akh Teri Meri Sajna Larri Larri' (Badmash Gujjar, 2001).
6) Do a tuck and roll to loosen up your spine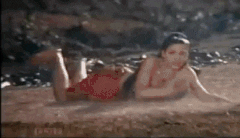 Meera's dance moves 'Saun Da Mahina' show us just how to achieve her cinched waist.
Lift your hands and feet off the ground, and just roll to one side and then back. Add the additional thrust if need be, it seems to be Meera's signature move.
7) Leg extensions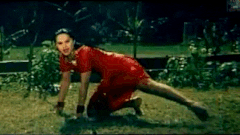 Work those glutes! Nargis perfectly executes the leg tap without breaking into a sweat in 'Kurti Ae Gilli Gilli' (Babbu Khan, 2002).
This move also works your butt and abs.
8) Now swoosh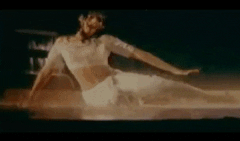 Repeat on the other side.
9) Find a tree, execute reverse push-up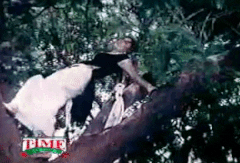 Saima goes for some elevation to impress her boy Shaan in 'Dil Pyar Karnoon Karda' (Kalo Shah Puria).
This really puts in the muscle work for triceps, legs and abs, but be warned: this is more of an expert move so take care not to throw out your back.
10) Now flip it over and bounce off the floor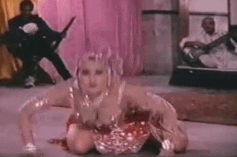 Be fierce like Nargis is in 'Akh Teri Meri Sajna Larri Larri.'
11) Grab your friends and do the criss-cross shuffle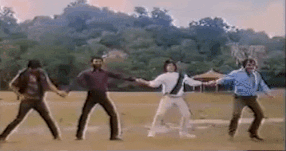 Field optional.
The boys from Tiger show you how to get the most out of your cardio. Bonus points if you hold hands all the way through.
12) Don't forget to do a pit sniff to check your BO level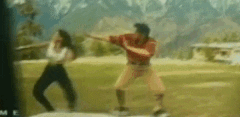 Because all that dancin' must've worked up a sweat.
Can you believe that's Ahsan Khan? Neither can we, but he owes his hot bod to his debut film Nikah (1998) alongside Nimra.
13) Wrap it up with a thumka — voila!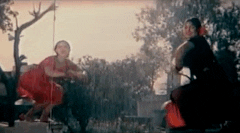 Saima and Nargis make one-leg circles and pelvic thrust squats look like a piece of cake in 'Kurti Ae Gilli Gilli'.
Repeat this workout three times over for best results and try not to double over with laughter, even though we know it's going to be hard.