Luxury pret is really what PFDC Sunsilk Fashion Week is all about – thoughtful, creative statements that are fashion-forward and feel indulgent yet can still be plucked off the rack to be worn with minimal adjustments.
As we inch towards a better understanding of what luxury pret is and should be it's clear that some brands grasp the concept more fully than others. Day 1 at PFDC Sunsilk Fashion Week (PSFW) reflected this: what didn't work appeared to falter because of muddled notions of what constitutes covetable ready-to-wear rather than a lack of experience.
Still, there was plenty to applaud on day 1. Feeha Jamshed returned to the ramp after a three-year hiatus and didn't let us down, MUSE made clear that a brand can evolve without abandoning its ethos. PSFW's red carpet was buzzing even without heavy celebrity presence and the show started somewhat on schedule.
The only hitch in this was PSFW's newly imagined ramp, which resembled a pristine white football field rather than an avenue for fashion presentations. It was vast. So vast that when models strode down the center of it, much of an outfit's painstakingly crafted detail was lost. Usually a distance of only two or three feet separates a model from the front row; this time editors, sponsors and guests squinted across an expanse of 15-20 feet or more. Unsurprisingly, cries of 'I can't insta this!' sounded up and down the frow.
But on to the (barely visible) collections.
Sana Safinaz
Sana Safinaz last showed at Fashion Pakistan Week in November, where the emphasis lay on deep, autumnal colours in velvet and a fair amount of quilting and applique.
In contrast this season's offering was definitively 'spring': floral prints and embroidery in pink and green over a white background dominated the collection, as did lace. Some silhouettes carried over from previous seasons, like midi skirts, cropped pants and belted tops. Fresh looks included oversized embellished sweatshirts, letterman-style jackets and tracksuit-style bottoms, ensuring that the collection's overall feel was very closet-tomboy meets fairy princess.
In fact, individual outfits worked best when they retained their sporty roots. Stand-out looks included a sweatshirt-cropped pant combo worn by Sunita Marshall and a fully sequined yellow tracksuit - very Kill Bill without the blood. One can imagine these items flying off the shelves to be worn together or styled as separates.
Less successful were traditionally pretty-pretty looks we've seen before, like a sheer gharara on Amna Baber and an off-shoulder kaftan.
Sana Safinaz used uniform accessories to great effect. White sneakers grounded sportier looks while plush pink platforms lent more feminine outfits some oomph. While the collection could've done with less lace it scored points for exploiting and adding a feminine touch to the current trend for sportswear.
Feeha Jamshed
Dressing starlets and venturing into retail has kept Feeha Jamshed plenty busy -- she hasn't shown a collection on the ramp in years. It was worth the wait, though, as she came back strong with 'Bob Squad' -- a whimsical take on icons and, I think, celebrity culture.
Models strode down the runway in 1960's-style black bobs held back by wide headbands, sunglasses perched on their noses. The styling mirrored the collection's stand-out print, a repeating image of a woman with a short black bob. Everything sporting this print was a win, from a long dress to an excellent cropped jacket that's definitely going to 'go viral,' which, in fashion speak, means it'll be coveted by everyone.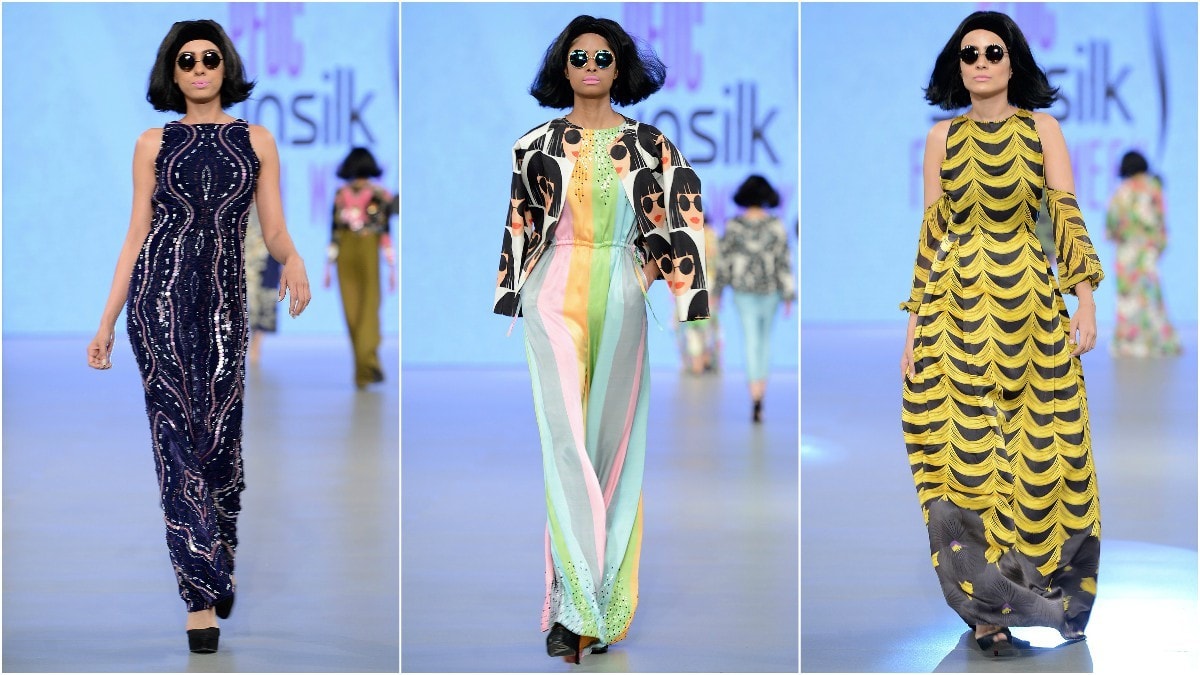 The retro vibe continued to echo in a bright pink and green flowered pantsuit. Jumpsuits in muted tones peppered the collection, making sure it didn't get too overpowering. A couple of looks didn't work, like a loose crop top with a two-tone skirt, but that's a relatively small editing oversight in a show that was mostly stellar.
MUSE
MUSE is dipping its toes into menswear and the duo behind the brand, Faryal Gohar and Moeed Yousaf, made sure to drive this point home by reserving the collection's 'first look' for Hasnain Lehri.
Lehri strode down the runway in a heavily embellished jacket and tunic, proving that sequins aren't a woman's exclusive domain. He was joined by Cybil in similarly worked coordinated separates -- again, sportswear-inspired looks dominated the collection, which was titled 'Last Night.'
What followed were variations of glitz-laden loose tunics and cropped pants, pantsuits cinched at the waist, demure peplum jackets, embellished sweatshirts.
The overall aesthetic was very MUSE, which is now synonymous with modern opulence. Characterised by sumptuous fabrics, quality craftsmanship and uniform, vaguely geometric embellishment rather than traditional motifs, the collection will strike a chord with those who eschew lawn and its trappings in favour of solid colours and tailored separates.
Some may look at what MUSE showed last night and say it isn't anything new, but that's not true or even to the point. A brand needn't reinvent itself every season to remain relevant -- often subtle innovation in terms of workmanship or colour play are more effective than dismantling and then rebuilding an aesthetic from the ground up.
This was a strong collection by MUSE, and shows that the brand has a clear and unshakable sense of where it's headed.
Sublime by Sara
Sara Shahid always looks chic in classic silhouettes and solid colours, and she applies the same principles to her runway shows. The collection she showed last night featured drapey, elongated looks in shades of blush pink, pale green and light blue. It was very summertime and very Sara.
However, apart from a few looks -- one on Cybil, who wore a crushed skirt and delicately worked crop top, and one of Fouzia Aman, who wore a flowing pink gown -- the collection as a whole appeared uninspired.
Truth is, maxi dresses as a springtime staple feel like old news now, as do pajama pants in standby fabrics like jersey.
One of the better looks by Sara was a cropped jacket worn with a high-low tutu -- but even here it was the shock factor that made the look work; it wasn't representative of the collection in its entirety.
Maria B
The best thing about Maria B's collection was that she featured Maya Ali as a showstopper. Maya, who only seems to bloom and blossom further with every passing moment, presented herself with grace in a black embellished top and black-gold skirt.
The rest of Maria B's collection was a wash. Shades of beige and gold dominated, offset by black, but that wasn't the problem. The problem was that the collection was poorly imagined pret. If picked apart, the elements that made up a single look could hardly be worn as separates. In one outfit, ruffles erupted awkwardly where a smooth shoulder would've worked better and pants were slashed at an unflattering length.
Luxury pret, unlike shows that highlight pure couture, are about wearability and versatility. This collection needed more work in both areas before it hit the ramp.
Emerging talent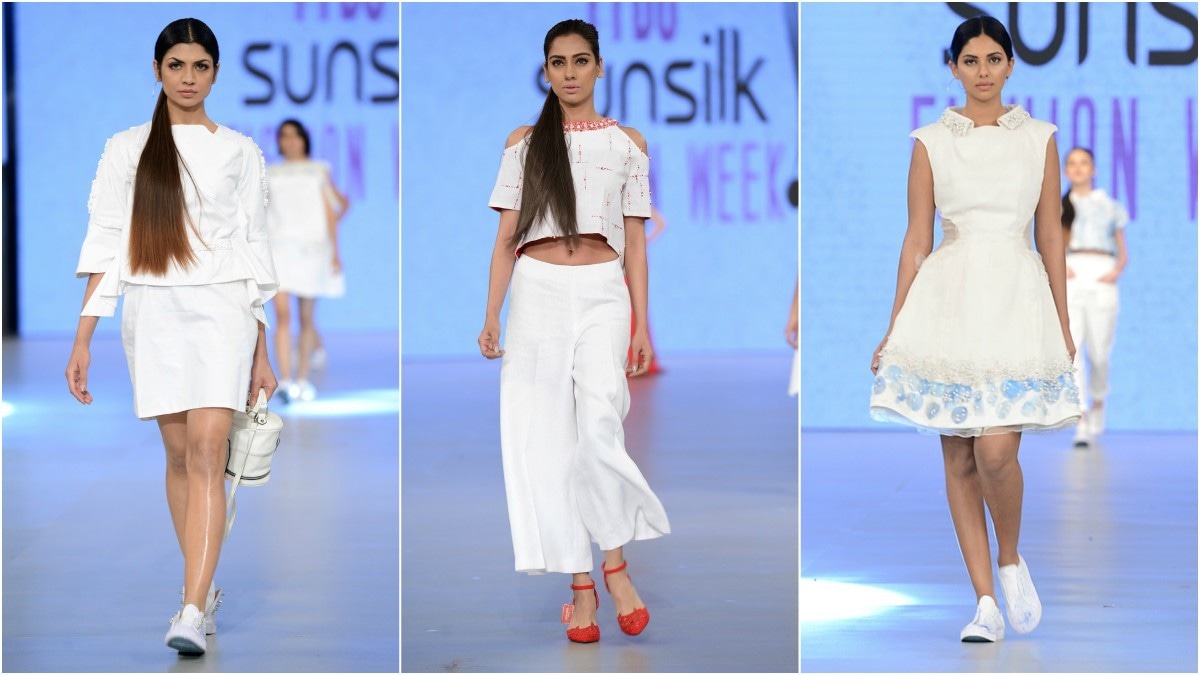 The small smattering of fresh talent was a welcome addition to the lineup. Four budding designers showed their capsule collections: Hira Ali (above), in particular, stood out with her almost exclusively white line.
Email