There's nothing like lawn to initiate a country-wide sartorial change
So begins another long summer littered with a multitude of lawn. There's going to be plenty of bling, oodles of embroidery, swathes of silk and chiffon and the occasional pretty design amongst many run-of-the-mill ones.
You can count on spotting plenty of rip-offs, imported surreptitiously from international runways and translated onto lawn as a 'designer creation'. You may also catch a video or two of lawn-crazed shoppers, fighting for their favorite suits and captured for posterity on social media. Oh, and plenty of lawn gurus will claim to get 'sold out' while their competitors will cock sardonic eyebrows and question them.
On a more positive note, lawn can always be counted on to be a trendsetter. Brand catalogues and images on social media easily filter down to local tailors and get replicated by lawn's many aficionados.
This year, it's great to see catalogues offer much more than the eternally mundane but popular baggy long shirt. Edging their way in are knee-high shirts coupled with shalwars that vary from the baggy to the tapered. There's nothing like lawn to initiate a country-wide sartorial change and we're looking forward to it.
Major textile mills – lawn's 'big guns', so to speak – have already introduced their initial lines and the designer lawn brigade is soon to follow. With its phenomenal popularity, huge profits and unique intricacies, the lawn market is a tricky, fickle one. Some rule the roost, many others suffer steep losses and yet, year after year, new contenders enter the fray.
And although they often flail at mastering a balance between mass-oriented print and exclusive couture, the Pakistani fashion fraternity continues to vie for the oft-elusive lawn 'crown'. An equation with a major mill is lucrative and should the alliance work out – a rare occurrence – promises major revenue in the years to come. There's also the major publicity generated by country-wide billboards and hoardings, publicizing a designer's unstitched collection.
This year, some of designer lawn's strongest players return to the domain as well as some very promising newcomers. Here's an overrun of what we're looking forward to in designer lawn 2016:
Lawn debut: Feeha Jamshed
Feejay, local fashion's bona fide progeny, has an eye for coupling edgy design with mass-friendly affordability. She's also been creating some utterly delicious prints – giraffes, zebras and eye-catching psychadelia – which makes one wonder what took her so long to delve into lawn.
This year, in collaboration with Flitz, she finally debuts with a collection that she promises will stay true to her uber-cool ethos. "Creating lawn has been very nerve-racking," she confesses. "It reminds me of my fashion week debut when I was testing out my prêt for the first time. Four years ago, I began creating prints for my eponymous label and really enjoyed it. With lawn, I want to change mind-sets, presenting design that is aesthetically pleasing but also pushes boundaries."
This, quite obviously, eliminates the inclusion of faces and figurines in print, elements that most lawn-wearers don't appreciate since they feel that they cannot pray in them. "I do have animal prints but they lean towards shadows and silhouettes. A lot of the print has been constructed the way tiles are shaped and fitted in together. Designs overlap: rock formations, shells, storks and even a football; but it all comes together in a very trendy way."
Lawn debut: Shehla Chatoor
With her lawn debut with Shariq Textiles this year, Shehla Chatoor finally extends herself beyond the exclusive realms of her couture and it promises to be a scenic ride.
"I am known for my love of luxury and detailed craftsmanship and this is also visible in my lawn, albeit within more economical parameters and with elimination of certain features, such as faces and animals," says the designer.
"I have taken inspiration from all my collections to date, from the Renaissance to vintage florals, the Orient and baroque. There are suits that I have particularly targeted towards younger girls and others more suited to older women. There are also beautiful dupattas that can serve well as individual statement pieces."
Lawn debut: Nilofer Shahid
Nilofer Shahid designs with artistic, extravagant passion and it will be interesting to see how she transfers this aesthetic onto mass-friendly lawn. Her lawn debut, in collaboration with Ittehad Textiles, is expected to traverse the designer's previous couture collections.
"There are effects drawn in from baroque paintings, Rembrandt's etchings, Khalil Jibran's love for nature, Nur Jehan's beauty and military aspirations and from my own city, Lahore," says Nilofer. "There are typical, traditional colors as well as a wide range of whites and pastels."
Lawn, according to Nilofer, is a very different ballgame compared to creating couture. "There are technical limitations because we are restricted with machine embroideries. We also have to keep the suit's cost under consideration."
Zainab Chottani for Lakhany Silk Mills
Zainab Chottani has a flair for pretty design which is pretty much why she's successful as a lawn designer. Last year, she came on-board with lawn stalwarts Lakhany Silk Mills and the association continues with a series of lines to be released over the year.
This time, Zainab is LSM's sole designer – Farah Talib Aziz was also part of the entourage in 2015 – and the pressure is on. The designer feels fairly confident, though, about her upcoming line.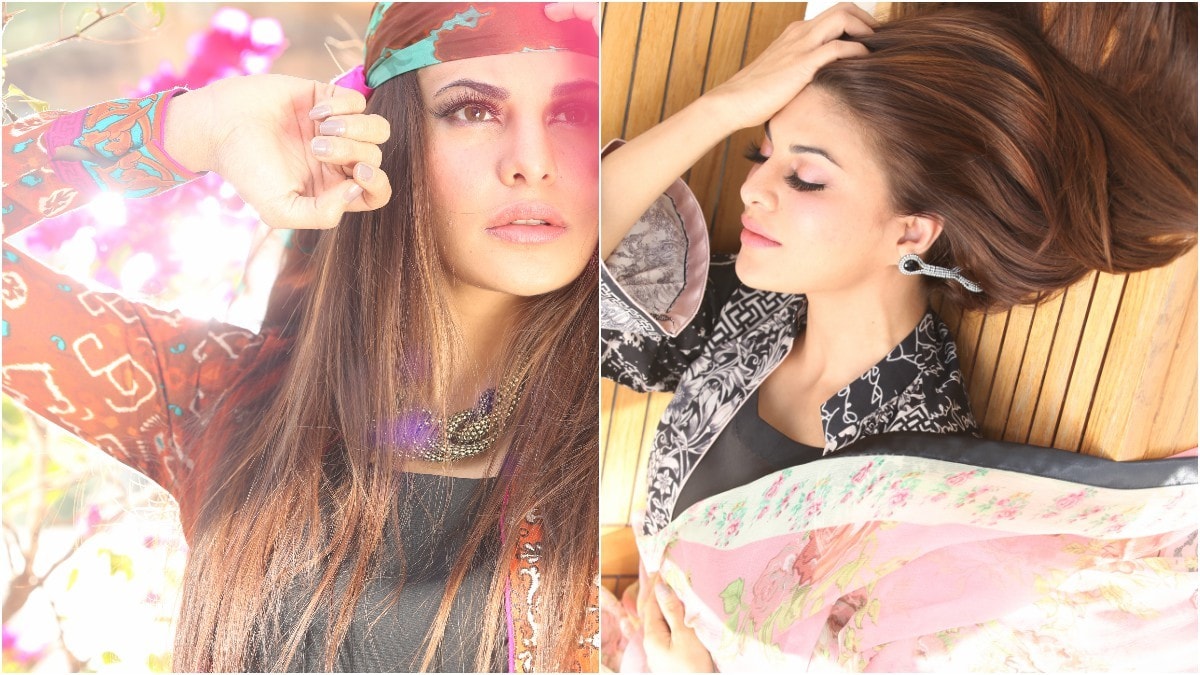 "There are some very summery pastels and design inspirations run the gamut from vintage florals to Victorian scribbling and fringed mirrors. The lawn formula remains the same; with chiffon and silk dupattas and embroidered detailings but it is a collection that is very variant, presenting options for the day as well as evening-wear."
Indian actress Jacqueline Fernandes is, once again, the face of Zainab's lawn, adding in the Bollywood chutzpah that never fails to enamor us.
Zara Shahjahan
Zara Shahjahan's veered towards the traditional this year with a lawn line that she describes as 'mostly desi'. "There are ajraks, block-prints as well as vintage and floral inspirations," describes Zara. "Lawn's a uniquely Pakistani phenomenon and we wanted to keep it close to our roots."
Following last year's 'copycat' blame-game, where some of Zara's lawn prints were caught out as replicated from international fashion, the designer's also making sure that this year's collection is absolutely original. "We've been very careful," she laughs.
FTA for Crimson
Farah Talib Aziz has a well-known penchant for florals but according to brand manager and Farah's daughter, Maliha Aziz, the designer's upcoming Crimson lawn is 'not going to be a floral bomb'.
"We've incorporated some classic prints, emulating impressionist paintings, the architecture and charm of old cities and screen-printing effects," she says. "There is chikankari, woven to resemble wrought-iron Parisian gates, gara embroidery and brooches. The embroideries are generally not too thick. Most of it doesn't have to be appliquéd and is embellished onto the shirt, as is. We have refrained from bunching together too much print because inevitably, it's going to be a hot summer and the lawn should be comfortable to wear."
FTA debuted into lawn last year with Lakhany Silk Mills. However, it is Crimson, new in the market and without the clout wielded by the name of a well-known mill, that will serve as the litmus test to Farah's success with unstitched fabric. As Creative Director of Crimson, the summer lawn line will be followed by ready-to-wear as the brand begins to open high-street stores in major cities.
Elan
The upcoming Elan lawn is elaborate, accompanied by conceptual embroideries and motifs, textured fabrics like jacquard and eclectic color combinations.
"Elan lawn is just released once in a year and so, it is more high-end and much more formal, easily masquerading as evening-wear," explains Khadija Shah, the brains behind the brand.
Maria B.
Maria B. has to be given credit for the way she has built her business. From retail stores dotted about the country to a thriving lawn customer-base, she has a definite eye for the mass market. Her summer lawn collection stays true to the spirit of spring and is inspired by Parisian rose gardens, French architecture, Greek tilework as well as traditional elements.
"There are beautiful jacquard dupattas, intricate Moroccan cutwork, net embroideries, woven pieces and digitally printed pure silk. We have experimented a lot and this collection will prove to be one of the most cutting-edge lawn lines in the market this season," promises Maria.
Sana Safinaz
We've saved the best for last for while 'hit' lawn lines may change every year, Sana Safinaz never fail to deliver design that is beautiful, innovative and drives lawn aficionados into a frenzy. "All lawns are pretty but I think what sets us apart is how we always have a very distinctive signature," observes designer Safinaz Munir. "We have tried very hard to maintain our own style; when you see a Sana Safinaz print, you should be able to recognize it."
The soon-to-release lawn lineup, according to Safinaz, is primarily evening-wear with elements like chikankari, tilla thread embroidery and woven fabric.
Launched: Sapphire
Khadijah Shah, also, creates prints that vary from pretty casuals – her unstitched collection for high-street brand, Sapphire, of which she is Creative Director – to luxe, for her own label Elan. One may think it impossible for one designer to devise so many different prints but so far, Khadijah's been breezing through it.
What is certainly similar between Sapphire's unstitched lines and Elan lawn is the feminine sophistication that defines Khadijah's work. "My aesthetic has to be there," she points out, "but aside from that, both lawns fall into different price brackets and the detailing, therefore, is different."
For Sapphire, Khadijah sticks to the designs that have already become a hit with the brand's clients; florals and delicate patterns on a predominantly pastel color palette.
Launched: Faraz Manan
Faraz Manan's lawn lineups are a visually pleasing play of color and embroidery, aptly transforming the designer's luxe aesthetic onto unstitched cotton. It helps that the smoky-eyed Kareena Kapoor continues to be his model du jour, looking better than ever before this year. But Bebo's hardly the sole reason why Faraz's lawn gathered a loyal fan-following. More than anything else, the designer understands what makes lawn sell and he delivers it in gorgeous embroidered concoctions every summer.
"Faraz Manan lawn is very luxurious, inspired by desert blossoms, sand, sunsets, oasis and architecture," says Faraz. "The other line that I will be creating, Crescent lawn, is lighter and likely to be worn more easily as day-wear."