Didn't have enough material to bring you a best and worst dressed round-up so we've just got better and worst dressed.
On Saturday night, while we were in bed by midnight, Pakistan's television fraternity was partying it up in Houston for the Hum Awards.
With some well-rehearsed musical performances, chucklesome roasting and hosting brought to us by Ahmed Ali Butt and Bushra Ansari and a slightly awkward acceptance speech by Noman Ijaz, who basically took home all the trophies, we forgot all about the red carpet...nahh, just kidding, we never take our eyes off your sartorial game!
Too bad for us there were barely any winners on the red carpet this year. From dressing up like you're going to a mehndi to showing up like you agreed to become a Disney princess for your niece's birthday, the stars didn't give us much to work with.
Let's get the few who impressed out of the way because that's a way shorter list, before we move on to the looks that made us want to call the fashion police:
---
Better looks
---
Mikaal Zulfiqar
Mikaal usually always comes dressed to the nine and he went all out this year as well. He looked dapper in this eye-catching blingy jacket with a bowtie.
Ayesha Omar
Real talk, can't tell if Omar's looks were actually on point or that everyone else's poor choices just made the outfits look much better in comparison but we'll take it.
Her red gown was a little boring (let's be honest, for the most part, ruffles have become the nemesis of most celebs who've worn them) but the white Elan sari was desi wear with a twist which worked, even if it did look a little like a table cloth.
Adnan Siddiqui
In a well-stitched all black everything ensemble, Adnan Siddiqui checked all the right boxes. He looked like a total superstar pairing it with a pair of aviators.
Hajra Yamin
All we want to do is curl up in that Hussain Rehar lehnga that could double as a blanket and take a nap. That's not a good sign, is it? That said, it could've been worse and at least it's not drowning in embellishments. As you can see, the bar is very low.
Yasir Hussain
No one is more shocked than us to find Yasir on our yay list instead of Iqra but here we are; look how the tables have turned! The actor wore a simple number by SFK Bridals which he also paired with pink aviators. Hard to go wrong here.
Ali Rehman Khan
The man gets points for experimenting. While the animal motifs might not be everyone's cup of tea, we appreciate Khan keeping it quirky. Gotta say, the men fared way better in the style department.
---
Worst-dressed
---
Kubra Khan
When we met Kubra before the show, she mentioned she was wearing a fusion ensemble even though she usually opts for Eastern wear. This is NOT what we were expecting.
This black and beige combo is overdone, the dangly earrings don't go and the cut is just not flattering; this look is doing her no favours.
Iqra Aziz
Iqra revealed to us that her entire look was Nomi Ansari's vision and that she didn't meddle with it. What a nice muse but how unfortunate that she went on to win Best Actor in this outfit.
From the tacky colour to the weird ruffles and stones, there's no saving grace here.
Yumna Zaidi
Yumna Zaidi too went on to bag the Best Actor accolade in a less than winning outfit by Noor'h Gul.
Shehzad Sheikh
The outfit could've been salvaged but the styling made matters worse. What is going on with his hair? And why?
Mawra Hocane
This pistachio green is just not doing it for us. If the point was to make a patriotic statement, she could've opted for a more flattering emerald green. And what is with these dated accessories? Someone tell Mawra Aangan is over.
Kinza Hashmi
There's just too much going on here; when frills and lace attack together, no one is safe. And Kinza Hashmi was mistaken to think she could rise above it in this pink Sadya Sumar gown.
Sanam Jung
While we wanted to give Sanam brownie points for not donning her usual shaadi wear, this Maheen Karim dress didn't hit the right notes. Maybe it was the basic accessories and hairdo.
Hania Amir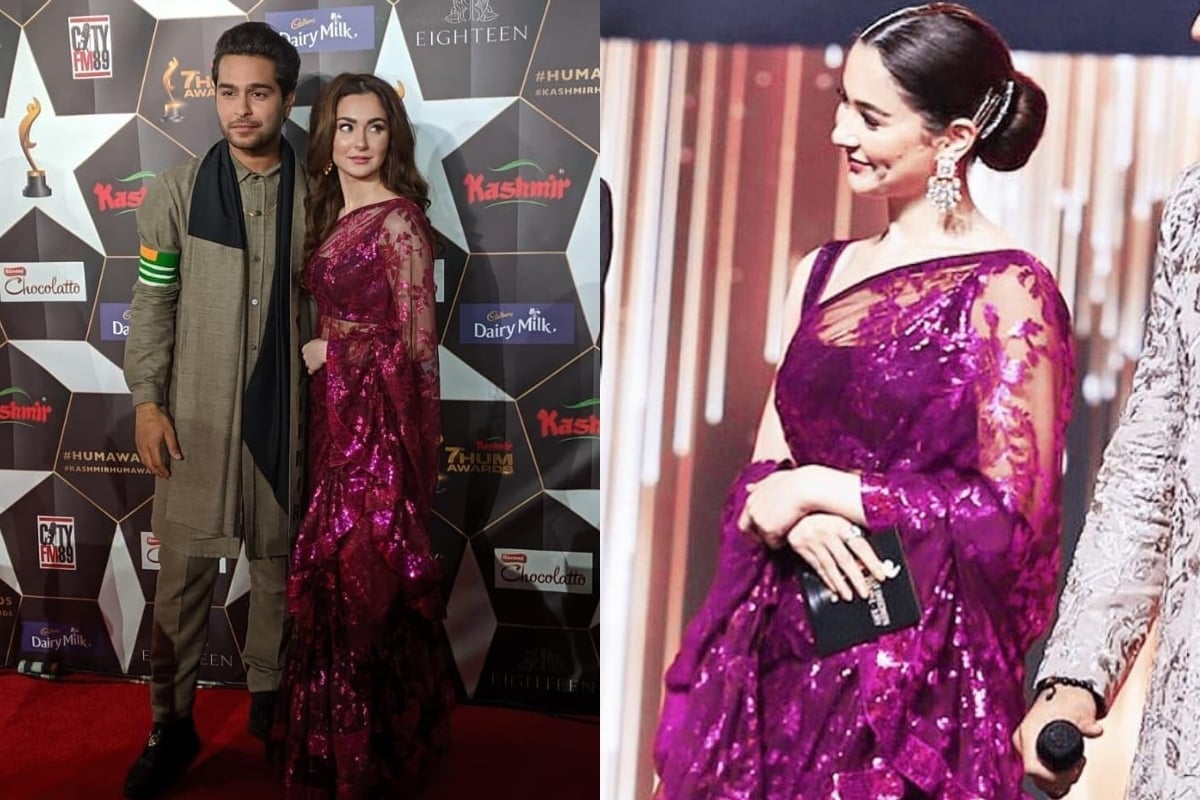 Hania Amir was trying to channel some serious old world charm but what we want to know is: why? You're young, you're hip, have some fun on the red carpet. Interestingly, she walked the red carpet with her hair open and tied it into a sleek bun later on in the night, making her look even older.