For audiences whose primary interest is to know whether the film is worth spending money on — it is.
Let's split this better-late-than-never review of Allahyar and the 100 Flowers of God into two chunks. For the laymen who don't want to get into the technical nitty gritties and just want to know whether the sequel to Allahyar is worth the price of admission — well, I've got good news for you, it's right up there with the best of them. "Them", of course, refers to prior-released Pakistani animated films.
100 Flowers of God continues from the last part, where Allahyar (the voice of Anum Zaidi), is bestowed powers to talk to animals with the responsibility of being their muhafiz (saviour). His great power and its greater responsibility — I am so very sorry for using the cliched pun from Spider-Man, but it had to be done! — didn't lead to much last time around, when he saved a young markhor from poachers.
In the sequel, Allahyar, now a bit more grown up, realises that he needs more than animal communication abilities to be a saviour — he needs the convincing prowess of Kung-Fu as well. So, when he is not chasing down possums (the evil-looking critter was just hungry, he wails when captured), Allahyar is training his young muscles on a homemade Wing-Chun dummy (the wooden post martial artists use to train in movies).
His workout drills soon prove useful when he literally takes down robot enforcers of his own size in an alien world. The size change, in its superficiality, sidelines parents' arguments of adults hitting kids in the film.
The enforcers, under the orders of a Minister (Ali Zafar), secretly invade Earth realm because they ran out of trees to feed to one of their robot-monsters — a giant baby-like tree-muncher with a bad attitude named Munchkins (Ahmed Ali Naseem). This monster, bonded to a furnace, gulped down every last tree of this unnamed world to power battery stations for the robot populace. Refuelled by Earth's timber, the stations ration and sell power to those who can afford it, leaving cute baby robots and their families dying in the barren wastelands on the outskirts of the city.
Allahyar, with the help of the dimension-hopping rebel-bot Aira (Iqra Aziz) and his trusty-friend, the chukar-partridge Hero (Azfar Jafri, this film's animation director, who helmed Janaan, Heer Maan Ja and the upcoming Umro Ayyar – A New Beginning), escapes the enforcers in an exhilarating hover-bike chase, wins hearts, leads a rebellion, and learns the not-so-secret necessity of going green — that using clean renewable energy makes the world a better place.
100 Flowers of God is an entertaining kiddie movie for adults. The blunt fact about environmental protection is omni-present in writer-director Uzair Zaheer Khan's visually-driven story, as is the gravity of the robot populace's very human plight. The motive is a tad overdone at times, and it also levels up the story from kiddie to teenage fare, but neither I nor other parents for that matter would find that to be a deterrent. Besides, there's also wholesome humour to offset the graver stuff.
The first half hour is credited to the brilliant voice work and appeal of Azfar Jafri's Hero, and the kickass-ness of Iqra's Aira, whom Allahyar stumbles upon in a deactivated state.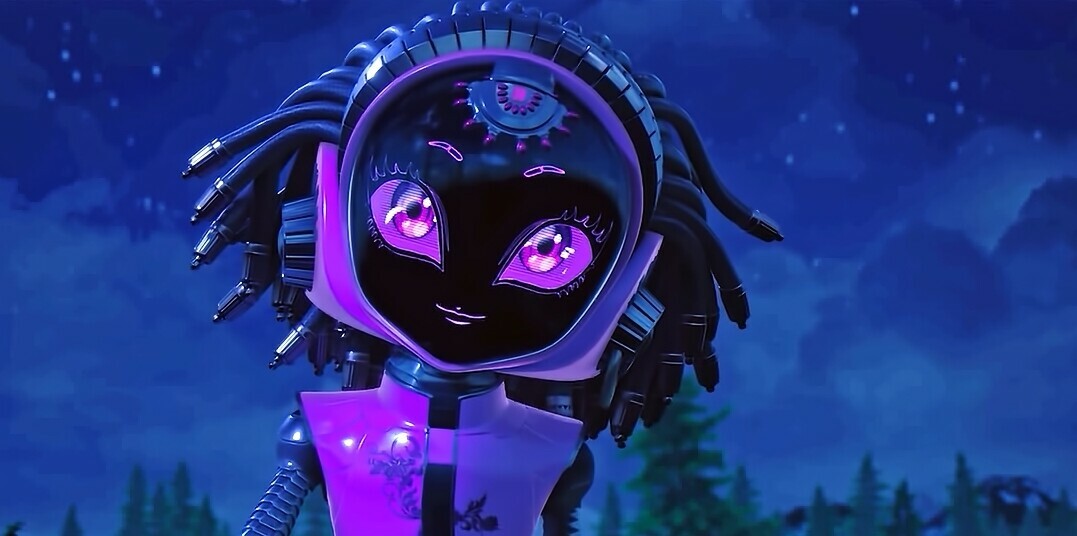 This, by the way gives the film its 'U' (Universal) censor certificate, because the robots don't really die, even when their limbs and heads, which fit right back again, are yanked off during battles. The fights are quite well choreographed by the way, but I digress.
Using his bike to peddle enough energy to revive her, we learn that Aira appears a tad drunk when her energy-bar is low on juice. While Iqra, and the animation team nail those first scenes, having a sort-of-drunk character goes against the idea of a U-rated movie.
Like Allahyar's peddling, which revives Aira, Anum Zaidi's voice-work gives Allahyar life. Her voice defines Allahyar, and as an actor, she impeccably pulls off the muhafiz's emotions. Through Anam, we realise that Allahyar has matured…well, as much as he can mature during the span of months that passed between the two movies.
Humayun Saeed, barely recognisable as the old Sage tree, fills in the backstory of this strange but familiar world, which — surprise, surprise — once had a human population. Irrespective of the old tree crassly calling the humans of this planet "bags of meat", the history lesson explains why Allahyar breathes just fine there.
Bushra Ansari makes a small a cameo as Lizzy Aapa — the lizard mother who sings her young a lullaby and teaches it to gulp flies, because it's good for his growth. While I don't agree with the somewhat adult nature of Meera's robo-bush princess — her voice is also hardly recognisable unless one is specifically tuning their ears to pick her out — one can't help but laugh at Ali Zafar's double-taking, hammy, voice-work as the Minister.I meant hammy and the double-takes as a compliment, by the way.
The Minister, although shown to be a bad guy, doesn't come across as a villain (there is a difference between the two). His measures, though entirely iniquitous, are circumstantial — perhaps, because Uzair doesn't have any place for evil-doers, death and decapitations in his fantasy world. The hopefulness of a better, brighter future is evident, even in the desperate nature of his story.
That is a worthwhile message — now, if only the story itself was polished a little, it would have made The 100 Flowers of God one of the milestones of Pakistani cinema. This leads me to the technical side of the review.
Uzair's film has the right structure in mind, and the sequence of events make better sense than the last Allahyar. The excessive pro-environment lessons, however, still eat away at the space that could have benefitted Allahyar, Hero and Aira's growth as characters.
For the majority of the plot, the three move from sequence to sequence, repeating the grim facts Uzair had long laid out. The gist of several sequences could have been pooled together, so the story could branch off into more creative pathways.
Uzair's world building is awe-striking, and there is a definite reflection of Pakistan and Pakistani culture in his alien world. Note the landmarks at a rebel hideout — one can easily spot a miniature version of the Khyber Pass, among other places — or the swirly, embroidered designs prettifying the bots costume-like body-frames, or the jewellery shining in their metallic ears and necks.
It is needless to point out that The 100 Flowers of God looks like a million bucks. For that thank Unreal Engine — an out-of-the-box, real-time, photorealistic game-engine that renders and compiles the animation. As one can guess, there is ample human toil involved, even with Unreal's help.
Originally a video game engine that powered PUBG: Battlegrounds and Final Fantasy VII Remake, Unreal is now widely used in creating real-time virtual worlds and set extensions for feature film and television productions, including Netflix's Love, Death and Robots, Stars Wars series The Mandalorian, HBO's Westworld, and about a hundred thousand animated shorts made by amateur YouTube filmmakers and Twitch live-streamers.
The accessibility and ease-of-use of the software — it is free to use now and has an easy software interface — wasn't such when the first Allahyar was made. The Legend of Markhor, historically, is the world's first animated film made not just on Unreal, but on ANY game engine.
While good to look at, the animation, and the story had a ton of problems. Uzair, now matured considerably, might have had nightmares about the animation quality of his first film, however, the audience will spot fewer issues in the sequel.
The use of motion capture technology (a version of the tech worn by actors in the making of Avatar and many other films), supplemented by manual keyframe animation, evident in the very effective fight sequences and the movements of quadruped characters, significantly raise the bar of what Pakistan's home-grown studios can deliver.
It's a job well-done, despite my minor nitpicking.
For instance, despite the cleaned-up motion capture — or irrespective of the use/non-use of facial performance capture — the expressions and body movements of characters could have benefitted from fundamental animation principals of exaggeration, arcs and secondary actions. Some scenes can be relit effectively, and some materials, and their reflections and refractions, could have been better adjusted.
These are very, very minor gripes reserved for animation industry professionals. What may irk some viewers is the overuse of fades and fades into blacks — a malady the last Allahyar suffered from as well.
Fades have a special case use in filmmaking. They transition the passage of time or end chapters. Here, they happen everywhere — though not as intrusively as the prior film. While a straight cut usually works the best, one can deduce the reason for their implementation. The fades here are used to realign, match or cover the lack of rendered material in the edit.
Again, it should not matter that much to the audiences whose primary interest is to know whether 100 Flowers of God is a worth spending money on — and it is! All the minor bumps in Uzair's film are swept aside by its considerable number of wins. Like it or not, we adults tend to ignore serious discussions about saving the environment. Almost all of us 40-year-olds have forgotten the lessons Captain Planet taught us when we were young. All we remember now is the song — not its context.
Through Allahyar and the 100 Flowers of God, we might just lend an ear to this alarming global crisis, while enjoying the action-packed adventure of a young boy, his funny birdy buddy and his gung-ho robot friend, as they change one world, so far away, into paradise.
Allahyar and the 100 Flowers of God is produced by 3rd World Studios and released by Mandviwalla Entertainment. The film is rated U, and is playing in cinemas right now. Catch it with the kiddos before the summer is over.