A case has been registered and six people are in custody after an armed mob beat the crew and stole mobile phones, wallets and filming gear.
Filmmaker Nabeel Qureshi says that he and his crew were "attacked by [a] mo[b]" in Jamshed Quarters, Martin Road in Karachi's PIB Colony on Monday night. He tweeted that along with him, the cast — Hira Mani, Salman Saquib (Mani) and Gul-e-Rana — and crew were robbed at their film set and mobile phones, wallets and filming gear was stolen.
SSP East Zubair Nazeer Sheikh told Images that six people have been arrested and a case has been registered.
Qureshi took to Twitter Monday night where he shared that the cast and crew were attacked by a mob. He said the mob broke into the house they were shooting, where there were approximately 100 people and "harassed" the women and female actors. He wrote that the mob also beat up the crew and stole mobile phones and equipment.
The FIR, a copy of which is available with Images, was filed by producer Ali Hussain at the PIB Colony police station. He said that the house had been rented out for filming purposes. One room was used by the owner of the house while the other three were used for filming.
The complaint read that a group of 40 to 50 men broke the door down and entered the house. They began to shout and curse and beat up the house owner and the filming crew. The FIR stated that they came in with sticks and damaged the crew's equipment and also seriously injured five members of the crew. One of the crew members was hit on the back of his head with the butt of a pistol.
Several pieces of equipment were stolen from the set — one 2k light, bulbs, C-stands, avenger stand,10kg jib weight, set pancake and cables as well as three mobile phones, two Vivo and one Sony Xperia.
The FIR mentioned that the house owner, Shakir, told him that the mob was led by his neighbours, Muhammad Ali and his brother Qasim. Three others also assisted Shakir's neighbours, as per the complaint.
A case has been registered under sections 147 (punishment for rioting), 148 (rioting, armed with deadly weapon), 382 (theft after preparation made for causing death, hurt or restraint in order to the committing of the theft), 337 (shajjah), 427 (mischief causing damage to the amount of Rs50) and 504 (intentional insult with intent to provoke breach of the peace) of the Pakistan Penal Code (PPC).
"I don't believe this!! Who is responsible? Who will answer for this?" said Mahira Khan in response to Qureshi's tweet. In reply, the filmmaker said he cannot believe it himself. He said he is still traumatised over what happened on the set of his upcoming drama.
"We had kids like 6 to 7 years of age, and Hira kept on requesting them to behave from inside the door. They were not listening, they broke the door! It is so disturbing," said Qureshi.
In another tweet, the Quaid-e-Azam Zindabad filmmaker said that at the time of his tweet, he was sitting at the PIB police station and explained that they were "attacked like anything" and that this had never happened before in Karachi, purportedly referring to a film crew being attacked.
"They were equipped with weapons, they stole mobiles, wallets. They do not care about ladies. They raised their hands etc," he wrote.
Qureshi tweeted that he wants the Sindh police and Rangers to take strict action against these people "to make [an] example out if it". He requested the entertainment fraternity to make sure that this doesn't happen to any of them ever again.
Hira took to Instagram the same night and wrote, "It was a very unfortunate event to witness today and I wish and pray no one face[s] that ever in their life. I want to thank my team members who fought till the last with the culprits to save us and are in very bad condition in the hospital right now."
She asked her followers to take a moment to pray for the crew's speedy recovery.
Her husband, Mani, has not issued a statement of his own but has been resharing Qureshi's posts as well as those of child actor Falak Shahzad Khan, who was also at the filming site at the time of the attack.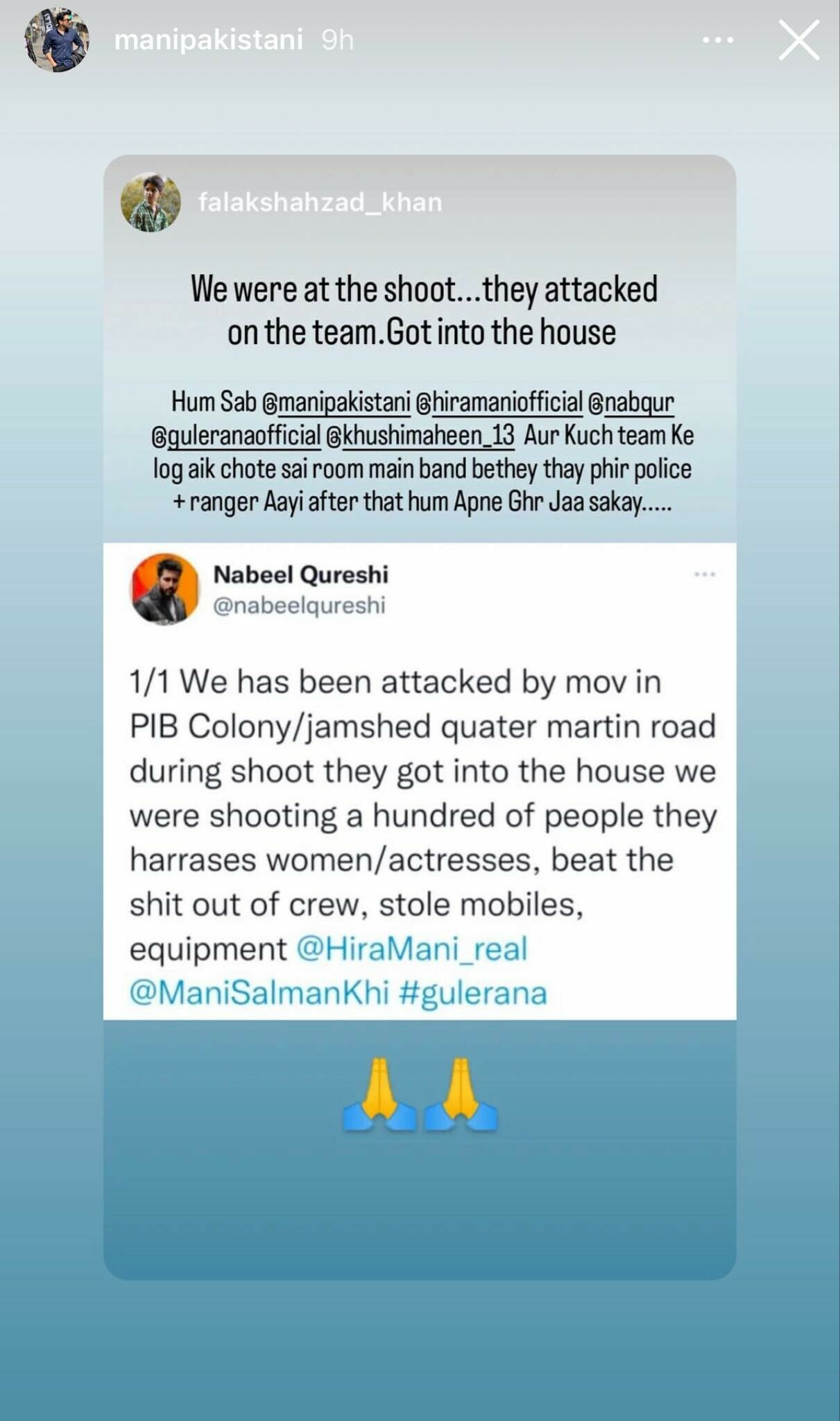 "We were at the shoot… they attacked on the team. Got into the house. All of us, Mani, Hira Mani, Nabeel Qureshi, Gul e Rana and Khushi Maheen and other team members were locked in a tiny room. Then the police and Rangers came and we were able to go back home," Falak wrote.