The catwalk was going to breathe new life into fashion this spring — but events have been cancelled because of the pandemic.
There's nothing like a live fashion runway — and the excitement of sitting along it watching clothes drift by you in long processions.
Design — good design, that is — takes on a magic of its own when seen at a show with the entire fashion entourage gathered together; designers, models, stylists, editors, journalists and the social media pack.
The Covid-19 pandemic took that excitement away from us when it swooped into our lives about two years ago.
However, the lack of fashion weeks was hardly something to complain about when lives were at stake. Besides, it was widely agreed that Pakistan's fashion week omnibus was badly in need of a reboot anyway. Designs had become repetitive and so commercial that they were downright boring. The catwalk had gotten 'celebri-ficated', with antics and gimmickry replacing the thrill of seeing bona fide design. Perhaps the break would be good for fashion, it was agreed, and we would see better design once the catwalk was rolled out again.
The catwalk was going to breathe new life into the fashion industry this spring. But both Lahore's PFDC Fashion Week and Karachi's Hum Showcase now stand cancelled because of the uncertainty around the pandemic. Can fashion resurrect itself? And if so, how?
The catwalk was going to make true this promise, early this year. The possibilities of spring were also supposed to breathe new life into the fashion industry, bringing back the joie de vivre that one felt at a carefully curated, live high-fashion event.
Lahore's Pakistan Fashion Design Council (PFDC) was going to host a four-day collective designer show, following a 'phygital' format, setting the sartorial agenda for spring/summer. Hum Network's couture-centric Hum Showcase was going to follow a few weeks later, with a three-day event in Karachi. Venues were getting booked and designer line-ups were getting confirmed and with some of fashion's most popular names on board, it was going to be an exciting month.
But the excitement was premature in the middle of a pandemic. The recent surge of the Omicron variant of the coronavirus has led to the cancellation of both events.
Fashion footfall
Saad Ali, CEO of the PFDC, says, "The PFDC operates on a certain scale and with all the prevalent uncertainty, we couldn't ensure preparing for the event without any interruptions. We had to make a decision based on the present situation and we realised that there were no guarantees that, despite all our planning, the event wouldn't get cancelled at the last minute."
He adds: "Our plans included a lot of innovation and digitalisation but, nevertheless, it was going to be seen by a physical audience. Also, we were hesitant that any last minute changes would end up wasting the resources invested by our sponsors. After 12 years of successfully executed fashion weeks, our sponsors trust us to act responsibly. We didn't want them to face a backlash for supporting an event while Covid-19 infections were surging high."
Hum Showcase was postponed for similar reasons. Saher Saad Yousuf, General Manager of Special Events at the Hum Network, says, "Sponsors have been hesitant to confirm because of the pandemic. They are just not willing to plug in their money right now, and we have had no choice but to postpone."
Designer Rizwan Beyg, Hum Showcase's show director, observes, "I think health concerns, financial concerns and travel restrictions all played a hand in the Showcase getting postponed. Sponsors are on edge right now because of all the trolling that tends to take place on social media. They naturally want to be projected in a positive way when they invest in a show but, at this point in time, a single picture of people crowded together at an event can lead to criticisms.
"Logistically, it's very difficult to host a fashion event and make sure that all Standard Operating Procedures [SOPs] are observed," he points out. "Even if the audience is sitting six feet apart, there's an entire backstage area where models, designers, stylists and make-up artists are working close together. You'd need a very large arena for them to work with six feet gaps between them.
"Also, at Showcase, the models' pool has always included some international models and, with so many restrictions on international travel and ticket prices escalating, it would have been very difficult to manage. And we didn't want to compromise on the quality of our show by opting for models who don't meet the standards that we have set."
Rizwan continues, "Having said this, Showcase will probably be a fall/winter event this year. We have always showed in the spring/summer, which is why the designs on the runway have usually been cotton-based, following a light, summer palette. Perhaps, this time we will steer the show towards a winter festive theme and showcase velvets and warm layers. For three years, Showcase has been scheduled in the spring/summer, maybe for the next three years we could put out shows for the fall/winter."
All this is well and good but the fact remains that a hefty line-up of mainstream designers had been primed to be part of one of these events — some, even both! A few of them may have recently hosted solo shows with downsized guest lists, but most designers hadn't dabbled with the catwalk for more than two years. They were looking forward to bringing out their most recent work on to the runway — and then, cashing in on the hype that follows with sales.
Designer Hassan Sheheryar Yasin (HSY), for one, had an entire collection ready which he had set aside for a solo show before the PFDC announced plans for a spring/summer fashion event. He had opted to show with the council instead. "I will always be there to support my council and I was very excited for my show," he says. "Now, they have decided to postpone the event. I look forward to showcasing on their platform once again whenever they decide to schedule fashion week."
Planning a solo at the nth hour will probably be difficult now, he says. "Sponsors tend to have six month calendars and they decide where to allot their resources beforehand. It will be tough lining them up at the last minute. Also, a great deal of planning is required, and it's soon going to get too hot in Lahore for an open-air show," he points out.
Before these two collective fashion events had been announced — only to fade into the shadows again — there were rumours of several designers planning to fly solo, for select audiences; among them, Nomi Ansari, Mohsin Naveed Ranjha, Sania Maskatiya, Mahgul Rashid and HSY. Will some of them now be stepping away from the collective show umbrella and step out into the spotlight all on their own?
Nomi Ansari hints, "It is better to be safe than sorry and I understand why the PFDC fashion week was cancelled. I was looking forward to it but perhaps, I'll plan something just as great all on my own."
Mohsin Naveed Ranjha observes, "I was very excited for fashion week and of course it doesn't feel good that it isn't happening. Designers need to show their latest work, but things just keep getting delayed."
Designer Ali Xeeshan says that not only does he miss putting up a show at the event — and he certainly knows how to put on a show! — but also the sense of community that fashion week tends to instill.
"I like to create experiences, and hosting a solo show would require far too much expenditure at this point in time. Fashion week was going to be the best option for me and it's demoralising that it's not taking place. Then again, we have learnt to live with cancellations and rescheduling. Nothing is more important than health, and these obstacles are part of our lives now. I was planning to launch a brand new line of Western-wear at fashion week. Now, I'll just launch it online."
Indigenous craft takes on the internet
And just like that, the fashion lens is once again focused on the vast domains of Instagram, Facebook and online stores. Designer Fahad Hussayn, also planning to show a capsule line of Western-wear with the PFDC, is now shooting it and will release the images on Instagram.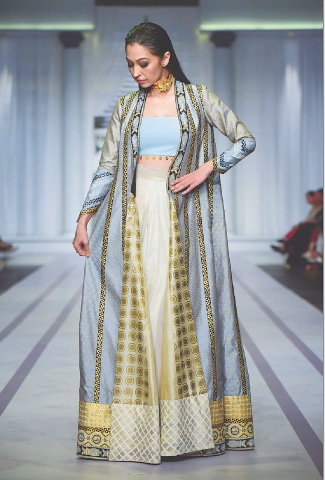 Umair Tabani, CEO at Sania Maskatiya, acknowledges that not getting the opportunity to showcase their latest lines on a runway is a "definite setback". The brand, however, is consistently putting forward new collections online and stocking them simultaneously in their stores.
Many other brands have been investing in interesting shoots in a bid to draw audiences their way and working with indigenous craftspeople to create design that stands out. Small-scale brands, such as Blocked Textiles for instance, halted production during the initial Covid-19 wave but, then, designer Afsheen Numair created a socially distanced setting for her craftsmen and began to create stock, retailing via Instagram.
"Initially, I opted for customers to book and collect, in order to limit physical contact," she says, "and we only had an exhibit once the first wave had subsided and things had started opening up. I have reduced stock and I limit the number of people entering an exhibit at a time, but I feel that people are now very eager to buy. I think that there's a greater appreciation for design that is distinctive from what is available on the high street."
Premium streetwear label Rastah similarly took off particularly during the Covid-19 pandemic. The brand employs local craftsmen — embroiderers, weavers, block-printers, among them — to create capsule lines of edgy streetwear which has been featured in a range of international publications and worn by globally recognised names such as Riz Ahmed and French Montana. The international hype turned eyeballs towards the brand, which promptly cashed in on it with some very unique, uber-cool capsule lines.
"We have a very varied clientele now, from around the world," says the brand's Creative Director Zain Ahmed. "There's a changing dynamic within consumers from around the world, which is also now emerging in Pakistan, where people are willing to pay a premium price for a T-shirt or outer-wear.
"Other brands may have suffered due to supply-chain delays during the pandemic but, at Rastah, we have been building the business very carefully, allocating our resources according to the market demand and investing heavily in marketing and branding."
Where are the fashion councils?
These are indications that, in a post-Covid-19 world, the internet's importance has trebled when it comes to fashion marketing and retail. At the same time, the power of fashion councils seems to have diminished. For instance, the PFDC hasn't flexed its muscles in a long, long time. Even if live events have not been possible, the council could have still made its presence felt every now and then — perhaps through a curated exhibit or an open-air installation?
"Where is the council? We haven't heard anything from it ever since Covid-19 broke loose," points out one designer who prefers to stay anonymous.
It's important to note here that the other council in the country, Fashion Pakistan Council (FPC) based in Karachi, managed to host two live events in these past two years, despite the pandemic, showcasing to a limited audience.
These events came with their own baggage — some related to bad design, some due to a general lack of excitement — but it must be acknowledged that the FPC managed to wind its way through a virus-infested minefield and put out shows. The PFDC meanwhile hasn't made a whimper. A grandiose fashion week may not be possible but even a smaller effort would help boost designer morale at a time when the business of luxury-wear has wedged itself firmly into a slump.
While on the topic of FPC, according to Chairperson Maheen Khan, Fashion Pakistan Week will also not be taking place this spring/summer.
On a slightly skewed tangent, designer Kamiar Rokni struck lucky when he decided to celebrate two decades in the business with a solo show this past December. In pre-Covid-19 times, fashion shows would be so numerous that images from a show would quickly get replaced by images from the next one. Kami's show images, however, still remain very current, with models posting a video or a still every now and then — for many of them, this remains their most recent time on the runway!
Following up was the Hum Bridal Couture Week (BCW), also fortunate because it took place at a time when restrictions on audience numbers and events in enclosed halls had been relaxed.
Faraz Manan's show in Dubai this year has similarly made headlines — not just because the clothes were beautiful, but also because it had been ages since bona fide couture by a Pakistani had been seen on the catwalk.
Will more brands simply restrict themselves to creating imagery and design and float it out on the internet, in the hope of inspiring a buying frenzy? Or will some of them be going solo? Or will most of them eschew the expenses and logistical efforts required for hosting an individual show and wait for fashion weeks to resurface when the pandemic ends?
Of course, the pandemic ending seems like a far-off dream now. It would be wiser for Pakistani fashion to reset and rethink the way things are done, perhaps downsize the fashion week behemoth, perhaps work on impactful installations.
When the going gets tough, the tough should ideally get going. And these are very tough times indeed.
Published in Dawn, ICON, February 27, 2022