Homestays are an Airbnb-like set-up where families board tourists in a room of their house.
Abida Ghulam Jilani will fly the flag for white bedding.
The 35-year-old rents out a room in her home to guests visiting Sharda, a small touristy town in Neelum Valley, in Azad Jammu and Kashmir.
"Guests prefer sleeping on clean, white and ironed sheets," she says. The printed ones she uses for herself. "It also makes the room look less cluttered," says Jilani, as she inspects if the sheet has been tucked tightly, just the way she has been taught.
Back in 2018, Jilani and several dozen women were trained to become hosts for homestays by the Himalayan Wildlife Foundation (HWF), an organisation that aims to protect and manage Pakistan's natural resources and cultural heritage. This is basically an Airbnb-like set-up where families board tourists in a room of their house.
My husband and I were staying in Jilani's modest guest room for two nights. Our room was on the first floor of her home. Climbing up a wooden staircase, passing by a balcony, when we entered the tidy room, I noticed it had a woman's touch about it.
A colourful cushion with khush aamdeed ('welcome') embroidered on it lay on the bed and the doilies on the side table were also hand-embroidered. The ensuite pink-tiled bathroom put my heart at ease. It was spotless and had a Western-style commode and a Muslim shower next to it. There was a fresh bar of soap, two white towels and a pair of rubber slippers. 
Charging 2,500 rupees a night, Jilani has earned more than 60,000 rupees since she started boarding visitors in March 2019. "Culturally, we have always been hospitable, but I didn't know we could earn money like this," says Jilani, a mother of five.
The homestays project was the government's idea, passed on to the Pakistan Poverty Alleviation Fund (PPAF), an autonomous not-for-profit organisation. The PPAF, in turn, engaged the HWF to execute the project, since the latter has had a presence in the Kashmir region for over 15 years.
Homestays in inaccessible areas of Azad Jammu and Kashmir are being encouraged to bring economic benefits for the locals. But are members of conservative communities ready to welcome strangers into their homes?
Other valleys in the northern areas of Gilgit-Baltistan (GB), Skardu, Chitral, Swat and the Galiyat have a fairly well-developed tourism. But due to proximity to the Line of Control (LoC) with India and limited connectivity — both road and telecommunications — Neelum Valley has remained pristine and unspoiled.
Dependent on a pastoral economy, the means of livelihood for the locals is limited and seasonal. Thus the valley came on the top slot when the homestays project was being considered.
It was in 2018 when, after much convincing, the locals in Sardari allowed tourists to stay in their homes for the first time. Most families were resistant to the idea of having strangers in their homes. "We held scores of meetings to change this mindset," says Summara Raza, a consultant looking after the homestays project. By next year, HWF had set up 17 more homestays in Sharda.
Although the timing of the project was not ideal because of the pandemic, other factors propped up this new business. Along with work-from-home and the ban on international travel, many Pakistanis headed to the mountains as soon as the inter-provincial lockdown ended. 'Work-cations' took on a whole new meaning, and many decided to go on road trips to avoid air travel for fear of catching the coronavirus on flights.
Many urbanites, from as far south as Karachi, who until recently only travelled abroad, used the motorways and discovered how breathtaking Pakistan is. The British Backpacker Society ranked Pakistan among the world's top adventure destinations in 2018 and described Pakistan's mountains to be "beyond anyone's wildest imagination."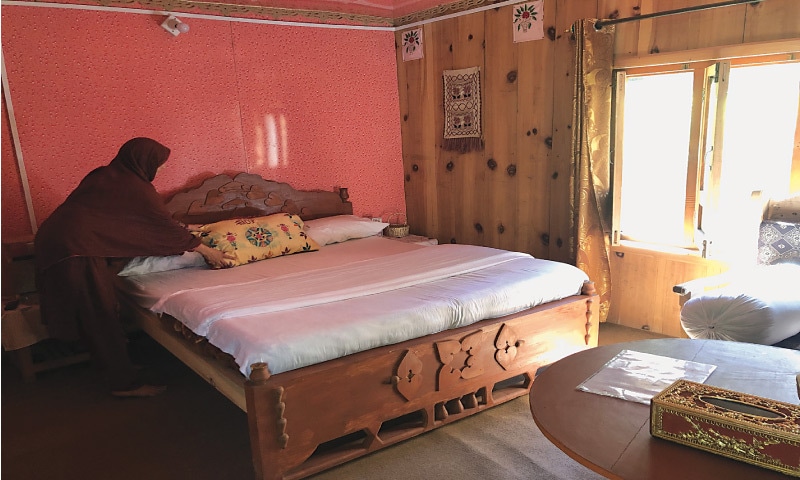 Thus the scenic valleys in GB, AJK, Swat, Chitral and the Galiyat were swarming with local tourists in the past couple years. This year, the number of domestic visitors to the mountains reached over five million in summer, with the government predicting the trickle of visitors to continue well into the winter months.
But over the last few decades, the popular destinations of both Khyber Pakhtunkhwa and GB have sadly become a developers' paradise, and monstrous multi-storey structures of hotels and guest houses have sprung up everywhere.
This is exactly what Irshad Pirzada, director general of the Tourism and Archaeology Department of AJK, wants to avoid in Kashmir.
"We would like to encourage local people to start the Airbnb-type of businesses, which protect the environment and are culturally-oriented," he says. The idea behind homestays is to "involve the community" so that the local habitat remains intact, the guests can "partake of local cuisine and get enamoured through storytelling," he explains.
It is hoped the homestays will break the concentration of tourists going to just a handful of known valleys of Naran, Kalam, Nathiagali, etc. "This is neither eco-friendly nor can these [sites] be kept clean and unspoiled. Homestays can lead to the exploration of scores of other valleys that are off the beaten track and just as magnificent," says the provincial spokesperson.
A CULTURAL TRAINING
After showing us our room, Jilani opened a cabinet inside the room that had an electric heater and extra blankets in case it got cold in the night. 
Finding women who were willing to give up at least two rooms to be turned into bed-and-breakfast facilities was far easier than training the women for the hospitality sector. "This was the most challenging part of the project," Raza says.
"We get 24-hours electricity through hydropower," she said. But the next day there was a big storm, and the power lines got damaged. That evening, Jilani warmed water for us on her stove and brought it up. We used a bucket and a mug, instead of enjoying piping hot water from the shower that I had my eyes set on.
During our stay, Jilani also washed our clothes, made our bed and cleaned our bathroom. The meals she served us were unforgettable: home-made breakfast of freshly made parathas, omelettes and home-made pure butter and tea; for dinner, chicken and the most delicious spinach-like veggie dish with fresh chapatis. We had the meals next door, at her sister's place, where our other friends were staying.
For Raza, finding women who were willing to give up at least two rooms to be turned into bed-and-breakfast facilities and getting them renovated and repaired was far easier than training the women for the hospitality sector. "This was the most challenging part of the project," she says.
"I designed a training module which included lectures, videos and practicals on housekeeping, cooking and interaction with tourists. A lot of the teaching was done through role playing," she explains. However, it became a far bigger project than Raza had envisaged. So, from teaching the women how to make beds to laying the table, she also motivated them to adopt hygienic practices. "It had to be done sensitively and discreetly, so as not to offend them," she says.
She conveyed to them that it was not only unhygienic but unhealthy to wipe their children's noses with their dupattas and shawls, wash clothes on the bathroom floor alongside the squat-style desi commode or sleep in a poorly ventilated and smoky kitchen in the winter months (in trying to keep warm).
"The Western commode was new for many of us as was the Muslim shower," Jilani admits. "Madam Summara explained that squatting may not be possible for the elderly guests or those with knee issues or small children," she says.
Jilani also had never heard of or used the various cleaning agents, brushes and washcloths that were introduced to them.
"We were taught not to stare at the Western dresses women guests wear, even if we find it strange, and to greet them with a smile and put them at ease," says Jilani, who HWF has hired to supervise and monitor the homestays so that the women do not fall back to their old ways.
The hosts were also taught about the various forms of harassment they may encounter and how to deal with them.
While it may still be too early to measure the greenhouse gas emissions by these local guest places, those carried out for Airbnb in the West found that those properties were consuming less energy and water, as well as producing less waste compared to hotels.
CODE OF CONDUCT
The AJK homestays project is already becoming a model for some in other tourist areas with high footfall. The secretary of the Khyber Pakhtunkhwa Department of Sports, Culture, Tourism, Archaeology and Youth Affairs, Abid Majeed, has the same goal but he is even more ambitious.
In 2019, the provincial cabinet approved the transfer of 3.8 billion rupees for engaging youth in businesses. Majeed says, "We plan to use 10 percent of the total project cost for promoting and supporting homestays in tourist areas under the 'Innovation Fund for Entrepreneurs, Youth and Women' scheme with special consideration for transgenders and people with disabilities."
But not everyone is sold on the idea.
The president of the Sustainable Tourism Foundation Pakistan, Aftab-ur-Rehman Rana, is wary that the homestays projects could lead to "disastrous impacts on the socio-cultural life of the local community," while also damaging the environment. "I personally don't feel comfortable in encouraging homestays in the mountain areas of Pakistan without doing proper homework for promoting this scheme," he says.
Rana points out the need for developing a code of conduct both for the visitors and the local service providers in order to minimise the impact of tourism and to reduce conflict in the conservative society. Most importantly, he emphasises, that all homestays must be formally registered with the local authorities and a certification and monitoring mechanism should be put in place to maintain the minimum standards of services.
Meanwhile, the homestays project in AJK has expanded. A set of 17 more rooms will be set up along the Neelum river, in towns like Tehjian, Dhudniyal and Bella Mohammad Khan. "We are encouraging homeowners to try and get a second room in their homes repaired and readied on their own," says Raza, "because tourists travel with families or friends and want to stay together in one home."
She is optimistic that, by April 2022, these rooms will be ready to receive guests. Learning from things that had been overlooked in the first batch of homes, Raza says, this time round, it was ensured that the rooms had fabulous views of the valley, the river and the mountains, and that they were accessible by road and had car parking.
But the work is not without its set of challenges. She finds the government procedures complex and long-winded. "To begin work," she says, "we need to get NoCs [No Objection Certificate] and intelligence clearance from the government, since we are in the area close to the LoC," Raza explains. By the time these things get sorted there is little time to begin repair and renovation work. "Once winter sets in and there is snow, our work will come to a standstill," she says resignedly.
For expansion and repair work, interest-free loans are provided to the women and not men of the households so "they [women] feel valued" although, Raza admits, that money matters are still handled by the male members.
"However, without them, the men cannot access the loan. It also gives the women a feeling of being important and responsible," she insists. Majeed foresees the same benefits for women when the project is begun in KP. "These small nudges give [women] a semblance of economic independence, increase their social status within family hierarchy, and help widows who are generally left to the mercy of circumstances," Majeed elaborates.
For Jilani, running this small-scale business out of her own home is manageable, as she is able to do her housework and tend to her children as well. She has managed to afford amenities and appliances she could not prior to becoming a host.
"From the money I have earned," she says, "I have bought myself a washing machine and a flat screen television and was able to get some repair work done around the house."
Our hostess didn't disappoint tending to our needs, neither did the view from her house, of the river and the mountains in the backdrop. "Can I get you some tea?" she asks shyly, as soon as we settle in the lounge chairs in her balcony, savouring the crisp early evening air.
---
The writer is an independent journalist based in Karachi
---
Originally published in Dawn, EOS, November 14th, 2021
---