The actor discussed body dysmorphia and how uncomfortable he feels while staring back at his own reflection in a recent interview.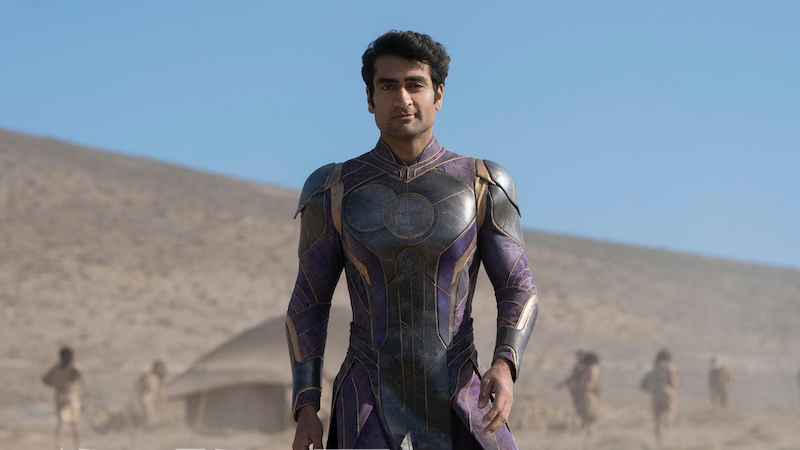 Comedian and actor Kumail Nanjiani is best known for his sense of humour but lately the actor has been a hot topic on social media for his drastic body transformation and not all of the talk has been nice.
You've probably seen pictures of the Pakistani-born star and his muscular new body on Instagram. He will soon be seen in Marvel's latest action-thriller Eternals. In an interview with Vulture, Nanjiani said he began to workout in December 2019, immediately after director Chloe Zhao casted him in the movie as a 7,000-year-old Earth defender named Kingo.
Just about a year ago, Nanjiani told Men's Health magazine that Zhao had given him the freedom to pick and choose how he would like to be seen. The actor took no time and told his trainer that he wanted to look like a Bollywood star. "I went to my trainer and said I want to look like this guy [Hrithik Roshan]," Nanjiani told the magazine.
After a year of his transformation, during the pandemic, Nanjiani became the butt of many jokes on the internet. The actor had already faced claims that his new muscular body was the result of heavy steroid intake, but he then became the subject of entire threads and conversations on whether he used too much protein powder or went wild with steroids.
"The way I look has been way too important to me," Nanjiani told Vulture. "And so to hear a bunch of people reaffirming my own darkest thoughts about myself was very difficult."
To avoid further conversations and his own insecurities, there came a time when Nanjiani would purposely wear baggy clothing to the gym. The Big Sick actor said he has been seeing a therapist for the first time solely because praise can also get dangerous.
Though the actor is now fit and has an ideal superhero body, he told Vulture that this made him vulnerable. He had previously shared in an interview to GQ that speaking about his body makes him extremely uncomfortable.
Nanjiani felt body dysmorphia seep in every time he looked at his own reflection. His ideal body used to be Arnold Schwarzenegger from his Pumping Iron (1977) days (back when he was a bodybuilder). The actor shared that his younger self always had to hear people compare his shoulders to the nonexistent ones of a chicken.
Nanjiani told Vulture that he was limiting his calorie consumption. He usually saves his desserts for Friday, a day he once called his cheat day but no longer does after receiving hate on Instagram because it "promotes disordered eating".
When other actors (read: white men) go to the gym and get buff for movies, they're often praised, not mocked. Nanjiani, however, faced a barrage of jokes and criticism when he unveiled his transformation. Nanjiani's wife, Emily V Gordon, believes it may have something to do with a sense of betrayal his fans may feel. He was once a relatable nerd who looked like the rest of us, but now he looks like an action hero.
But that doesn't matter to Nanjiani. He also shared that the reason behind his physical transformation is that he wanted to appear as the opposite of typical stereotypes attached with brown people in the upcoming film. He has loved comics and superheroes since he was a kid and when he got the role, he wanted to look like a superhero too. He would do it, and he would do it all again, he told Vulture.