The Netflix film is far better than most other titles on the streaming platform.
"As big city life buzzes around them, lonely souls discover surprising sources of connection and companionship in three tales of love, loss and longing," reads Ankahi Kahaniyaan's short synopsis at the Internet Movie Database.
City life might be buzzing in the background in this surprisingly sensitive and shrewd drama anthology, and there are moments of connection, companionship, loss and longing, and perhaps even infatuation... but love? Not in the slightest.
That's not a deterrent in the least, because producer Ronnie Screwvala's mesmerising little study of real life is teeming with originality, especially when you least expect it.
It's also an unabashed celebration of independent filmmaking — you may even call it parallel cinema, given the storytelling tenor — but much, much more than that, it's a celebration of the talents of its three filmmakers, Ashwiny Iyer Tiwari (Bareily Ki Barfi), Abhishek Chaubey (Urrta Punjab) and Saket Chaudhary (Hindi Medium). In fact, their status as auteurs is promoted with such glorious loftiness that the films themselves feel dwarfed.
Ankahi Kahaniyaan is far better than most titles on Netflix
Take for instance, the titles of the shorts; there aren't any. After a blank black transition at the end of each story, a small text announces who the next director is. If that's not a pat on one's own back, then I don't know what is.
For a good five minutes, Ashwiny Iyer Tiwari's short, about a loveless salesman, veers close to Mannequin (1987), where Andrew McCarthy, a department store window-dresser, falls in love with a magically reanimated mannequin played by Kim Catrall.
Abhishek Banerjee, playing Pradeep, has the same job as McCarthy. As a person though, he's a touch on the weird side. Irked by the love lives of the co-renter of his shanty and his co-worker at the clothing store — one annoyingly glued to his lover on the phone, the other stealing clothes from the store for his dates — Pradeep, desperate for love, falls for the new female mannequin his boss orders.
Bashful, benign and a bit of a buffoon, his romance with the mannequin — which he names Pari, and which thankfully doesn't come to life — is woefully, pitifully creepy, particularly when he caresses and touches the statue's curves.
If the opportunity presents itself, I would love to scrutinise the differences between Ashiwiny's direction and the screenplay by Piyush Gupta, Shreyas Jain and Nitesh Tiwari. To my eye, Ashwiny is exerting herself to maintain the romantic temperament of the story by not letting the tale turn into a fetishistic escapade of a small-town hick.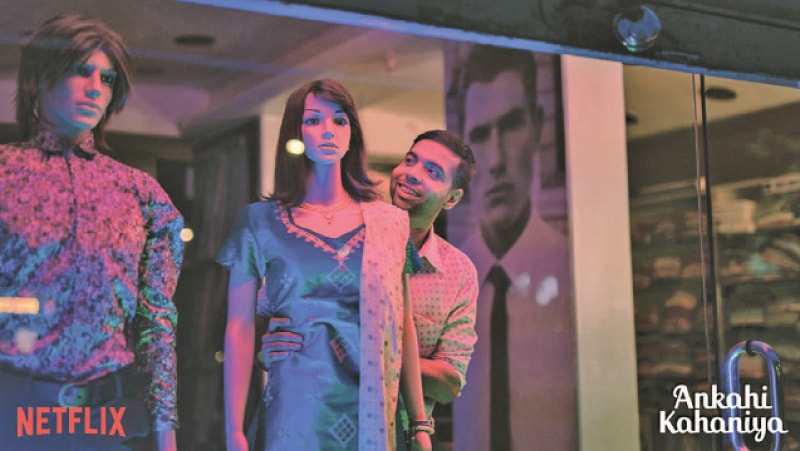 The next one from Abhishek Chaubey is a dissertation-inviting study of a young Marathi girl from a chawl at the blossom of her youth, and an all-around caretaker of a ramshackle single-screen cinema.
An adaptation of a Kannada story 'Madhyantra' (Intermission), it sees Manjari (Rinku Rajguru) and Nandu (Delzad Hiwale) share parallel lives that they want a way out of.
Nandu runs through the day taking care of the cinema and his boozed-up, near-death uncle. Manjari, flushing with raw sex appeal — the kind primarily found in works of classic literature — loiters bored in her cramped balcony and fiddles with her embroidery skills. Her mother, often bawling, lacks maternal love. The would-be suitors the old crone prefers are sweaty and ugly, with lust-filled eyes.
Manjari's getaway is Nandu's cinema, with its peeling walls and noisy, flickering projector. The two, perhaps kindred by quiet desperations, are bedazzled by each other at first sight, even though they don't speak the same language (she speaks Marathi, he talks in Hindi).
Even though they may look the same, Abhishek and his editor Sanyukta Kaza are quick to draw contrary parallels in the first few minutes that hint at the differences of their similarities.
Nandu sells peanuts, but Manjari consumes them. He dutifully cooks rice for his ailing uncle, she falls asleep as it boils over. She is entranced by movies, and he just plays them. They both hunger — one more figuratively than the other; she has an insatiable appetite for food and is nervier and Nandu has yet to figure himself out. These minute distinctions are subliminally placed in blink-and-miss instances, but they make sense by the very last frames of the film.
The last entry from Saket Chaudhry lives at the other end of the spectrum.
An affluent wife of a cheating husband contacts the husband of the woman he is cheating with. Initially incredulous and trusting of his wife, the cheated husband is convinced of the infidelity, and the two opposite spouses, playing amateur detectives, plot and play out the exact circumstances their mates might have gone through in a bid to understand why it happened.
The leads of this story — the cheated wife who has yet to find her true self (Zoya Hussain) and the husband, a once rising star of the IT world now relegated to a substandard job (Kunaal Kapoor) — are difficult to like, and the eventual outcome of their story is predictable.
It takes a while getting used to facile, uninspired adults who are lying to themselves. By the end however, Zeenat Lakhani and Saket's screenplay navigates through many sophisticated layers of the inner conflicts of these two starkly similar yet dissimilar characters — a theme carried over from the second short film.
I say "short", but ranging between 30 and 40 minutes, they feel like feature-length presentations.
Anthology or not, Ankahi Kahaniyaan is far better than most titles on Netflix. RSVP — Screwvala's production company — should be proud. Few manage to do tricky stories with such delicate undertones with as much finesse.
Streaming on Netflix, *Ankahi Kahaniyaan is rated suitable for ages 13+. It has adult themes, and may be a bore for children of that age, or people who only go for escapist cinema*
Originally published in Dawn, ICON, October 3rd, 2021