People gathered outside the Islamabad Press Club for a peaceful demonstration a day before Noor Mukadam's murder trial.
People gathered outside the Islamabad Press Club on Wednesday evening in solidarity with the family of Noor Mukadam a day before her murder trial is expected to begin.
The peaceful protest has been co-organised by Noor's sister Sara Mukadam. A number of celebrities have also shown their support and asked people to attend the protest. The demonstration was scheduled to begin at 4:30pm and was followed by a vigil.
Around 200 to 300 people gathered in the ground outside the Islamabad Press Club.
Noor's father and sister attended the protest with placards. This is the first time the family has gathered together to speak to the public. They have been fighting for a safer Pakistan since the day they lost Noor. With no time to grieve or process their loss, they have been fighting for all the girls and women in Pakistan.
The protest was hosted by actor Osman Khalid Butt.
"We see a new hashtag every day. We see injustice every day with women and so, it is so easy to become desensitised," he told the crowd.
"As a nation we need a reminder, we all need to be reminded that Noor was a living breathing human being with hopes, aspirations, with dreams that were all brutally snuffed out. We must refuse to let Noor become just another number or yet another statistic in the ever-growing cases of intolerance and injustice towards women in our society," he urged.
"Unfortunately the reality is ladies and gentlemen, that harassers, abusers, rapists and murderers will continue to flourish in our society up until the rich, the powerful and the privileged escape prosecution from the law. This is what must end and inshallah this is what we will achieve," said the actor.
"Do not let the outrage fade. The civil society pressure and social media press shouldn't die out. We must end this culture of apathy and silence and speak out for everyone, not just Noor, because that is what Noor would have wanted," he said.
"I appeal to all the men here, including myself, we must do, we must be and we must act better. We must create a better society for our women. It starts with us. We look to inward and critically examine how we are contributing to a culture of misogyny. It starts with us.
"Our fight will remain until every mother of this nation, every daughter and every woman of this country is safe and gets justice," he said.
Noor's sister Sara recited a poem at the demonstration. "You were my better half, my better version, my soulmate and now I will have to live incomplete without you for the rest of my life," she said.
Noor's father Shaukat Ali Mukadam also addressed the crowd and expressed his gratitude to Prime Minister Imran Khan for saying in an interview to the media that he's following the case and God willing, justice will be served. I appeal to the chief justice of Pakistan and the chief justice of the Islamabad High Court and the additional sessions judge hearing the case to dispose of the case quickly and award exemplary punishment to the murderer, he said.
"I want all daughters of Pakistan to stay safe. May they never see these days. My mission in life for justice for Noor and for Pakistan's women to feel safe in their homes, their offices and on the streets. May they never go through things like this, nor their parents."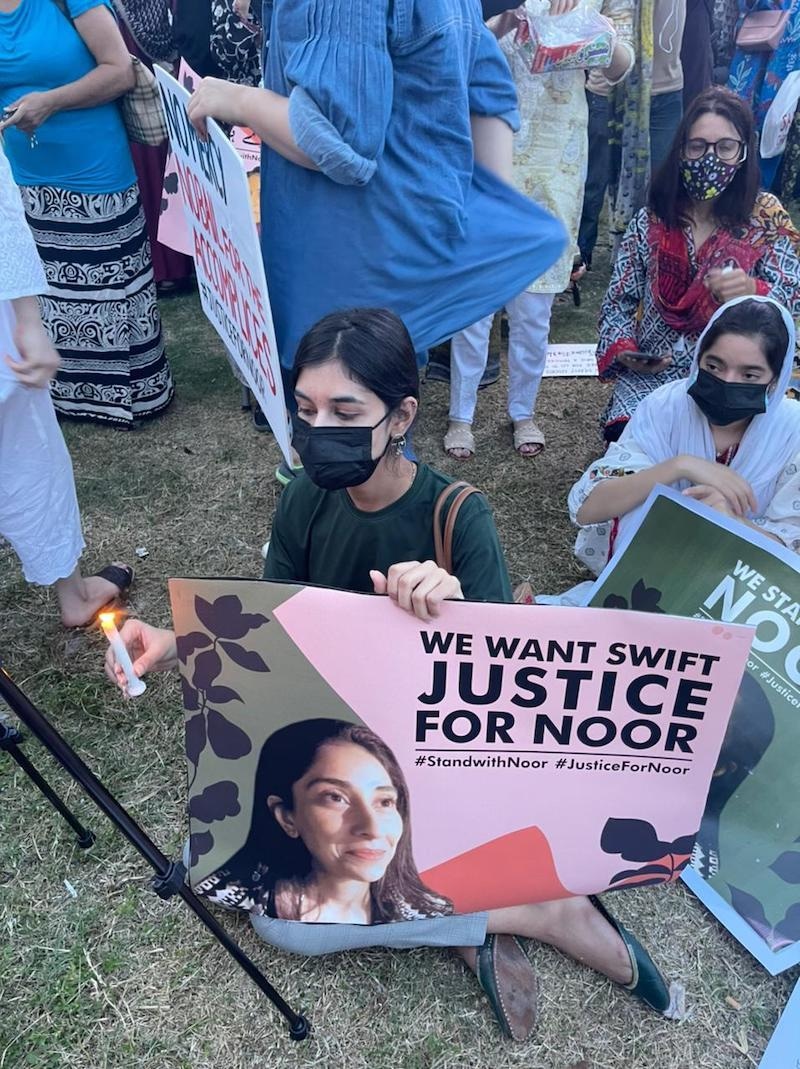 Family and friends paid tribute to Noor and the kind of person she was. A family friend, Christina Afridi, said they all hope that her brutal death will lead not only to a punishment for the perpetrator but for each one of those involved in this horrendous crime.
Rights activist Tahira Abdullah also spoke at the protest and read out a verse from Faiz Ahmed Faiz's poem 'Dua'.
The organisers of the event said it is heartbreaking to see that the mainstream media has moved on from coverage of the case. They said they wish for a speedy trial and the accomplices to receive the writ of the law.
After the protest, a candlelight vigil was also held where participants observed a moment of silence in Noor's memory.
A prayer was also recited for Noor and her family.
The trial
Noor, 27, was found murdered at a residence in Islamabad's upscale Sector F-7/4 on July 20.
A first information report (FIR) was registered later the same day against Zahir Jaffer, who was arrested from the site of the murder, under Section 302 (premeditated murder) of the Pakistan Penal Code on the complaint of the victim's father, Shaukat Ali Mukadam.
The additional sessions court is expected to give copies of the challan to the prosecution and defence at the hearing on Thursday.
Additional Sessions Judge Atta Rabbani, presiding over the case after it was transferred to him from Sessions Judge Kamran Basharat Mufti, had said that copies of the challan would be distributed in the next hearing on September 23 once all suspects were present.
The police submitted the challan on September 9 after several delays. It is also expected that charges may be framed against the suspects.
Currently, Zahir Jaffer and his parents Zakir and Asmat Jaffer are in custody.