Director Mohammad Ehteshamuddin and actor Nausheen Shah have only praise for Mahira on her new venture.
Mahira Khan will return to our small screens tonight with the TV series Hum Kahan Kai Sachey Thay and it's not just the fans who are excited.
Director Mohammad Ehteshamuddin, who has has worked with Mahira on another Hum TV production Sadqay Tumharay as well as the movie Superstar, shared a sweet message for the star — who was last seen on television screens in 2016's Bin Roye — on his Instagram, saying he was proud of her.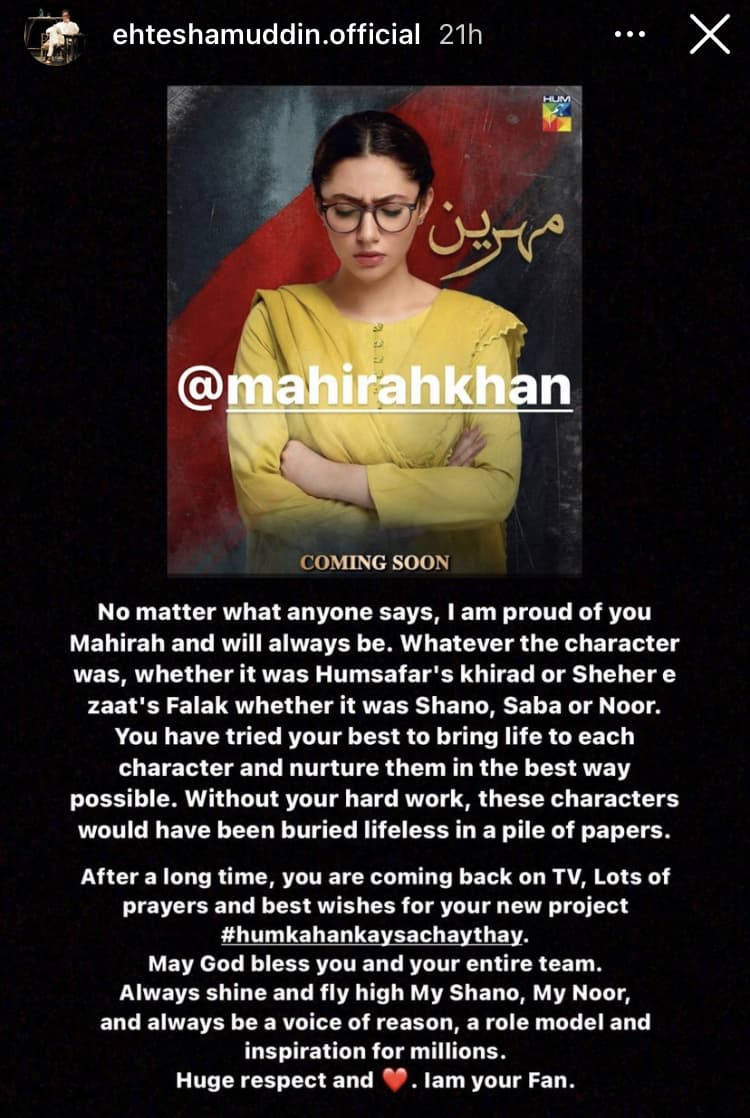 Referring to the characters Mahira has played previously — Khirad, Falak, Shano, Saba and Noor — he said "you have tried your best to bring life to each character".
"Without your hard work, these characters would have been buried lifeless in a pile of papers."
Mahira is starring alongside Kubra Khan and Usman Mukhtar in the Hum TV series based on Umera Ahmed's novel of the same name.
"After a long time, you are coming back on TV," Ehteshamuddin said of the venture. "Lots of prayers and best wishes for your new project. May God bless you and your entire team," he added, signing off as her fan.
Replying to his message, Mahira wrote "sometimes you get little surprises like these ... I love you, Ehtesham Bhai. Always your Noor, your Shano".
Fellow actor Nausheen Shah was also floored by the teasers alone of the new show.
"Welcome back, Mahira," she wrote in her Insta story. "Can't wait to see you on the small screen."
The Dewaar e Shab actor called the teasers of the show "mind blowing".
"As an actor I can see the hard work, dedication, having faith, fighting the odds [...] it's not an easy character to play especially when there's so much hidden."
Nausheen congratulated Mahira and the entire team of Hum Kahan Kai Sachey Thay, sending "everyone's superstar" love and prayers.
The drama airing every Sunday from August 1 at 8pm on Hum TV tells the story of three characters — played by Mahira, Kubra and Mukhtar — and reflects on childhood traumas and how the wrong kind of guidance from elders changes their lives.
Singer-songwriter Haroon Shahid plays a pivotal role in the story development as well.
All that's left to see now is whether the show is as stellar as the actors cast in it.