The NCOC decision wasn't met with the joy we expected and it has everything to do with the two conditions the govt has set.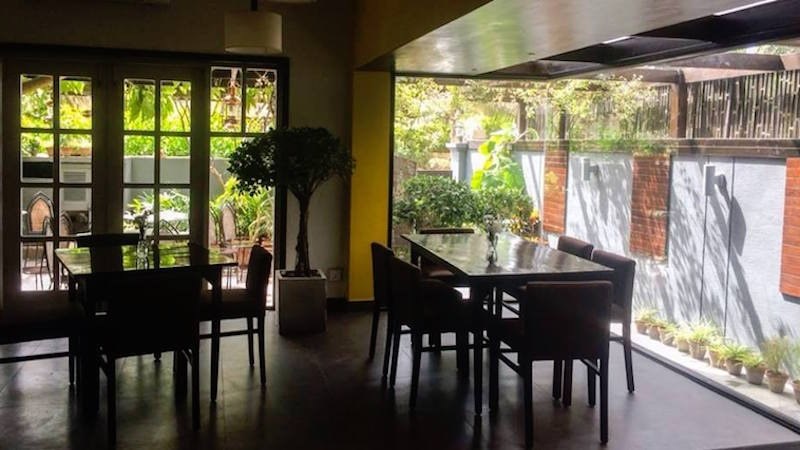 There is a quiet restlessness in the air, the kind that engulfs a packed cricket stadium right before an umpire is about to make a decision — okay, maybe not in real life but like in Kabhi Khushi Kabhi Ghum. The National Command and Operation Centre (NCOC) signalled to restaurants last week that they could now open their doors to customers for indoor dining — a decision that business owners have been campaigning for sporadically for the past two years. Then why is the notification not being met with frenzied joy as expected?
The silence seems to be stemming from the fact that the decision has come with two caveats — that the restaurants can only fill 50% of their seating capacity indoors and that dine-in can only be offered to vaccinated individuals.
The question on the mind of restaurant owners is how?
Scellina Asad, who is the managing director of The Venus Group, the company that owns the franchises of Cold Stone Creamery and Texas Chicken in Pakistan, says checking customers to see if they have been vaccinated is not that simple.
"People don't like to follow rules," she says, sharing that the staff at Texas Chicken, in between making and selling fried chicken and honey biscuits, have had to explain to customers and delivery people alike that they will not be allowed inside without wearing masks — an SOP listed as 'mandatory' in earlier NCOC notifications.
"Customers would insist 'bus ek table de dayn, hum khaana khanay ayain hain' [please just give us a table, we are just here to eat]," she shares. "I can already foresee that the vaccination checks will prove to be challenging."
Sohaib Junaidi, owner of Junaidi's Pizzeria in Karachi, shares the same opinion.
"In the service industry, you always want to serve the customer," he says. "When people showed up without masks, we could give them one on the spot but if they show up unvaccinated, it is not like we can administer a shot on the spot to facilitate them."
Currently, only five per cent of Pakistan's population has gotten at least one dose of the Covid-19 vaccine and there is still a lot of vaccine hesitancy. Globally, countries have announced various perks to encourage people to get the jab but in Pakistan, the fear is that people may just circumvent the checks to avail the perks, such as access to indoor dining, without actually getting vaccinated.
Raza Ahmed, the owner of Bamboo Union in Lahore, shares that they have decided to distribute a form to customers who are walking in, which requires them to disclose if they have been vaccinated along with their CNIC number.
"Some people have been hesitant to sign while others have said 'yeh aap ka kaam nahi hai, yeh aap kyun kar rahay hain' [this is not your job so why are you doing this]," he explains.
Imran A. Bandukda, the owner of Pompei and POMO in Karachi, says indoor dining is an essential part of the experience for customers and currently, the hot weather has made the outdoor dining experience unpleasant but vaccination checks could pose a challenge.
He believes, however, that the reduced capacity is a welcome decision.
"The 50% seating recommendation is a viable way forward," says Bandukda. "Customers will certainly be more comfortable in a less crowded environment."
The vaccination check seems to be the biggest factor holding restaurants back from announcing the resumption of indoor dining but it's not the only factor. Restaurant owners are also unsure how long the directive will be applicable for, considering the fourth wave of Covid-19 has already been predicted in July.
Fouzia Siddiqui, the owner of FLOC in Karachi's Zamzama, says the uncertainty is their biggest challenge.
"If we had a notification that applied for at least a few months, adapting would not be a problem," she says. "We are really unclear about the directive right now, because if indoor dining is allowed, does that mean outdoor dining is going to be banned?"
Siddiqui is currently holding off on making further capital investments, particularly in the outdoor dining experience, in case that gets discontinued.
Asad Aftab, who is one of the partners at Tipsy Co in Lahore, says shifting back to indoor dining right now seems a little premature because of the lack of clarity.
"We have managed to find a way to restructure the whole restaurant because we were made to do it," he explains. "We would like to see how indoor dining plays out for others before coming to a decision," Aftab says. "We don't necessarily want to take a lead on this."
Aftab also shares that while the food industry was going through a time of low sales, they managed to retain the interest of their customers by making additions to their menu. This move ensured that they achieved a level of stability in their delivery and outdoor dining sales and that is another reason they are not too keen on reopening indoor dining at the moment.
"We launched poutine — a combination of fries, gravy and squeaky cheese on top," he says, adding that keeping a "strong content centred approach" has played a huge role in ensuring the survival of their business.
Meanwhile, Scellina Asad's focus with Texas Chicken is to work on the outdoor dining experience because that seems to be the most viable dining option for them at the moment.
"I'm going to go buy some plants and invest in the outdoor dining experience," she says, adding that the plants will also give customers some privacy and make the area look nicer.
What about Junaidi's? The pizzeria doesn't seem like it's opening up for indoor dining either. "Our dine-in is already a very small space. I don't know how 50% of that would work. We have three tables," says Junaidi.
However, he adds that in the restaurant industry, one cannot be too rigid. "We will monitor the situation and decide what to do. We might look at what other people are doing."
While quite a few restaurants share these apprehensions, others seemed to have already opened their doors for indoor dining.
Waqas Akram, owner of Robert Coffee in Islamabad, says, "Our staff is vaccinated. We have sanitisers available at every table but we can't stop customers from coming in indoors. "It has been a year and a half [of the pandemic] and it is too much now. We can give free masks and sanitisers, but other than that, no."
Happy to have been vaccinated, I show up for my breakfast reservation early Sunday morning at a restaurant on Khayaban-e-Seher in Karachi. The servers are eager to welcome people walking in and, without making eye contact, they usher me to the nearest table inside. There is an excited buzz all around and people are awkwardly taking food photos after not being in practice for over a year and a half. My vaccination card remains in my handbag, unchecked, and I bury my apprehensions of not being asked for it in my order of a pepperoni pizza.