There are more pressing matters to talk about, she said after shaming her became a Twitter trend.
Upbeat music, a plethora of instruments and debut vocals — Alizeh Shah's new music video for Badnamiyan alongside Sahir Ali Bagga was a treat for the pair's fans as it crossed one million views on YouTube shortly after its release. However, despite all that the release had to offer, the topic of discussion for the nation was none other than Shah's clothes.
As Shah trended on Twitter, she was subjected to harsh criticism and foul language by people triggered by a black tank-top. They claimed it was both obscene and offensive.
Mind you, wearing a sleeveless top is neither new nor outrageous when it comes to clothes in Pakistan. But people still made sure to remind the Mera Dil Mera Dushman star how she was "crossing all boundaries of modesty", all while cursing her with words that no 'good Muslim' would use.
At a time when humanitarian issues such as the ethnic cleansing of Palestinians require attention, people in Pakistan decided to redirect the conversation towards moral policing a woman's clothes. An adult woman who is free to make her own choices of what to wear. A woman who also believed the world had greater issues to be discussed.
"I find all memes and criticism amusing. However, the fact that a trivial topic to discuss is now the most trending issue in our country instead of becoming a voice for Palestine. What's wrong with our people?" Shah exclaimed. Most, if not all, of the criticism she received is too laden with expletives to even share.
Many then flocked to defend the Ehd-e-Wafa actor, pointing out the hypocrisy in people's words and making sure to remind them that what she wears is none of her business.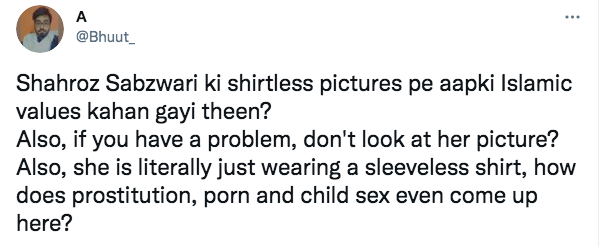 Women in Pakistan are perceived by many to be the guardians of culture and honour without actually being given a choice in the matter. This puts celebrities like Shah in the spotlight for something out of their control. They are thrust into the absurd role of representing the country and our entire society with their wardrobes. This is a burden that they neither asked for nor one that they should be made to shoulder.
This regulation and surveillance of women's bodies and wardrobes needs to stop. You can choose what you want to wear and let others choose what they want to wear. One cannot justify cruelty by calling it an opinion. If you want to become the moral police, start with policing yourself from using profanities and hurtful words against others.