As Sushmita Sen arranges oxygen cylinders, Faisal Edhi offers Modi assistance.
As India buckles under the newest wave of Covid, its hospitals are short staffed, oxygen supply is scarce and the nation is collectively panicking. The situation is dire and stars from both sides of the border are speaking up and encouraging people not to lose hope.
The surge in cases, blamed on a new virus variant and the government allowing "super spreader" public events to go ahead, saw another 330,000 new infections and 2,000 deaths reported in the past 24 hours. India has also recorded the world's highest single-day increase in Covid cases with 314,835 new daily cases.
Bollywood celebrities highlight the gravity of the situation
Sonam Kapoor shared guides on how to navigate emergency situations at home. The Neerjha star made sure to add details regarding how to care for a Covid patient at home, as well as at the hospital; including a guide on how to donate plasma to those in need.
"It can be hard to navigate hospitals and medicine/equipment sourcing in distressing times when your loved one is battling the virus at the hospital," she wrote, sharing a crowdsourced guide with some helpful resources on her profile.
Similarly, Priyanka Chopra went on to share precautions, begging people to stay home and discussing ways that could help ease the pressure on the medical system in their country.
Urmila Matondkar shared a clip on the importance of addressing the issue at hand rather than engaging in discussions on corporate giants.
"The world suffers a lot. Not because of the violence of bad people. But because of the silence of good people: Napoleon. Thank you Dushyant Dave for speaking up for those who can't, who don't or who won't," she wrote.
Katrina Kaif, who recently tested positive for Covid-19, let the numbers do the talking, as she shared Covid emergency ambulances and ward room details for patients in critical conditions.
Similarly, Shah Rukh Khan's daughter Suhana Khan, who is currently studying filmmaking in New York, was keeping close tabs on the devastating situation in her country, reminding people how grave the situation had become.
Main Hoon Na star Sushmita Sen managed to arrange a few oxygen cylinders, asking for help transporting them to areas that needed urgent aid.
"This is deeply heartbreaking... oxygen crisis is everywhere. I have managed to organise a few oxygen cylinders for this hospital but have no way to transport it to Delhi from Mumbai... please help me find a way," she wrote.
Pakistani stars warn that we could be next
Sanam Baloch shared a devastating clip on her social media, saying this was a lesson to be learnt for Pakistan and an opportunity to plan ahead in times of crisis.
"Please listen carefully. We should plan for Pakistan. We must learn from these countries. They have done a mistake, but we should plan for that in advance," she warned.
Osman Khalid Butt was devastated at the situation, asking people in Pakistan to be cautious and not use being vaccinated as a reason to be any less cautious.
"Gut-wrenching visuals from India - the Covid crisis is deepening. Sending prayers that the nation comes out of this. Please, everyone, mask up. Don't let the idea that we're vaccinated (or going to be soon) allow you to let your guard down. Observe all SOPs. Save lives," he said.
Author Fatima Bhutto shared a BBC documentary on what was happening in India, in order to spread awareness and urge people to be cautious.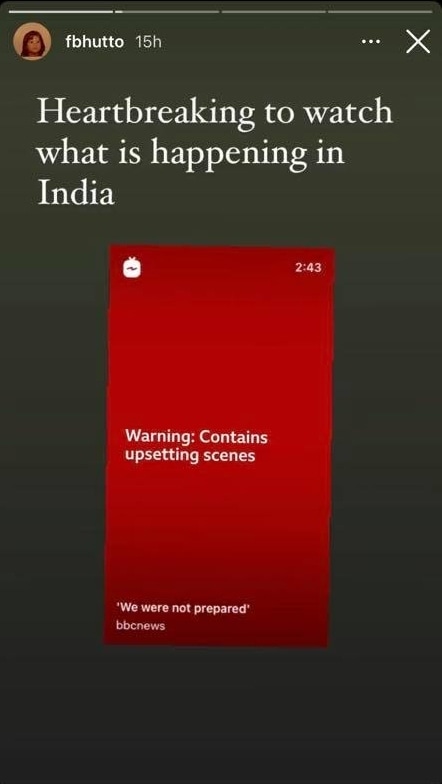 Singer Momina Mustehsan encouraged Pakistan to set its differences with India aside and come to the aid of their neighbours.
"As cases in India soar to highest global daily and second highest in total, it is bound to put strain on resources. This is humanity vs the virus. Our battle against Covid is also intensifying, but can we share to help our neighbours?" she asked.
Edhi Foundation offers help
Faisal Edhi, the son of late philanthropist Abdul Sattar Edhi and chairman of the Edhi Foundation, penned a letter to Prime Minister Narendra Modi, offering help in managing the crisis in their country.
He said the Edhi Foundation sympathised with India during this difficult time and offered help in the form of "a fleet of 50 ambulances along with our services to assist you in addressing, and further circumventing, the current health conditions."
A gesture of goodwill and peace without expectation of political gain or profit in return, the letter was proof that humanity transcends borders.