The show is led by a strong female character, who despite all challenges, refuses to bow down, taking responsibility for herself.
HUM TV's drama Mohabbatein Chahatein is challenging patriarchal stereotypes in ways Pakistani TV hasn't seen before. With a bold and determined female lead, the serial is ditching the Pakistani primetime drama playbook, and hitting the right notes to empower its protagonist. It's a shame that the serial isn't making the buzz it should be.
Mohabbatein Chahatein was written by Samira Fazal and directed by Ali Hassan. It first aired in November 2020 and so far, 23 episodes are available on YouTube. HUM TV describes it as the story of a happy family that faces the test of time.
Sneha's character, played poignantly by Hira Mani, is iconic because she puts up a fight every time her family tries to subdue her. When her husband, whom she has been happily married to for 10 years, cheats on her and begins to shower another woman — Tara played by Armeena Khan — with unwarranted attention, Sneha promptly pack her bags, leaves the house and vehemently refuse to return to a man who has broken her trust.
It is immensely difficult for a homemaker with a six-year-old child to just walk out of her marriage when she knows she will not get the support she needs even at her own home. Most of our primetime commercial dramas are centred around hapless women, which consequently perpetuates regressive stereotypes in mainstream entertainment, in turn leaving female characters in television serials with no agency whatsoever. Mohabbatein Chahatein has broken every single such negative stereotype by depicting the protagonist, Sneha, as a strong, fearless and empowered woman who has all the gumption women need to survive broken, abusive and deceitful marriages.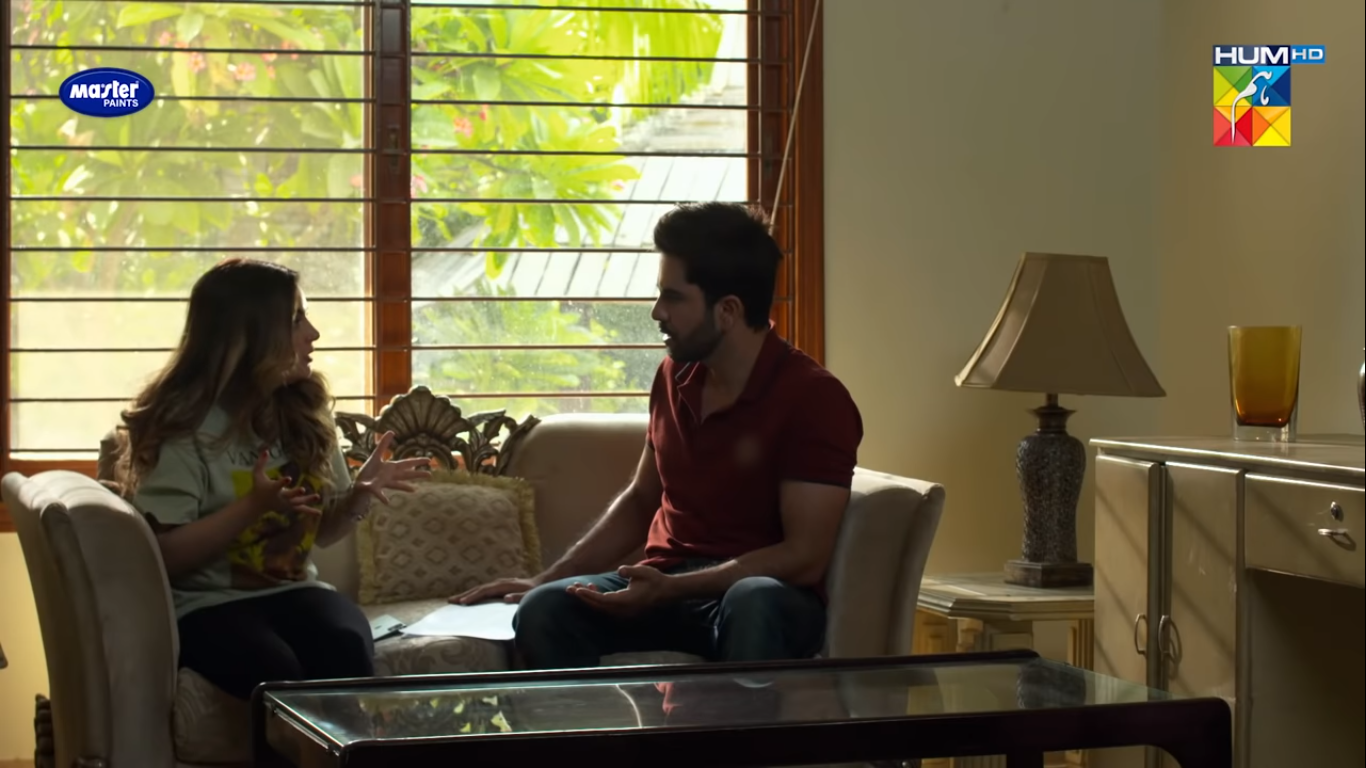 When Sneha is constantly humiliated at her parents' house for her separation and harassed by her brother's wife and his in-laws, she house-hunts, packs her bags yet again, and walks out of her family home with her mother and child in tow. When she is house hunting alone and visiting different houses with real-estate agents and brokers, she is accused by her brother and his in-laws of prostitution and having an illicit affair to make money on the side. This just goes to show the level of mistrust families have of women who are single or don't have a man "safe-guarding" their every move.
How do we contextualise Sneha's story and her journey with the reality of our society today? According to the latest World Economic Forum report, the '2020 Global Gender Gap Index', Pakistan ranks third to last (151st of 153) on gender equality. Unfortunately, many women who want to work are unable to find employment, and those who do find work are not adequately compensated.
Though women constitute 49% of Pakistan's population, they occupy only 22% of the total labour force. Once some of these women are hired, their contribution is marred by the gender wage gap, which is a whopping 40%. This means that a woman working the same job for the same number of hours as a man gets Rs60 for every Rs100 the man earns.
Even though Sneha has a bachelor's degree, the only work experience she has is being a homemaker, and that clearly holds no water in the job market, as illustrated by her interviews at schools and offices. The show depicts how difficult it is for a woman in her mid-30s to get a job without any prior professional experience and how challenging it is for a single woman to find a safe space to rent in this unforgiving metropolis.
There is a very important scene in which Sneha goes from school to school with her college degree and expresses interest working as a teacher. When questioned about her experience, she puts forward her degree and says she has experience raising her own child and teaching him, but that is dismissed by the principal as 'no experience' at all.
According to an ILO report, women perform 75% of the world's cumulative unpaid care work. Economists have valued this unpaid work done by women at roughly $1.3 trillion, which is not even accurately reflected in calculating a nation's GDP. One of the primary reasons women are rendered workers with poor utilitarian value is that they cannot enter domestic work on their resumes to make it count, and that motherhood is not considered credible or valid work experience in job markets anywhere in the world.
This begs the question, what value, dignity and credibility is the Pakistani entertainment industry bringing to women's unpaid care work and motherhood? The mass media needs to understand that regressive and irresponsible representation of women on our TV screens is no longer acceptable and that a country like Pakistan, which is already plagued by several other issues, simply cannot afford entertainment for entertainment's sake. The dramas that perpetuate women as weeping helpless creatures and the advertisements portraying them as the silent domestic work champions who's chamakti laundry and karak chai are seamlessly credited for every man and child's success at work and school need to stop, rethink and change their narrative entirely.
What is most noteworthy in Mohabattein Chahatein is that even as a primetime TV serial that is centered around the marital discord in Sneha's life, she never borrows money or take financial assistance from anyone after walking out of her marriage, even though that wasn't an easy choice for her to make. She suffers immense financial hardship but never gives up hope. Ultimately, she begins to work as a cook at the house of an upper class family, and then starts a homemade jam and marmalade business, but does not take a single penny from anyone to support herself or her child. Sneha's character is emotional, broken, grief ridden and often distressed but she is unapologetic when it comes to standing her ground and is resilient enough to tackle every crisis that comes her way.
Despite having a single and (supposedly) charming doctor — who possesses all the material wealth and stature that would make characters in other dramas go gaga — pursuing her for marriage, Sneha continues to reject his advances because she has no feelings for him. She does not succumb to unreasonable pressures from her mother or her relatives, saying, "I would rather deal with the hardship of being a single mother than be humiliated and deceived by my husband or yet another man like him".
Why is Sneha's story important? In Pakistan, men perform the lowest share of unpaid care work of all regions at just 28 minutes. That's barely 8% of a man's total work in a single day. Mothers of children aged under six years suffer the highest "employment penalty" with unpaid caretakers, mostly all women, lacking social security, financial remuneration and no way to quantify their hard work. Motherhood has, unfortunately, become a thankless, selfless and pay-less job, which is taken for granted all over the world. The regressive attitudes towards the massive gender divide and differentiating between paid and unpaid care work are gradually changing but the 'male breadwinner family syndrome' still plagues South Asia, along with an unwarranted assumption that only a woman's care-giving role in the family is indispensable.
Sneha's character is a beacon of hope for single mothers and women from broken homes who are struggling with their careers and we hope this isn't the last role model they'll see on screen.