Members of the entertainment industry and politicians are paying tribute to the prolific dramatist.
When Pakistan woke up on Friday morning it was to the devastating news that Haseena Moin had passed away. Moin will remain one of the most prolific dramatists in Pakistani history and the pen behind hits such as Dhoop Kinare, Tanhaiyaan and Anakhi.
Moin was the recipient of the Pride of Performance award and wrote Pakistan's first original script, Kiran Kahani.
As the nation mourns the loss of a truly amazing woman, celebrities and other public figures have been expressing their grief at her death on social media.
Nimra Bucha
Actor Nimra Bucha paid tribute to Moin, the woman who put Pakistani drama on the map, wrote clumsy, funny, human, working female characters as leads and gave us Shehnaz Sheikh.
Mehreen Jabbar
Filmmaker Mehreen Jabbar called Moin an icon. "Thank you Haseena Moin for your unforgettable characters. You are and will be a national treasure," she wrote on Instagram.
Sania Saeed
Actor Sania Saeed posted a picture of Moin on Instagram and wrote "Haseena Aapa goodbye".
Amna Ilyas
Actor Amna Ilyas said with Moin's death, the "brightest star in the sky is gone forever".
Atiqa Odho
Actor Atiqa Odho said the news was unbelievable, as she was active till the end. "She shall be missed terribly."
Murtaza Wahab
The Sindh government spokesperson, Murtaza Wahab, shared the news of Moin's demise on Twitter and said she was a legend.
Andleeb Abbas
PTI MNA Andleeb Abbas said Moin gave women a new empowered strength and made Indian Bollywood pale in comparison.
Faisal Javed Khan
Like many of us, PTI Senator Faisal Javed Khan grew up watching Moin's dramas.
Nafisa Shah
PPP MNA Nafisa Shah said Moin's heroines were larger than life, strong women with resolve who conquered all.
Junaid Khan
Actor Junaid Khan posted a picture of Moin on his Instagram Story.
Adeel Hussain
Actor Adeel Hussain also posted a picture of Moin on his Instagram Story.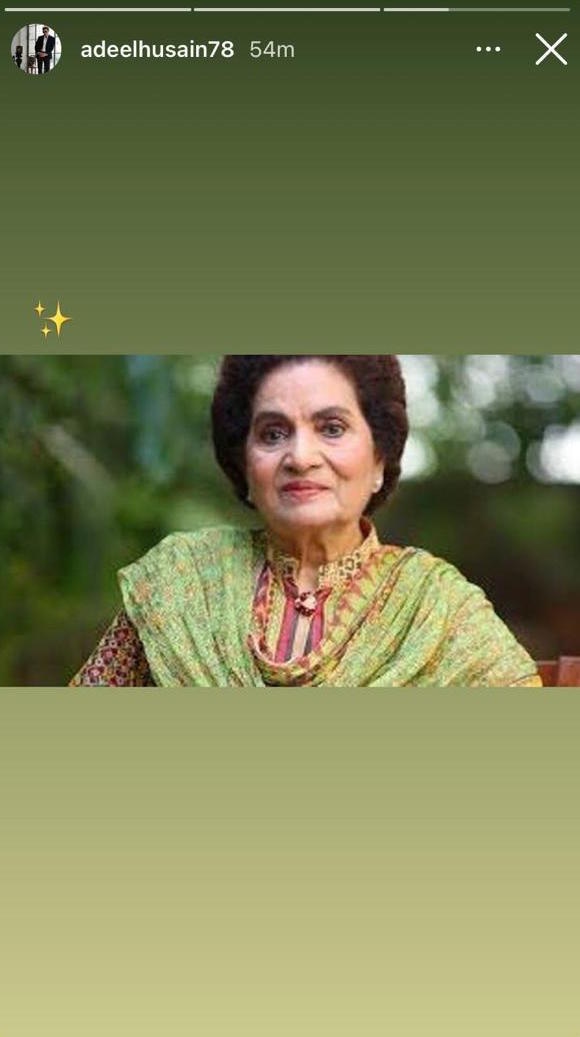 Adnan Siddiqui
Actor Adnan Siddiqui shared a news post about Moin's death and said it was a sad day for the Pakistani entertainment industry.
Imran Abbas
Actor Imran Abbas thanked Moin for everything she has done for the Pakistani drama industry.
The entire country is mourning Moin's death and, as Siddiqui wrote, the blow to the Pakistani entertainment industry.