Ever get that feeling you're just passing through life? When you're so lost in your own internal silent despair that it's hard to connect and be in the moment? When you're alone in a crowd full of people, day after day, night after night? That's the kind of feeling the song Melancholic and its video so perfectly communicate.
Melancholic has been written, composed, produced and performed by Maanu. It has been mixed and mastered by Adeel Tahir.
Musically, there is a lot to unpack in this song. This genre-bending song, as it merges pop, rap, R&B and EDM together in one beautiful concoction, has been filmed in that vintage 4:3 aspect ratio — the kind television used before the advent of the wide screen.
It shows Maanu, the artist, looking like he hasn't cut his hair or shaved in days, sitting in the middle of a couch, at a table or in other social settings, surrounded by people at different events. He is looking straight into the camera and singing with a single dazed expression on his face, while the scenery and people around him keep changing.
Melancholic showcases Maanu's progression as an artist and is worth putting on repeat
When he gets to the chorus, the song picks up intensity and pace, as if to mimic the feeling of intense, hopeful anxiety. It switches more towards melodic electronica, the bass groove kicks in with intensity and there is an almost echo effect on the percussions that mimic the tabla.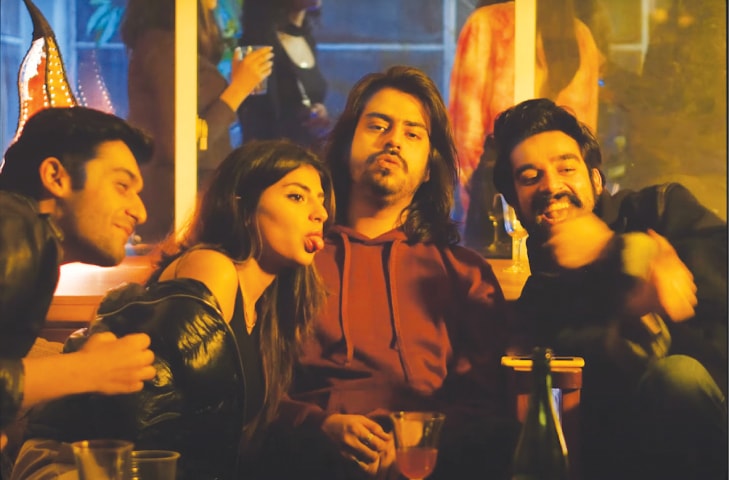 In a nutshell, Melancholic is about feeling somewhat sad or out of sorts when the object of your affection is not around. The chorus goes: Melancholic/ Sa hai yeh samaa main kahoon kya/ But I got it/ Teray bin rehta hun main yun tanha/ Kyun tujh ko dhoondoon har jaga/ Kahaan hai tu yeh tau bataa/ Teray liye hai yun jiya/ Kahaan hai tu yeh tau bataa
[Melancholic/ Is the state I'm in, what do I say/ But I got it/ I am alone without you/ Why do I search for you everywhere/ Tell me, where are you?/ I live for you/ Tell me, where are you?]
Maanu, or Rehman Asfar as he is properly known, is from Lahore, Pakistan. Fed up of mainstream artists releasing one cover after another, he decided to start writing his own music. But he didn't take himself seriously until he heard the completed version of one of his own songs — with the accompanying instruments, the vocals, final production etc.
He released his debut album 'Yain City', a tribute to Lahore, last year. The album has been mixed, mastered and produced by Jamal Rahman of True Brew Records. Maanu has also previously been featured on the True Brew Records platform. 'Yain City' shows off both Maanu's versatility as a hip-hop artist, writing songs in a mix of English, Urdu and Punjabi, and Jamal Rahman's as a producer. The album covers a variety of pop music genres — there's rap, electronic dance music, hip hop and RnB.
Meanwhile, he's also collaborated with several other prominent Pakistani independent and breakthrough artists. Maanu has worked with Abdullah Siddiqui on the single Come Through from Abdullah's 'Heterotopia' album. His work with Talal Qureshi was on a song titled Pak Sar Zameen which starts off with a spin on the all-too-familiar national anthem and quickly veers into a rap commentary about the country.
Melancholic is his most recent release and showcases his progression as an artist. It does not belong to any album or E.P. … so far. Until Maanu's next release, one will listen to this song on repeat.
Originally published in Dawn, ICON, March 21st, 2021
Email