Harry and Meghan reveal they are expecting a baby girl in an explosive interview to Oprah Winfrey.
Meghan, the wife of Prince Harry, accused the British royal family of racism, lying and pushing her to the brink of suicide, in an explosive televised interview that looks set to shake the monarchy to its core.
The 39-year-old, whose mother is Black and father is white, said she had been naive before she married into the family in 2018, but that she ended up having suicidal thoughts and considering self harm after pleading for help but getting none.
She added that her son Archie, now aged one, had been denied the title of prince because there were concerns within the royal family about how dark his skin might be.
"They didn't want him to be a prince," Meghan said in an interview with Oprah Winfrey aired on CBS late on Sunday. She said there had been "conversations about how dark his skin might be when he's born."
Meghan, the actor formerly known as Meghan Markle who starred in the TV drama Suits, said she grew concerned about her son not having a royal title because it meant he wouldn't be provided security.
Meghan said processing everything during her pregnancy was "very hard." More than the "prince" title, she felt the most troubled over her son's safety and protection.
"He needs to be safe," a teary-eyed Meghan recalled. "We're not saying don't make him a prince or princess, whatever it's going to be. But if you're saying the title is going to affect their protection, we haven't created this monster machine around us in terms of click bait and tabloid fodder. You've allowed that to happen, which means our son needs to be safe."
Meghan declined to say who had aired such concerns, as did Harry, who said his family had cut them off financially and that his father Prince Charles, heir to the British throne, had let him down and refused to take his calls at one point.
"There is a lot to work through there," Harry said about his relationship with his father. "I feel really let down. He's been through something similar. He knows what pain feels like. And Archie is his grandson. I will always love him, but there is a lot of hurt that has happened."
Harry said the royal family cut him off financially at the start of 2020 after announcing plans to step back from his roles. But he was able to afford security for his family because of the money his mother, Princess Diana, left behind.
Buckingham Palace has yet to comment publicly on the interview, which aired in the early hours of Monday morning in Britain.
Meghan cast the British royal family as uncaring and mendacious, and accused Kate — the wife of her husband's brother Prince William — of making her cry before her wedding.
While the family including Prince Charles came in for open criticism, neither Harry nor Meghan attacked Queen Elizabeth directly.
Still, Meghan said she had been silenced by "the Firm" — which Elizabeth heads — and that her pleas for help while in distress at racist reporting and her predicament had fallen on deaf ears.
"I just didn't want to be alive any more. And that was a very clear and real and frightening constant thought. And I remember how he [Harry] just cradled me," Meghan said, wiping away tears.
In a rare positive moment in the interview, Harry and Meghan revealed their second would be a girl. The interview opened with Winfrey gushing over Meghan's pregnancy and lamenting that COVID-19 protocols kept them from hugging.
In response to a question from Winfrey, Harry said he wouldn't have left royal life if not for his wife. He said their relationship revealed the strictures of royal life.
"I wouldn't have been able to, because I myself was trapped," Harry said. "I didn't see a way out.
"I was trapped, but I didn't know I was trapped," Harry said, before adding, "My father and my brother, they are trapped."
Harry acknowledged that he does not have a close relationship presently with his brother William, who is heir to the throne after their father, Prince Charles.
Harry disputed rumours that he intentionally blindsided his grandmother, Queen Elizabeth II, with his decision to split. He suspects the rumours came from the institution.
"I've never blindsided my grandmother," he said. "I have too much respect for her."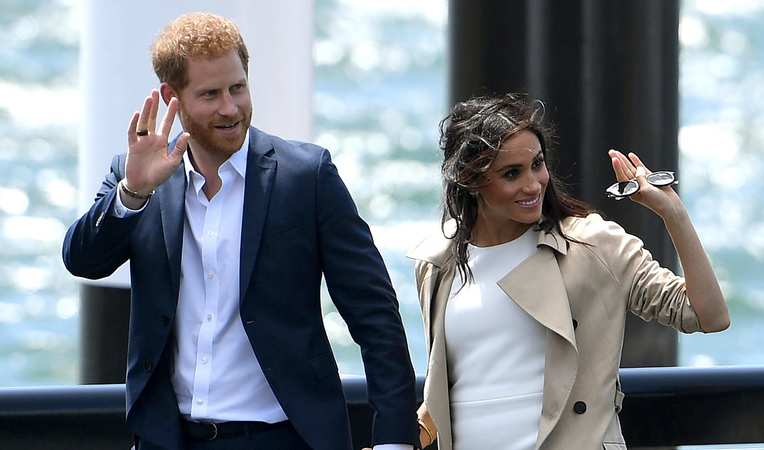 Meghan, too, was complimentary toward the queen, despite saying at one point she realised some in the palace were willing to lie to "protect other members of the family."
"The queen has always been wonderful to me," Meghan said.
In Britain, the interview is seen as poorly timed. It will air while Harry's 99-year-old grandfather Prince Philip remains hospitalized in London after undergoing a heart procedure.
It is unclear what public reaction, if any, the queen and other royal family members will have to Sunday's interview. The U.K.'s Sunday Times newspaper, citing an anonymous source, reported that the queen would not watch it.